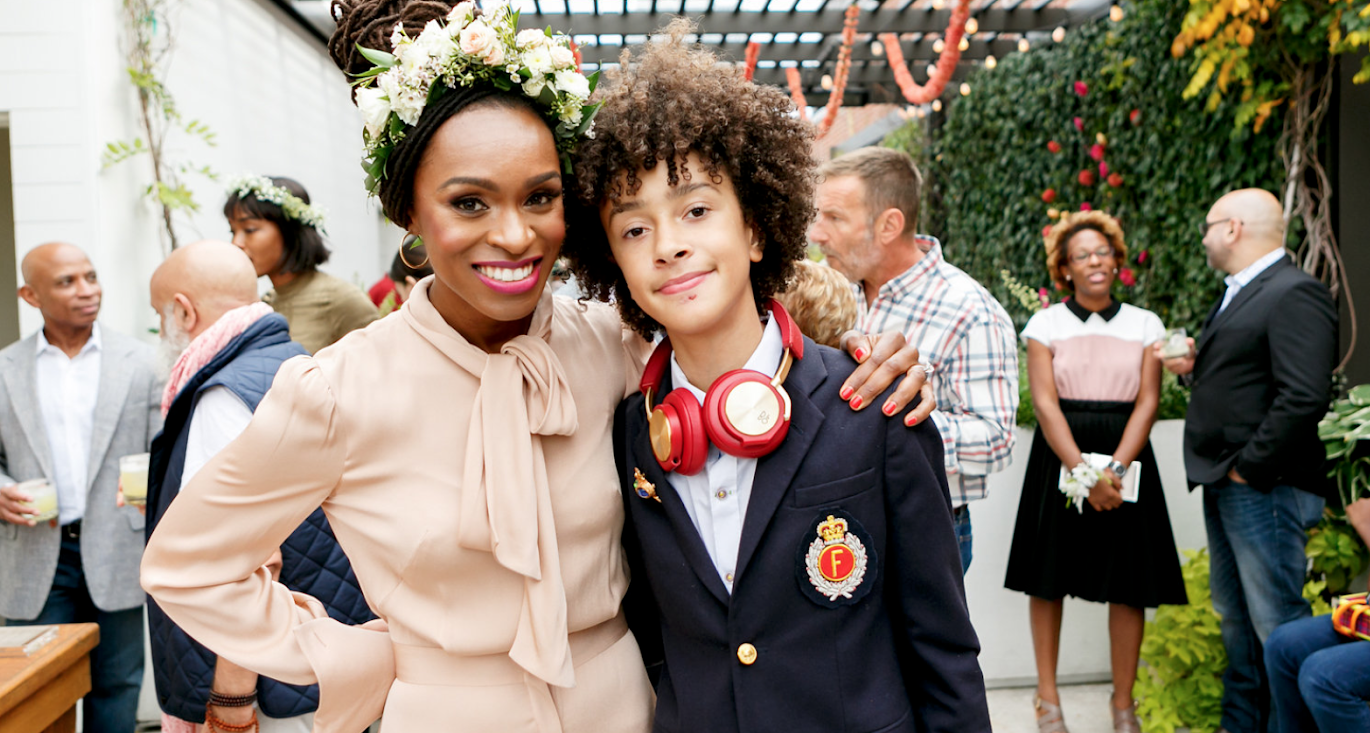 Moms Listen to Top Artists, Too—Just Ask Latham Thomas and Her Teen DJ Son
Wondering what to add to your mom's breakfast-in-bed Spotify playlist this Mother's Day? It might not be so different from what you'd add to your own. Spotify's latest data on the top artists for women between the ages of 20 and 70-plus show that hits are hits—no matter what your age.
In a list of top listened-to artists by gender and age group, Post Malone and Ed Sheeran take the top two slots for women ages 30 through 59, with Drake, Avicii, and Adele also scoring high. For women 60 and up, it's all about Ed Sheeran and perennial favorite The Beatles.
Parents have a big opportunity to influence what their kids listen to, and based on the data, it looks like the next generation is repaying the favor by keeping Mom in the musical know.
Take the musical preferences of Latham Thomas, wellness and lifestyle specialist and founder of Mama Glow. Latham and her 14-year-old son, Fulano Librizzi—an accomplished DJ and musician who has spun for everyone from Mercedes-Benz Fashion Week to the New York Knicks—both get down to Stevie Wonder, but also thrive on sharing everything from jazz to J. Cole.
We spoke to Latham about what her family is listening to now, and how to bridge the generation gap with the right tunes.
What are your early memories of music?
My mom was always playing music; she would throw on a record and make pancakes in the morning. Especially on weekends, it was Stevie Wonder, Michael Jackson, and Diana Ross. I went to my first Prince concert when I was 3, and Sheila E threw her drumsticks in the audience and my aunt caught them. My whole childhood was always punctuated with music.
How did you begin sharing your love of music with your son, Fulano?
When I was pregnant with my son, his father had a radio show on WKCR [in New York City] called "Jazz Alternatives." We would hang out in the studio and pull records that looked interesting­­. We had Sicilian tarantellas, blues like Lead Belly, Sun Ra, Funkadelic, and Parliament—which my son loves now. He would actually kick to the rhythm of certain things. I think playing a lot of different music for him definitely helped with shaping his aptitude. Not only is he a DJ, he arranges music; he plays guitar and bass, ukulele. I think all those instruments also help him with understanding how to create a song. It's nice to be able to know that just our passion and love for music helped to shape him to be very musical.
Does Fulano now introduce you to new music?
Yes. All the music that is current, I only know because of my son. He's the one who's like, "Oh, you've got to listen to J. Cole, you've got to listen to Migos." I find out about a lot of indie or underground artists. He'll play me a list of stuff and say, "This is really big right now" or, "This person's on the come up." I don't know all the names, but I stay in the pulse that way.
What songs are at the top of both of your playlists right now?
We both maintain a lot of the same soul classics, like Stevie Wonder and Michael Jackson. As far as the more current music, we both have been listening to J. Cole. We both like Cardi B.
How can parents better get along musically with their kids?
If you have a different musical style than your kids, spend some time and get to know who the artists are that they're listening to, because those people are definitely influencing them. It's a point of entry for conversation and connection, and it's a point of coolness for you. Every generation has music that the previous generation just doesn't get. But if you can gather around what matters to kids, you can ride the soundtrack of their lives and get to know better what's happening in their own world. Music just has that ability to make people come together.
Happy Mother's Day!