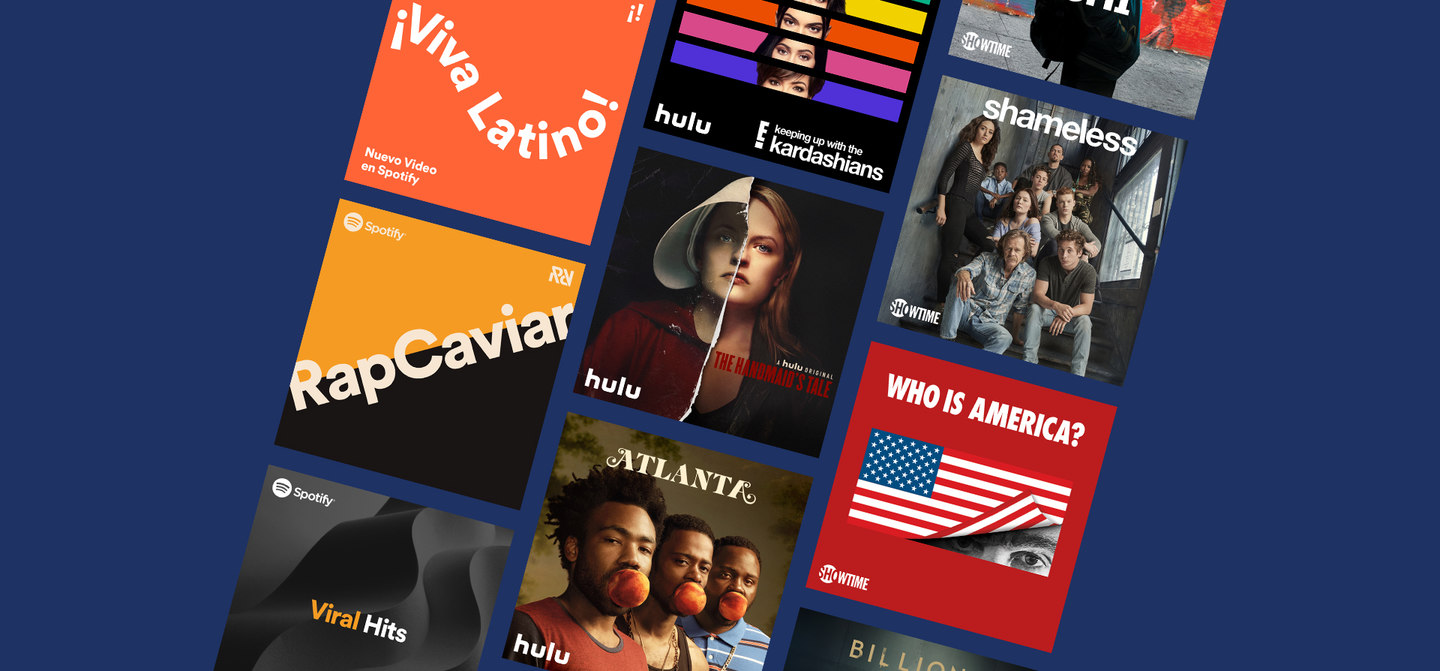 BUNDLE OF JOY
Spotify Premium for Students: Now with Hulu and SHOWTIME
With back to school season upon us, students are stocking up on all they need to thrive at school. Though they may have busy schedules and tight budgets, they still want to keep up with their favorite shows and music. That's why today, we're announcing an upgraded Spotify Premium for Students plan, and giving students unrivaled access to world-class content for one low price.
Our current Spotify Premium for Students plan offers unlimited and on-demand access to all of our music and podcasts for $4.99, as well as a subscription to Hulu's streaming library of current and fan-favorite TV and movie hits. Today we're adding SHOWTIME to the plan, to let students enjoy even more award-winning, top-rated programming – all at the same low price and with the simplicity of one single bill. How's that for an A+?
With the addition to the Spotify Premium for Students plan, students will have unlimited access to thousands of hours of SHOWTIME's premium entertainment content. The shows run the gamut from original TV series – including Emmy® nominated Shameless, seven-season strong Homeland, Sacha Baron-Cohen's Who Is America, Lena Waithe's much anticipated The Chi, the upcoming comedy series Kidding starring Jim Carrey, and the semi-autobiographical SMILF, as well as Billions, Ray Donovan, The Affair, and Twin Peaks.
SHOWTIME's library also includes blockbuster movies such as Girl on the Train and Baby Driver, in addition to live telecasts, music, comedy and political shows and documentaries, and sports programming, including SHOWTIME Championship Boxing. Spotify Premium for Students subscribers with SHOWTIME will also have access to the live telecast of the network's East and West Coast feeds, as well as commercial-free access to all their shows, whether they're watching on-demand or downloading for later.
Student Premium subscribers can of course already enjoy Hulu's library of acclaimed Original Series, includes Emmy® and Golden Globe Award-winning series The Handmaid's Tale, The Looming Tower, Marvel's Runaways and Castle Rock; as well as current-season television like This is Us and Rick & Morty, hit movies and exclusive library series, including Family Guy, Lost, ER and more.
Spotify Premium has just changed the content game for students. By joining forces with SHOWTIME and continuing our relationship with Hulu, Spotify Premium is now able to give students a complete world of music and video content, shows and film. This latest offer for U.S. students—both the millions already on Spotify Premium and those who are new—really is huge. Never before have students had this level of streaming entertainment options, at this unprecedented value, all in one package.

Alex Norström, Chief Premium Officer, Spotify
In order to sign up, students should go to spotify.com/student. The updated plan—which includes Spotify Premium, Hulu, and SHOWTIME—is still only $4.99 per month. You don't have to be a math major to see how that one adds up.
Existing Spotify Premium for Students subscribers should upgrade their plan to include both Hulu and SHOWTIME at no additional cost. And because we know students have plenty of other things they want to spend their money on—textbooks, for example 😉 —we're offering the service to new subscribers for just $0.99 for the first three months.
Like all good students, you probably have some questions about the nitty gritty. Now's the time to study up.
1. Can I get this offer if I am not already a Spotify Premium for Students subscriber?
Absolutely. You can easily sign up for the Spotify Premium for Students Plan at spotify.com/student.
2. If I already have the Spotify Premium for Students with Hulu plan, how do I get Showtime?
You'll have immediate access to SHOWTIME as a pre-existing Spotify Premium for Student user. Simply upgrade your account and activate SHOWTIME at www.spotify.com/student.
3. How do I know if I'm eligible?
All U.S. college students enrolled at Title IV accredited institutions are eligible to participate.
4. If I have SHOWTIME or Hulu already, can I pair them?
You will not be able to pair an existing SHOWTIME or Hulu account and your Spotify Premium for Students plan. To access SHOWTIME or Hulu through the Spotify Premium plan, cancel your current SHOWTIME or Hulu subscription and then sign up for Spotify Premium for Students.
5. Do I get one login/username for all three apps?
You will need to set up three separate accounts, one for each service.
6. What devices can I use?
No matter how, where, or when you stream, Spotify, SHOWTIME, and Hulu are available on their respective apps across all your devices—TV, tablet, phone, and computer.
Excited to go back to school? We are too.