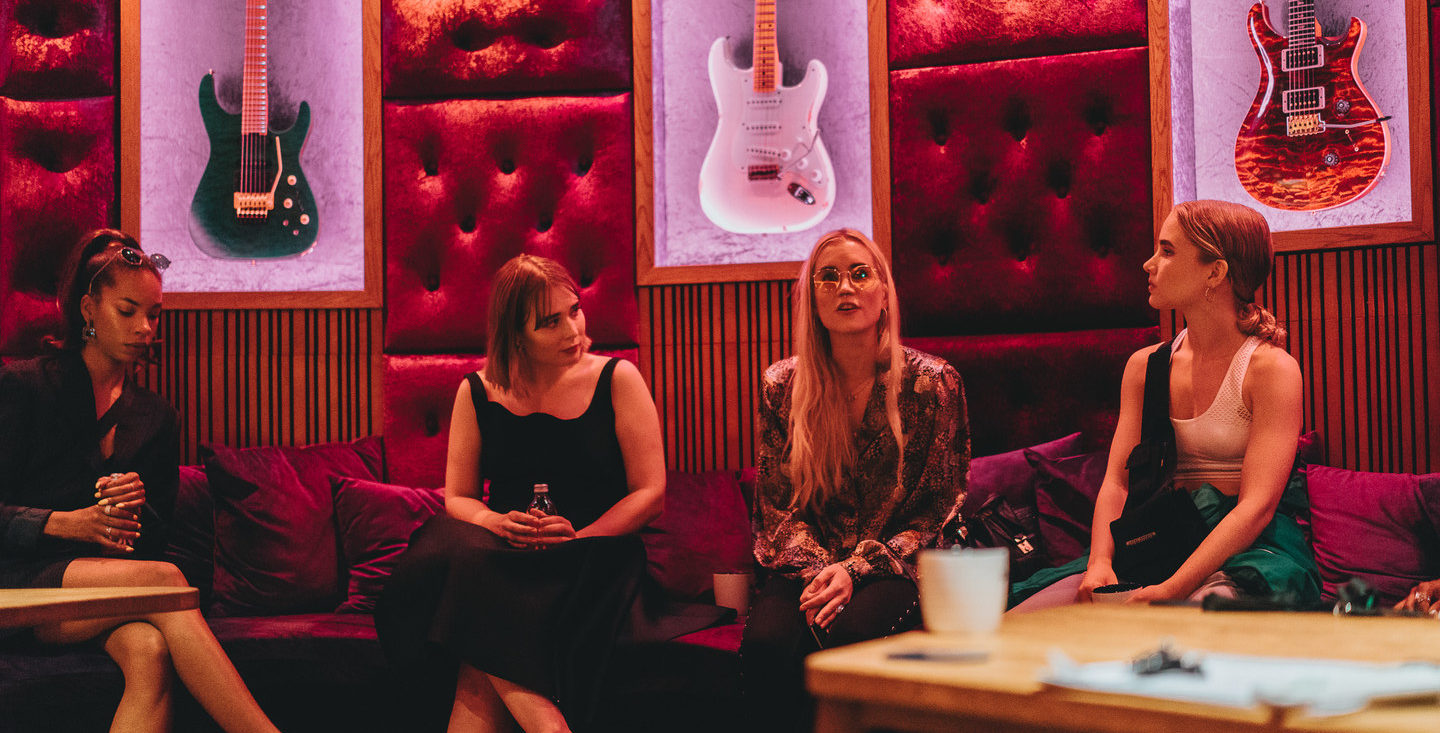 Equalizer Producer Camp Seeks to Level The Playing Field
Female artists have a strong hold on Spotify's playlists, but their presence behind the scenes is lacking. In fact, Spotify's 50 most-played songs of 2017 featured no female producers–that's right, zero–and nearly 90 percent of songwriters were men. According to statistics from the Annenberg Inclusion Initiative, the number of female songwriters increased by less than 1 percent (to 12.3 percent) from 2012 to 2017, and the number of female producers remained at just 2 percent during the same five-year period. When looking across 300 popular songs, the ratio of male to female producers is a staggering 49-to-1.
We know these stats are not okay. That's why we founded the Equalizer Project in the spring of 2017, which is an ongoing initiative connecting songwriters and producers with industry professionals (including Katy Perry, Max Martin, First Aid Kit, Icona Pop, and more). Tomorrow, our commitment continues with the start of Equalizer Camp, the project's first course in music production. The camp is aimed at giving women, transgender, and non-binary artists and songwriters a chance to develop their skills and learn more about production during three weekends at Spotify's headquarters in Stockholm. The course will mix theory with practical, hands-on learning inside world-class facilities at Spotify and Northbound Studios.
"We've invited 10 artists from different backgrounds and music genres with the purpose of providing tools for greater influence in the studio," says Jenny Hermanson, Nordic Managing Director of Spotify. "A producer has a lot of power in the creative process and it's important we see more diversity in this role. We want to give the participants valuable knowledge, inspiration and fun weekends at Spotify. It's going to be so exciting to follow their journey."
On the first day of the course, Swedish producer duo Jenny and Cecilia Vaz will offer instruction, and American producer Trakgirl (whose previous work includes collaborations with Jhene Aiko and Timbaland) will visit the camp. Throughout the program, Equalizer podcast host Linnea Henriksson will participate with an impressive array of fellow artists: Janice Kavander, Fatima Jelassi, Iman Conta Hultén, Maria Andersson, Naomi Pilgrim, Isaac Toll Wood, Naomi Namasenda, Svea Kågemark and Beri Gerwise.
"I've always been very involved in all parts of what happens in the studio, from writing my music to producing, but I've felt an urge to become even more technical and self-reliable," Linnea Henriksson says about the camp. "What I look forward to the most is to meet new colleagues to bounce ideas with, everyone with different music in them. It feels incredibly inspiring and fun to get started!"
But that's not all we're up to. The Equalizer podcast, hosted by Linnea and Evyn Redar, will premiere its third season September 24. Like its accompanying program, the Equalizer podcast works to amplify the voices of women in music. This season, Linnea and Evyn will chat about the industry with such accomplished guests as Miriam Bryant, Cleo, Alessia Cara, and more.
Looks like the Equalizer Project is shaping up for a busy fall season–and that's a big step forward for underrepresented people in music in Sweden.
Cover photo from Equalizer Networking Event held June 9, 2018 in Stockholm. L-R: Janice, GRANT, KIDDO and Becky and the Birds.