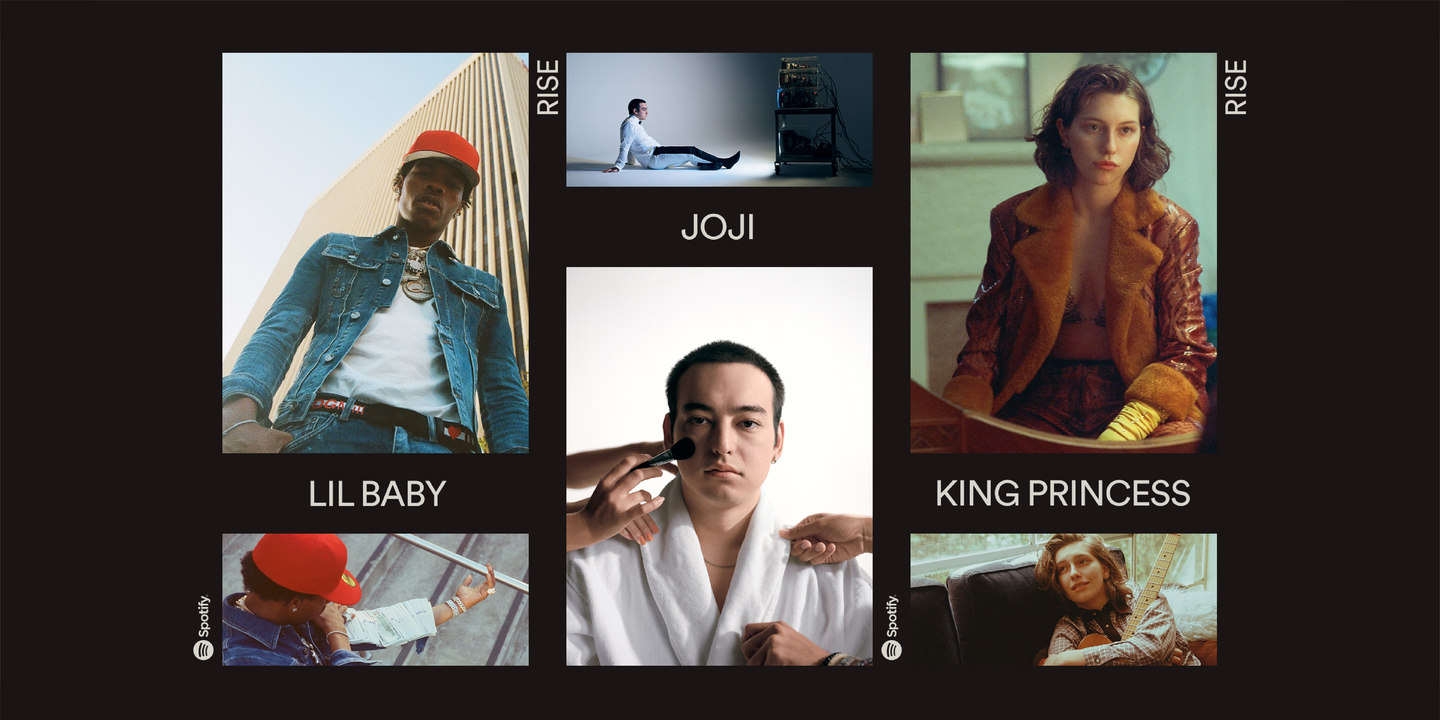 RISE UP
Spotify's RISE Ushers in a New Wave of Artists … and the Stories Behind Their Songs
Every song tells a story—from the indie jam at the coffee shop to the hip-hop hit blasting from the car radio—and so do the artists behind them. Their lyrics, melodies, and soundtracks come from their experiences as musicians and the journeys they took to achieve their musical goals. For these artists, the many stories in their collection becomes the album they share with the world.
Spotify wants to highlight those stories. That's why we have RISE—an artist development program, sponsored by Aloft, that supports new artists and gives fans a peek behind the scenes of their journeys.
After recently spotlighting country band LANCO, R&B artist Jorja Smith, Latin singer Karol G, and indie artist Rex Orange County, it's time to pass the baton to a new wave of RISE-ing stars including pop singer King Princess, R&B artist Joji, and Atlanta-based rapper Lil Baby.
RISE will delve into what makes each of these artists unique, from their inspirations to their dreams for the future. For King Princess, motivation comes from the LGBTQ community. "Having a strong community of gay men and women around me has helped me to realize my vision as an artist. It has also helped me stay loved and supported throughout this experience," the artist told For the Record when asked about who has helped her most throughout her blossoming career.
Joji, on the other hand, knew he wanted to make it in the music industry the moment he heard Soulja Boy sing "Crank Dat" on the radio. "If that song had us going apeshit in middle school, it had to be something special," he told Spotify.
Here's a little bit more about Spotify's New RISE artists:
King Princess: Born and raised in Brooklyn, New York, King Princess's musicality covers singing, songwriting, and various instruments. Having spent a large chunk of her childhood in her father's music studio, King Princess learned to play bass, drums, and piano, and even got the hang of music production. Her debut single and tribute to the LGBTQ community, "1950," has over 144 million streams, and her first album, Make My Bed, was released in June 2018.
Joji: The Japanese-Australian producer, singer, and R&B artist launched his fame from his bedroom—which is where he made his debut EP, "In Tongues," released in November 2017. He credits Dipset and Soulja Boy as being two huge influences on his music.
Lil Baby: Lil Baby is the rookie of the year. Just two years ago he started rapping under the nourishment of Coach K and Pierre "Pee" Thomas. Harder Than Ever marks the 23-year-old rapper and trap artist's debut album. This musical tour de force debuted at No. 3 on Billboard's Top 200, and featured the smash single "Yes Indeed" featuring Drake. "Yes Indeed" peaked at #1 at Urban Radio and No. 6 on Billboard's Hot 100. Since its release, it has amassed over 500 million global streams. In 2018 alone, Lil Baby has clocked in over 2 billion streams and counting across streaming platforms.
Beyond the music, RISE features short-form documentaries that authentically capture these unique artists and their creative processes, collaborations, insight on their own role models, exclusive photoshoots, and more BTS goodies. And let's be honest—you'll probably want to "heart" their tracks to save them to your favorites playlist, too.