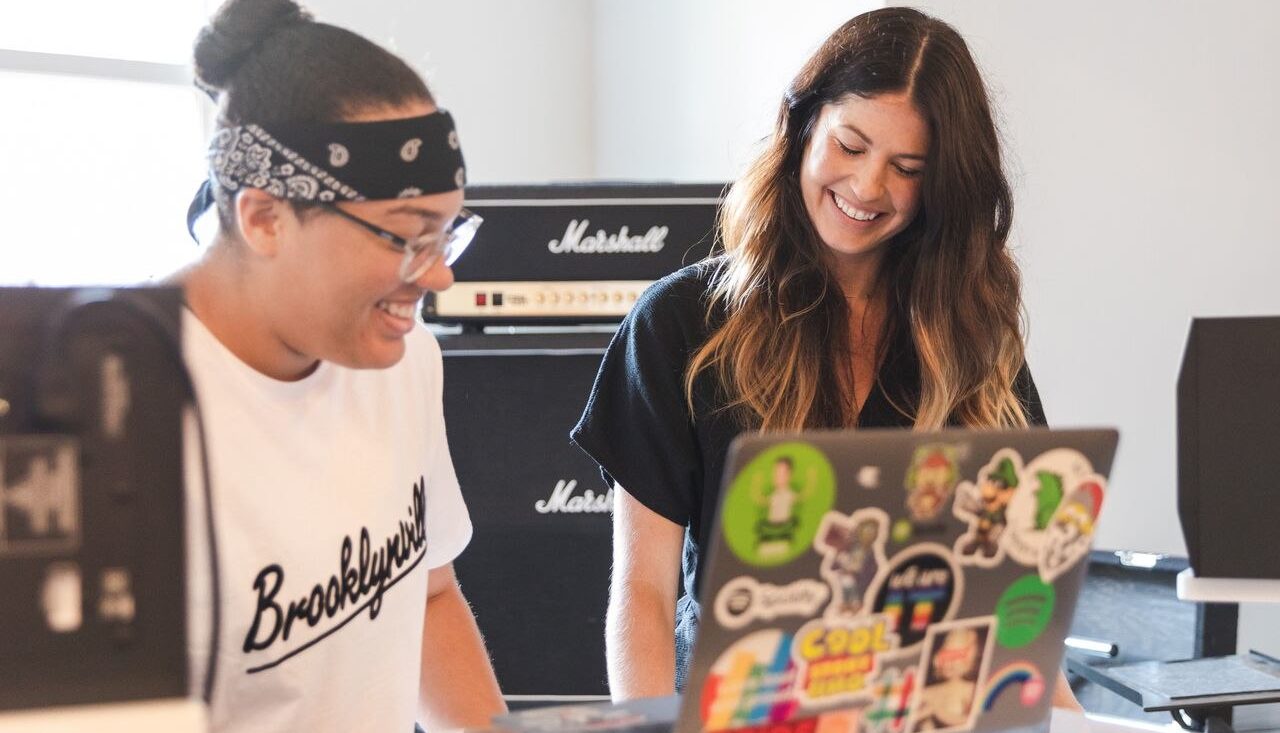 DAY IN THE LIFE
Mallory Thomson on Connecting Spotifiers Through Px—DJs, Spin Bikes, and Grand Pianos Included
On a busy Thursday afternoon at our New York office, we found Mallory Thomson, Spotify's Px (People Experience) Lead, preparing for "Classy AF." The playfully titled classical music event offers classically trained Spotifiers a chance to share their music skills with coworkers.
"If you had come tomorrow, you would've seen a baby grand piano being delivered in the lobby," she joked. But while events are an important aspect of Mallory's job, there's a lot more to Px than planning parties.
Px is about the people who work here. It's important for our employees to be happy, to express themselves, and to engage in their passions. It's part of us all being able to bring our whole selves to work.

Mallory Thomson
Each morning, Mallory connects with the rest of the Px team—six members total in New York, Stockholm, and London—to discuss upcoming projects and to-dos. "It's a great opportunity to catch up with the rest of the team to make sure we are aligned with our initiatives. I like the creative aspect of brainstorming together and coming up with new ideas."
Throughout the day, she collaborates with various other teams across Spotify, including Live Events, D&I (Diversity & Inclusion), and GWS (Global Workplace Services). Together, they plan new events and initiatives, and ensure that all Spotifiers feel welcome. "We use that lens in everything we do. We ask ourselves, 'Is this inclusive?' Making sure that everyone can participate is super important."
Whether Mallory is planning a social event, a conference, or a fitness activity, her mission is to help employees take advantage of not just work, but life, within Spotify. "A lot of our events include 'plus ones,' which is part of our initiative called Spotify Plus," she described. "We want Spotifiers to feel happy and comfortable at work. Our Spotify Plus initiatives are a great way for people to introduce some of their biggest supporters at home to their friends at work. Of course, it's also a way for everyone to have fun!"
A lot of big gatherings take place in New York's open MSG room. "We recently had a drag showcase," she recalled. "We had a catwalk in here, and a DJ from our DJ club performed. It was awesome—not toned down at all!"
The Px team is responsible for planning Spotify's mega-size summer and holiday parties—like last year's summer block party which included performances from T-Pain, Charles Bradley, and Flint Eastwood—as well as smaller events and programs, like Rock Band Bootcamp.
"We have a very robust musician community within Spotify," Mallory explained. "Rock Band Bootcamp offers music lessons in guitar, vocals, and piano. And our DJ club often hosts the pop-up event 'Decks on Decks.' It's very low key… it's every other Friday in summer, so it's great for anyone who just wants to chill on the roof. It's great for the DJs because they gain experience performing in front of people."
But these events are just part of the Px equation. "Fitness and health is also an area of particular focus, inside and outside the office," Mallory said. "We know that physical activity is important for the mind, heart, and overall wellbeing. But perhaps more importantly, coming together with your colleagues while exercising is fun. We recently did a spin class in New York City. It was so cool to look around at all the other bikes mid-class and see all Spotify faces!"
The most rewarding part of Mallory's job is when she sees Spotifiers making real, personal connections through her work. "Our team plans an annual trip to Kiruna in the North of Sweden, where you can see the northern lights," she said. "It's unique to our Swedish roots, and something we'll do forever. You're in a camp in the middle of nowhere, dog sledding and ice fishing with people from the U.S., U.K., South America, Australia, Japan… so you form relationships you wouldn't otherwise make just hanging out at work. It's magical."
These "a-ha moments" are what keep Mallory motivated and excited to come to work each day. "It's hard not to feel a sense of pride when something's come together so well after you've focused on all the tiny details, and you see everyone having so much fun. It really brings you back to what it's all about, which is the people."