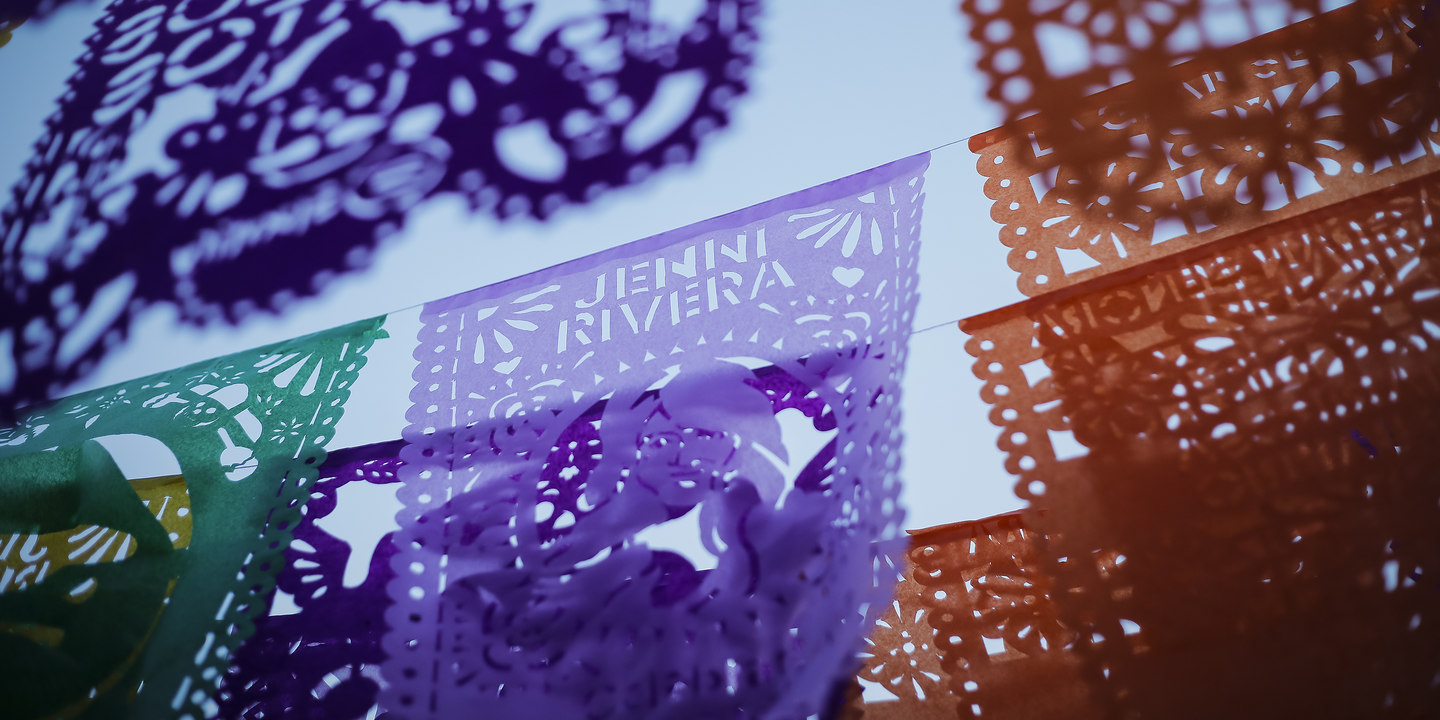 AN OFRENDA FOR JENNI RIVERA
Let the Music Play Forever: Spotify Honors the Legacies of Legendary Artists on Día de los Muertos
Music carries messages across generations, and that's especially true on Día de los Muertos. To celebrate the traditional holiday, Spotify is honoring some of Mexican music's most-beloved deceased icons and their lasting impact on the world of Latin music and culture—and helping music fans connect to the special day.
On the Latin music hub, fans can explore a number of original Día de los Muertos playlists that highlight the music of current and past Mexican and Mexican-American artists. What's more, they're all decorated with images of the artists or symbols of Día de los Muertos, such as papel picados, or cut paper banners. Music lovers can embrace the holiday's musical traditions, stream original artist covers, and honor the legacies of stars past with our dedicated playlists.
First up, our eclectic Día de los Muertos playlist features songs from contemporary and legendary Mexican and Mexican-American greats, and includes a few covers of moving, traditional songs by late musicians. We worked with three current artists to cover those legendary hits—Mexican-American singer-songwriter Becky G lends her soulful voice to a moving take of "Por Un Amor, Cucurrucucu Paloma," Joss Favela performs a gripping rendition of "Eso y Más," and indie musician Silvana Estrada brings new life to "Amor Eterno."
These rising stars also spoke to Spotify about the meaning of the holiday and the impact covering one of their legends had on them.
"For Mexicans, Día de los Muertos is a moment with our loved ones who are no longer with us," explained Joss Favela. "My idols are no longer alive but they live in their music. This song we are recording is our offering."
Silvana Estrada noted, "It's a beautiful opportunity to get in touch with my musical predecessors."
"This Día de los Muertos, I am honoring Jenni Rivera," explains Becky G. "When I think of her, I think of my mom—I think of my grandmothers. She embodies the voice of women everywhere."
Jenni Rivera's music still has a particular hold on listeners across both Mexico and the U.S. To help fans celebrate her life, we proudly honored her musical legacy at the Hollywood Forever Cemetery's 19th annual Día de los Muertos festival in Los Angeles on October 27. Los Angeles was Rivera's home, and the city where many of her family members, friends, and fans still reside.
"It is an incredible honor for our family that Spotify chose to commemorate my mother's legacy during the Dia de los Muertos festival in Los Angeles," said Chiquis Rivera, daughter of Jenni Rivera. "Her music had such an incredible impact on our culture, and to be able to celebrate her life alongside her fans is an experience we will never forget."
At the festival, fans visited an ofrenda to Jenni Rivera, an Aztec marigold-adorned Día de los Muertos memorial bridge to remember the late artist and celebrate her life. The offering, designed by Mexican ofrenda artist Ricardo Soltero, displayed colorful sugar skulls (a common decoration and traditional holiday gift for children), candles and butterfly symbols on an altar dedicated to her memory. The shrine also featured some of the fiery-voiced "Mariposa de Barrio's" favorite foods, as well as sugar skulls and papel picados with images of Jenni and the names of some of her most-streamed tracks on Spotify.
Craving more Día de los Muertos music? Stream themed hits from playlists such as A Mover el Esqueleto, a Halloween party with Latin rock 'n' roll; Mujerones, which honors female Mexican singers across generations; and Calaveritas, which pays homage to Latin and non-Latin musicians who have passed.