BACK BY POPULAR DEMAND
Spotify's "Turkey Timer" Matches Just the Right Playlist to Your Bird
The average Thanksgiving dinner takes seven hours to prepare—and timing is everything. That's why we created our Turkey Timer, which cranks out a special holiday playlist based on the size of your turkey and your Thanksgiving mood.
It's simpler than setting the table: Select the weight of your turkey and indicate whether it's stuffed. Then, choose your vibe from one of our six playlists: Bastin', All the Seasonings, Deep Fried, Fam Faves, Holiday Countdown, or Sabor de Sangsgiving. Songs are timed to play for exactly how long your turkey should be cooking.
Pro tip: Playlists are best left unshuffled—the final track will remind you to take your food out of the oven, as well as call your hungry guests to the dinner table.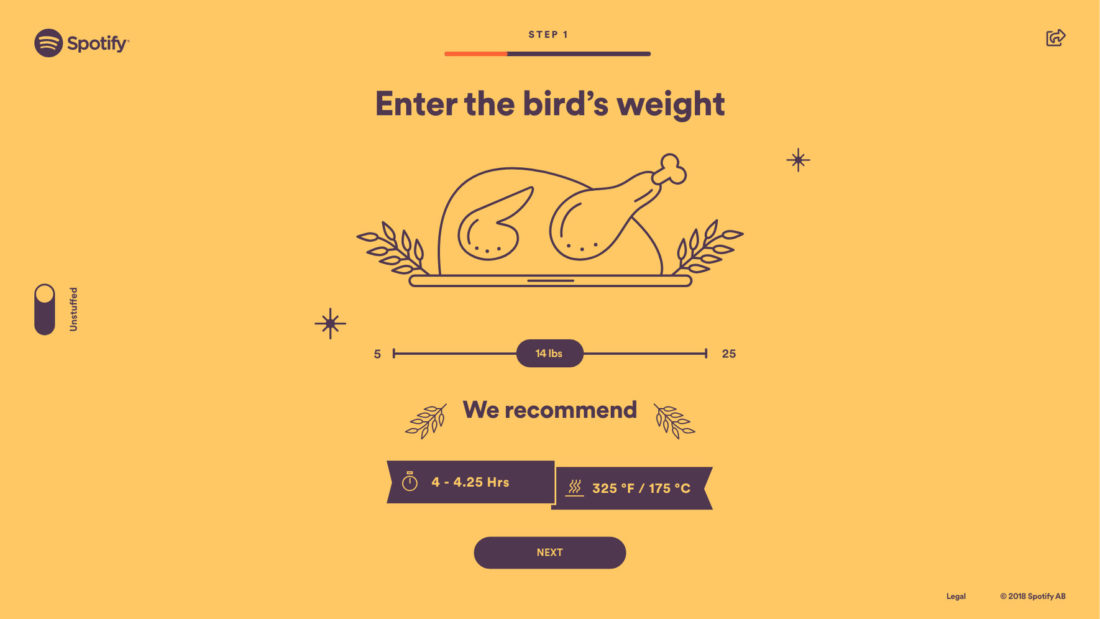 Not sure which option suits you best? Dig in to these:
If you like: Refreshing our Global Top 50 playlist every day like it's Christmas morning
You should try: Bastin'. For those who like to marinate in today's hits 24/7, this playlist supplies only the hottest tracks from artists like Ariana Grande, Drake, Rita Ora, and more. You and your loved ones can discover new music together—and maybe even find some fresh favorites that you can all be thankful for.
If you like: Rhythm as smooth as your grandma's mashed potatoes
You should try: All the Seasonings. A collection of gospel, hip-hop, and R&B tracks like Mary Jane Girls' "All Night Long," "That's What I Like" by Bruno Mars, and "Real Love" by Mary J. Blige will keep everyone dancing until dinner is done.
If you like: Wearing plaid, sitting by the fire and sipping on mugs of hot apple cider
You should try: Deep Fried. The laid-back feel of this playlist featuring country legends like Luke Bryan and Rascal Flatts is sure to bring out your inner cowboy while cooking.
If you like: Multigenerational cooking (your aunt's secret-recipe apple pie is the stuff of legends)
You should try: Fam Faves. We may come from different walks of life, but everyone is family on Thanksgiving. This mix of oldies and family-friendly tunes from Aretha Franklin to Demi Lovato has ageless appeal.
If you like: The minute blasting Christmas music finally becomes acceptable again
You should try: Holiday Countdown. With 'tis-the-season classics like Mariah Carey's "All I Want For Christmas Is You," "Jingle Bell Rock," and more, it's for anyone who sees Thanksgiving as the perfect pregame to the rest of the holiday season.
If you like: Bringing a little bit of Latin flavor to everything you do
You should try: Sabor de Sangsgiving. This collection of hits from Hispanic greats like Celia Cruz, Bajofondo, and Gipsy Kings will bring the flavor to your dinner table (even if you botch the gravy).
Food coma setting in? We've even created a Stuffed Snooze playlist to help you nap once the leftovers are put away.