And the winner is...
Quincy Jones, Ali Tamposi, Murda Beatz and Tank God Win Top Honors at Spotify's Secret Genius Awards in Los Angeles
Hosted by NE-YO, The Second Annual Awards Show Featured Dynamic Performances by Bebe Rexha, Becky G, Daniel Caesar, Terrace Martin and Jacob Collier
Last night, Spotify honored the leading tastemakers, producers, songwriters and engineers behind some of the year's most successful songs at the second annual Secret Genius Awards in Los Angeles. Grammy-Award winner NE-YO hosted the show that celebrated 14 categories including Songwriter of the Year, Producer of the Year, Breakthrough of the Year, and Social Message of the Year.
The intimate room was filled with over 500 of some of the biggest beatmakers and industry innovators who came together to celebrate the brilliant contributions of music's Secret Geniuses. This year Spotify Premium also invited 100 of the most passionate music fans on to attend the show and join the celebration. Additionally, in support of the recent launch of its EQL Directory, a Global database for women in Audio and Music Production, Spotify donated tickets to Girls Make Beats.
Performances of hit songs such as "I'm a Mess" by Bebe Rexha, "Human Nature" by Jacob Collier, "Sin Pijama" and "Mayores" by Becky G and "Get You" by Daniel Caesar had attendees singing throughout night. Along with high energy performances that had the crowd out of their seats, top artists including Keith Urban, Tiesto, Bazzi, Charli XCX, Swae Lee, Timbaland, and Kelly Rowland presented awards to the night's winners.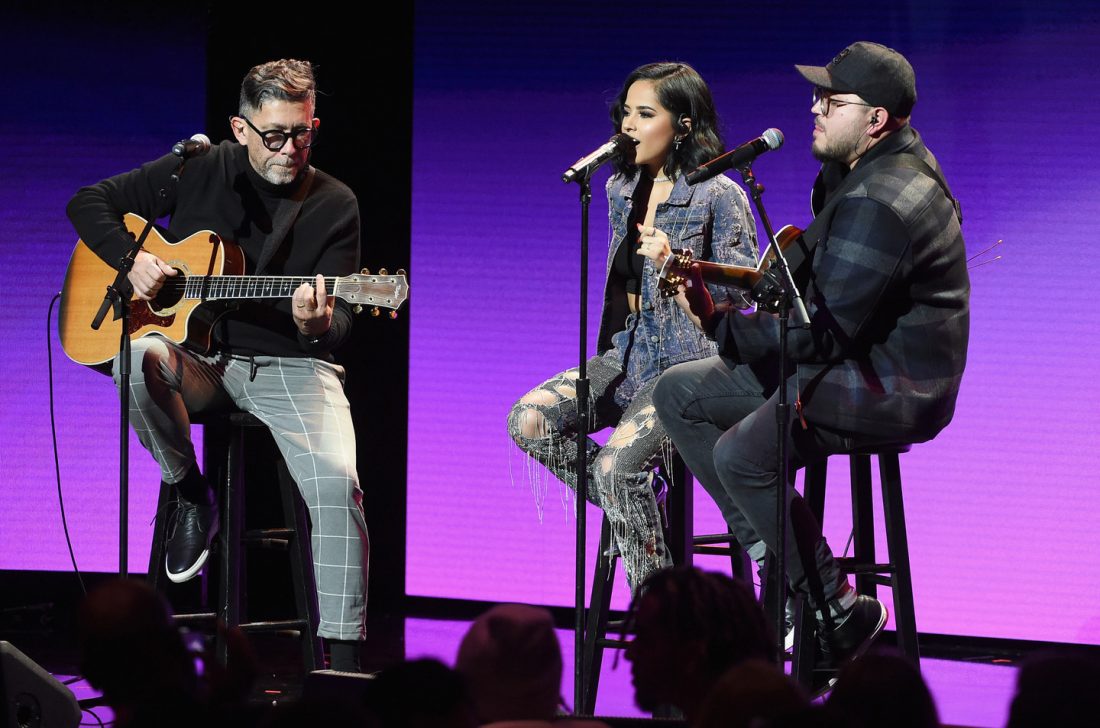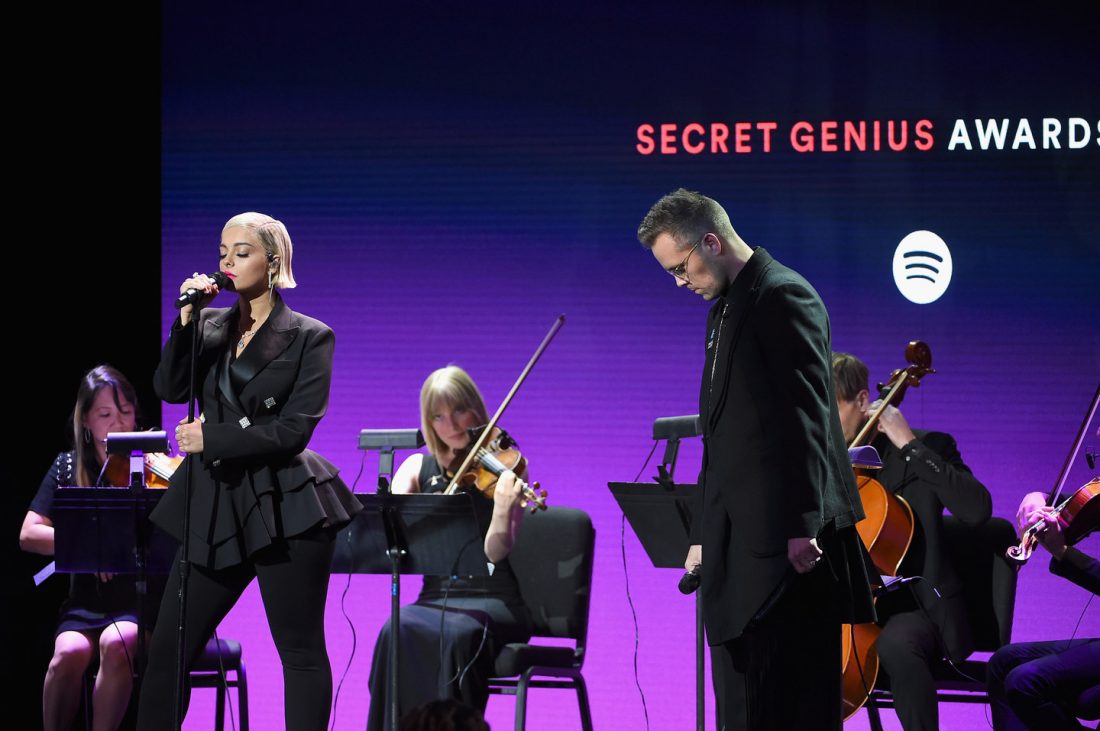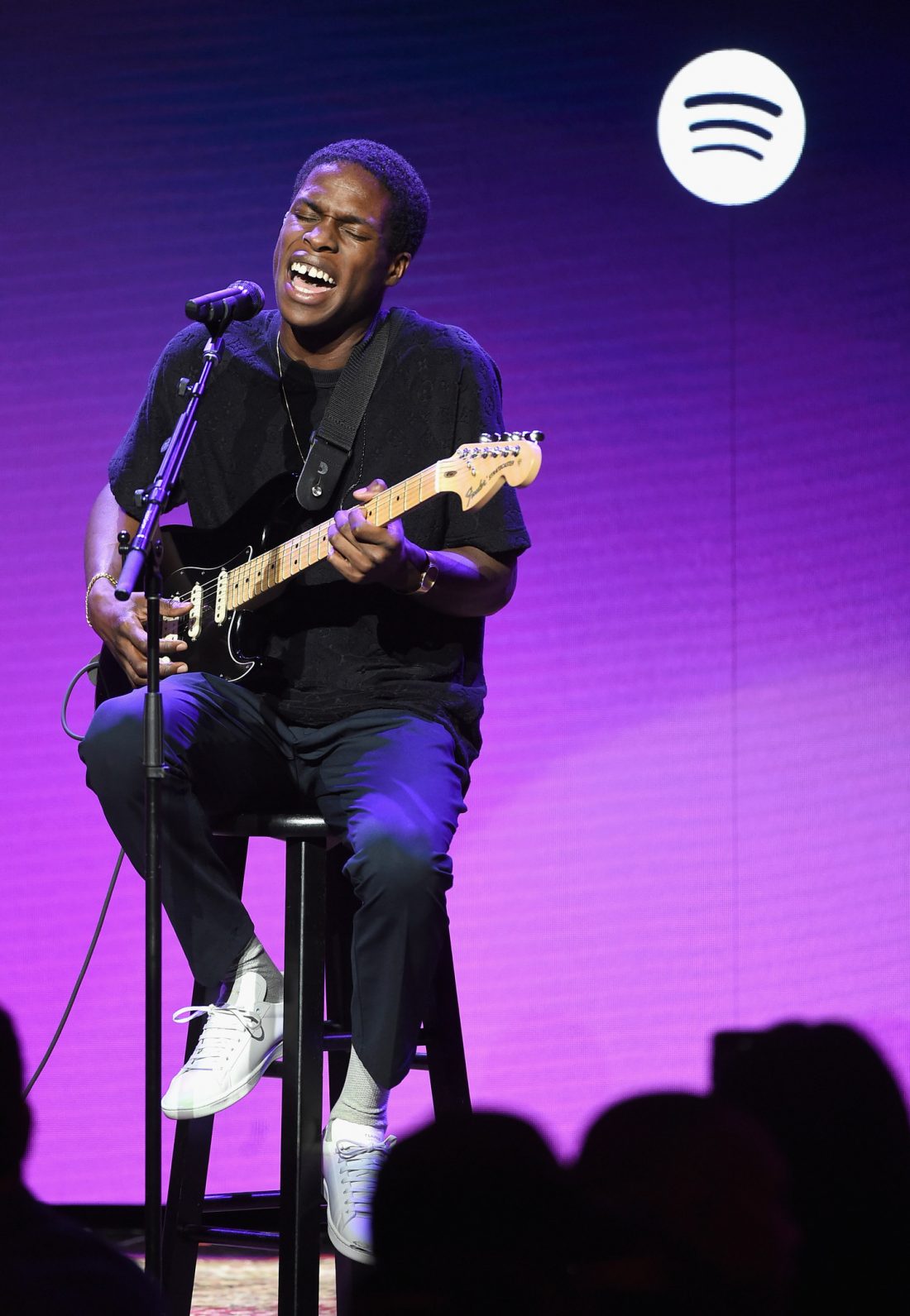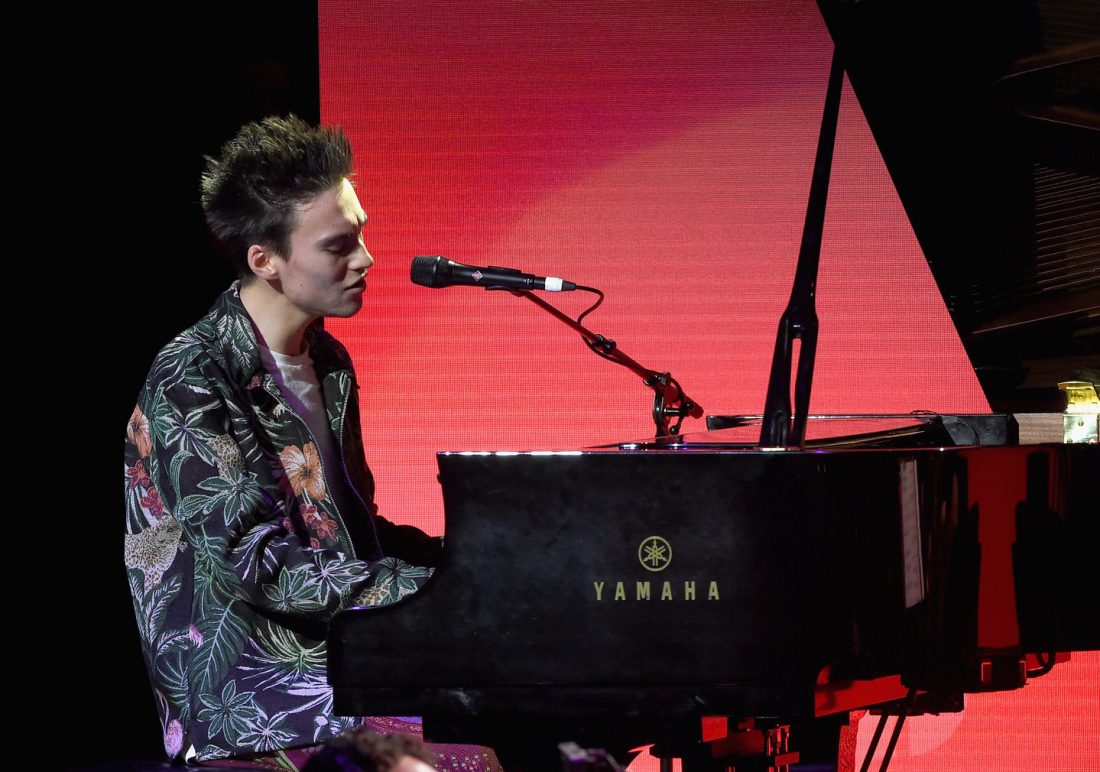 (Photo by Kevin Winter/Getty Images for Spotify)
Celebrated for his countless contributions to the music industry and a legacy spanning seven-decades, Quincy Jones was awarded the "Legendary Genius Honor." Mr. Jones looked on endearingly at his protégé Jacob Collier who performed a captivating, melodic cover of "Human Nature" while barefoot on stage with a string quartet. After Jacob received a standing ovation from the crowd, NE-YO introduced a second tribute performance by Ty Dolla $ign, Robert Glasper, Taylor McFerrin and Terrace Martin, which had Mr. Jones fist bumping and grooving to the beat. Before Mr. Jones was recognized for his contributions to the industry, Max Martin and Timbaland recognized him with a heartfelt speech that took the crowd back through Mr. Jones' many accomplishments through the years. Upon accepting his speech, Quincy Jones paid tribute to the artists he has worked with throughout his storied career and expressed his enthusiasm for the budding musicians in the world. In keeping with the spirit of the evening, he went on to share "It all starts with a great song… that is the secret… the singer is just the messenger." He left with enlightening parting words, "YOLO KOKO! You only live once, so keep on keepin' on."
Upon presenting Secret Genius: Engineer of the Year, Marcella Araica spoke to the audience about Spotify's EQL Directory, a Global Database for Women in Audio and Music Production, created by Spotify and SoundGirls in an effort to expand opportunities for girls and women in music. Her stance on gender equity in the industry was met by applause as she awarded Kesha Lee as this year's recipient.
Murda Beatz took home the top honor of Secret Genius: Producer of the Year, presented by Tricky Stewart. Known for producing mega hits like "Nice For What" – Drake, "Butterfly Effect" – Travis Scott, "Motorsport" – Migos ft. Nicki Minaj and Cardi B, "It's a Vibe" – 2 Chainz ft. Ty Dolla $ign, Trey Songz and Jhene Aiko.
Ali Tamposi took home the top honor of Secret Genius: Songwriter of the Year, presented by The-Dream and Tricky. Tamposi is known for hits such as "Havana" – Camila Cabello, "Wolves" – Selena Gomez and Marshmello, "Let Me Go" – Hailee Steinfeld, Alesso, Florida Georgia Line and Watt, "Lonely Together" – Avicii ft. Rita Ora.
Taking home two awards tonight and known for conceiving major hits like "rockstar" – Post Malone ft. 21 Savage, Tank God was awarded with Secret Genius: Hip Hop by Ty Dolla $ign and Secret Genius: Breakthrough of the Year by Bazzi.
Benny Blanco was honored by Charli XCX with the Secret Genius: Pop for hits such as "Happier" – Ed Sheeran, "Crying in the Club" – Camila Cabello, "Now or Never" – Halsey and more.
The complete list of winners includes:
Secret Genius: Legendary Genius Honor – Quincy Jones
Secret Genius: Songwriter of the Year – Ali Tamposi
Secret Genius: Producer of the Year – Murda Beatz
Secret Genius: Ambassador Grant – Smokescreen
Secret Genius: Pop – Benny Blanco
Secret Genius: Hip Hop – Tank God
Secret Genius: R&B – The Stereotypes
Secret Genius: Dance – DJ Swivel
Secret Genius: Latin – Andrés Torres Y Mauricio Rengifo
Secret Genius: Rock – Jake Sinclair
Secret Genius: Country – David Garcia
Secret Genius: Breakthrough of the Year – Tank God
Secret Genius: Engineer – Kesha Lee
Secret Genius: Mixing Engineer – Manny Marroquin
Secret Genius: Social Message – This is America (Ludwig Göransson)