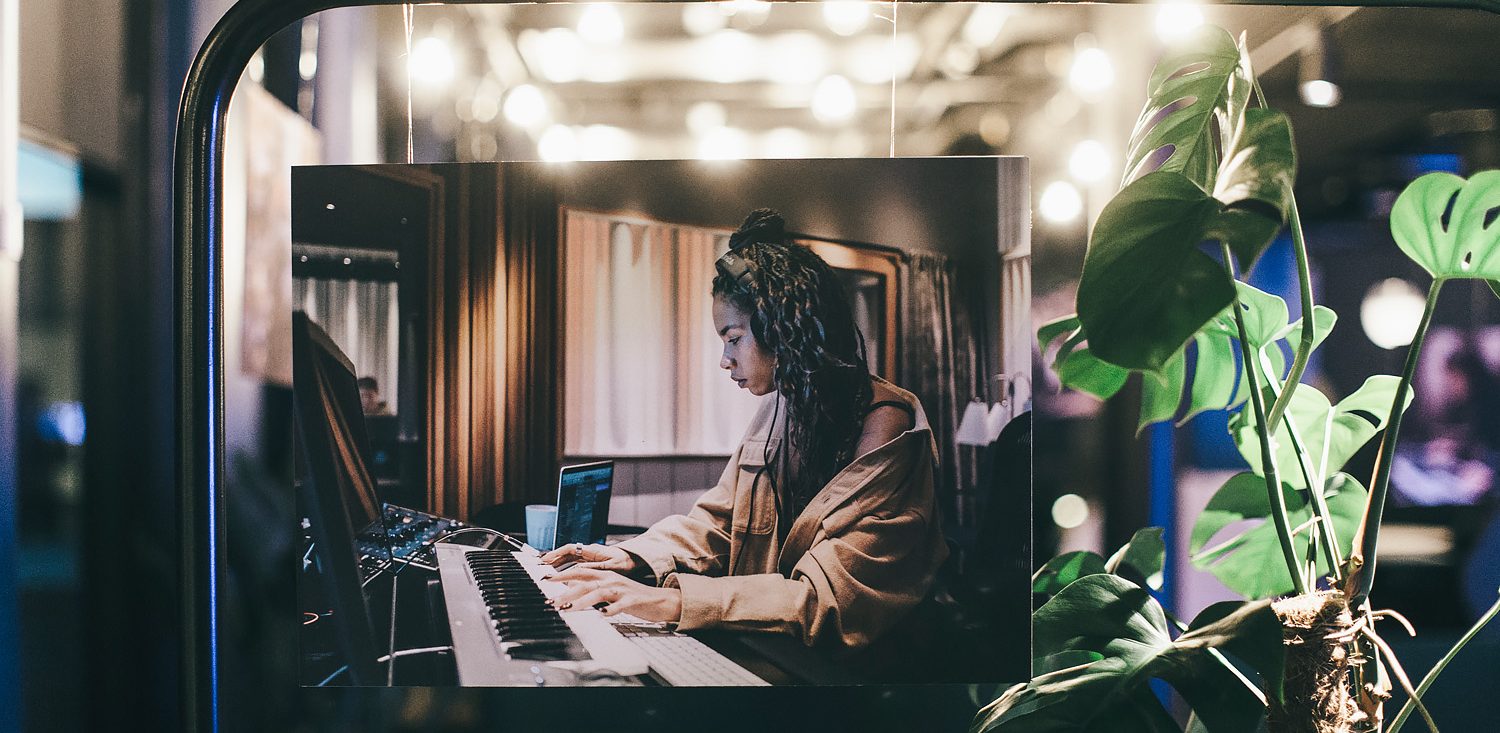 Turning Up Equality
Amplifying Women's Voices in the Music Business
Women are vastly underrepresented in the music business—producers, agents, songwriters, and managers included. In fact, only 13.5 percent of the songwriters behind Sweden's 50 most played songs in 2017 were women, and all of the producers—yes, 100 percent of them—were men. Our mission is to change that.
"We want women to become better represented, behind the music and on the charts, and at every level in between," says Jenny Hermanson, Spotify's Nordic Managing Director.
That's why we created the Equalizer Project, a progressive initiative devoted to equalizing opportunities for women in the Swedish music industry. The project launched from our Stockholm headquarters in early spring 2017.
"We aim to bridge the gap by bringing women together to build a music industry where everyone can succeed and thrive," Hermanson says. Our project, which consists of an empowering podcast, meaningful semi-annual networking events, a producer camp and all-women and non-binary meet-ups, stems from a desire to spark conversations around increasing equality and breaking gender barriers in the world of music.
2018 was a busy year for the Equalizer Project. Check out these four ways the initiative is setting the stage for achieving greater representation in the music business.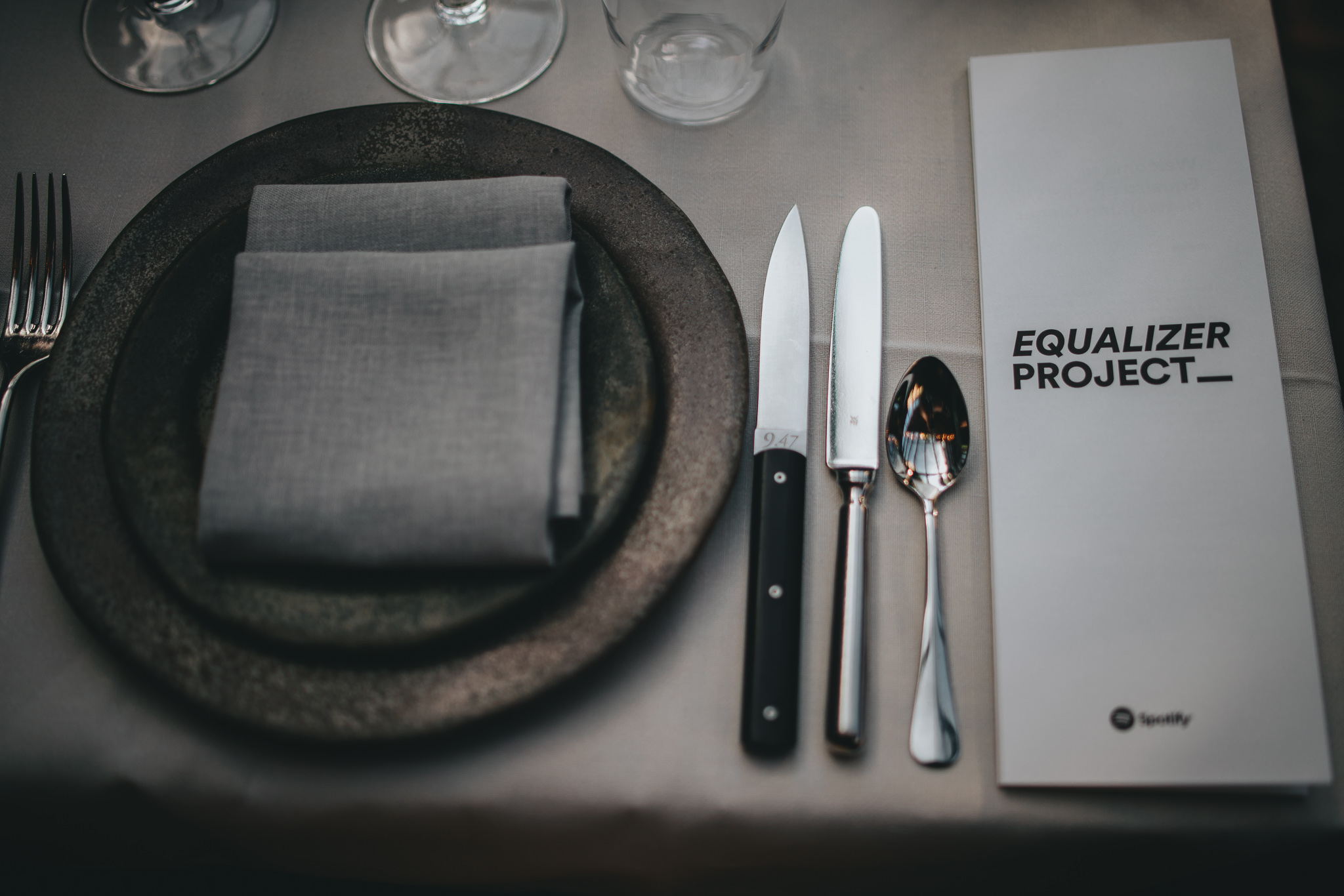 1. Equalizer Project Networking Events—Breaking Bread and Barriers
The goal of these intimate roundtable networking dinners for five rising talents and five industry professionals—including global pop sensation Katy Perry, Icona Pop, Max Martin, First Aid Kit, Noonie Bao, Tove Styrke, and Shellback—is to create a space where female artists, songwriters, producers, and other music industry professionals can openly share experiences, strength, and hope—without the commitment tied to meeting in a studio for a session. Guests also have the opportunity to learn from each other, all in the name of supporting career development and breaking norms.
During the events, aspiring female creators get a chance to meet industry professionals to pick their brains about their career and ways of working and encourage them to chase their dreams. We've also welcomed rising Swedish music standouts Janice Kavander, Thea Gustafsson (aka Becky and the Birds), and many more.
2. Equalizer Producer Camp—Creativity at Work
In the project's first course in music production, 11 female, transgender, and non-binary artists from diverse backgrounds and music genres received expert instruction from American producer Trakgirl and Swedish producers Jenny and Cecilia Vaz, Charlie Bernardo and Vargas & Lagola, the duo behind major hits for Avicii and Axwell Λ Ingrosso. This unique camp was created to give these underrepresented songwriters and artists a chance to develop their skills and learn more about production. Swedish singer-songwriter Linnea Henriksson participated in the three-weekend long camp alongside fellow artists like Maria Andersson, Naomi Pilgrim, and several others.
"A producer has a lot of power in the creative process, and it's important we see more diversity in this role," says Hermanson, who took part in the camp held at both Northbound Studios and Spotify's Stockholm headquarters. "We wanted to give participants valuable knowledge, inspiration, and fun weekends at Spotify. It's so exciting to follow their journey."
3. Equalizer Dinner—Cultivating Connections
During this special meet-up dinner last October at Spotify's headquarters, 40 of Sweden's most prominent female artists, songwriters, and producers gathered to celebrate women in music production. We created a space where female and non-binary artists and several other industry professionals could openly connect and share experiences. Guests also enjoyed live performances by hip-hop artist Imenella and Linnea Henriksson. Check out the recap video:
4. Equalizer Podcast Seasons 2 & 3—Sharing Stories of Triumph
This insightful 24-episode Spotify Original podcast highlights female role models in music and brings hosts and guests together to chat about creation, production, and most of all, their biggest passion—music. You'll hear everything from advice on breaking through from some of Sweden's most successful female artists, to personal stories of overcoming common industry challenges, to inspiring pep talks and more.
The first season of the podcast was hosted by Henriksson, who was joined for the second and third by writer and DJ Evyn Redar. Season two guests include pop sensations Peg Parnevik and Molly Sandén, R&B singer Cherrie, artist and songwriter Sabina Ddumba, and rapper Silvana Imam. Season three guests include electro pop duo Icona Pop, Imenella, and Canadian pop and R&B singer Alessia Cara. Among past guests are singer Seinabo Sey and singer-songwriters Tove Lo and Zara Larsson. Check out the Swedish-language podcast here:
Stay tuned in 2019 for more about our upcoming activities for female songwriters and artists. We're just getting started.