Let's Hit the Road
Here's Where Your Favorite Artists Toured the Most in 2018
For an artist, there's nothing like connecting with diehard fans who are sing-screaming your lyrics from the front row; for concert-goers, there's nothing like seeing the music you're obsessed with come alive on stage. That's why we took our passion for music on the road and dug into the touring trends that reached far beyond our platform this year. Because while many of the year's biggest artists hit the road in 2018, no two tours looked exactly the same.
Want to see for yourself? The proof is in our 2018 touring map. To create it, we looked at the top-streamed artists who played in 10 or more U.S. cities this year.
The map helped us discover some interesting trends—and some pretty weird shapes. While superstars like Nicki Minaj and Kendrick Lamar spent lots of time on the coasts, rising artists like Juice WRLD and Playboi Carti made sure to hit all corners of the country. Beyoncé, Chris Brown, and Twenty One Pilots toured mostly around the perimeter of the U.S., but Zedd, Gucci Mane, and Dan + Shay clustered lots of dates in the middle.
MVPs like SZA, Kane Brown, and Migos toured throughout the year, but some shorter tours, including Lana Del Rey's, included stops in Hawaii (and hopefully some beach time).
We also checked out which artists played which cities the most. Texas hip-hop collective Brockhampton played New York seven times, while Rich the Kid, originally from Queens, played L.A. a record 12 times. Perhaps most impressive were the Chainsmokers, who hit Las Vegas a whopping 45 times (although their Vegas residency might have had something to do with that).
Click on each artist to dig deeper into where, when, and how they toured throughout the year. When you click on 5 Seconds of Summer, you'll see that the Aussies covered lots of ground in the U.S. from April to December. (And to get back to the original map, just click the tab on the top left or the X button at the top right.)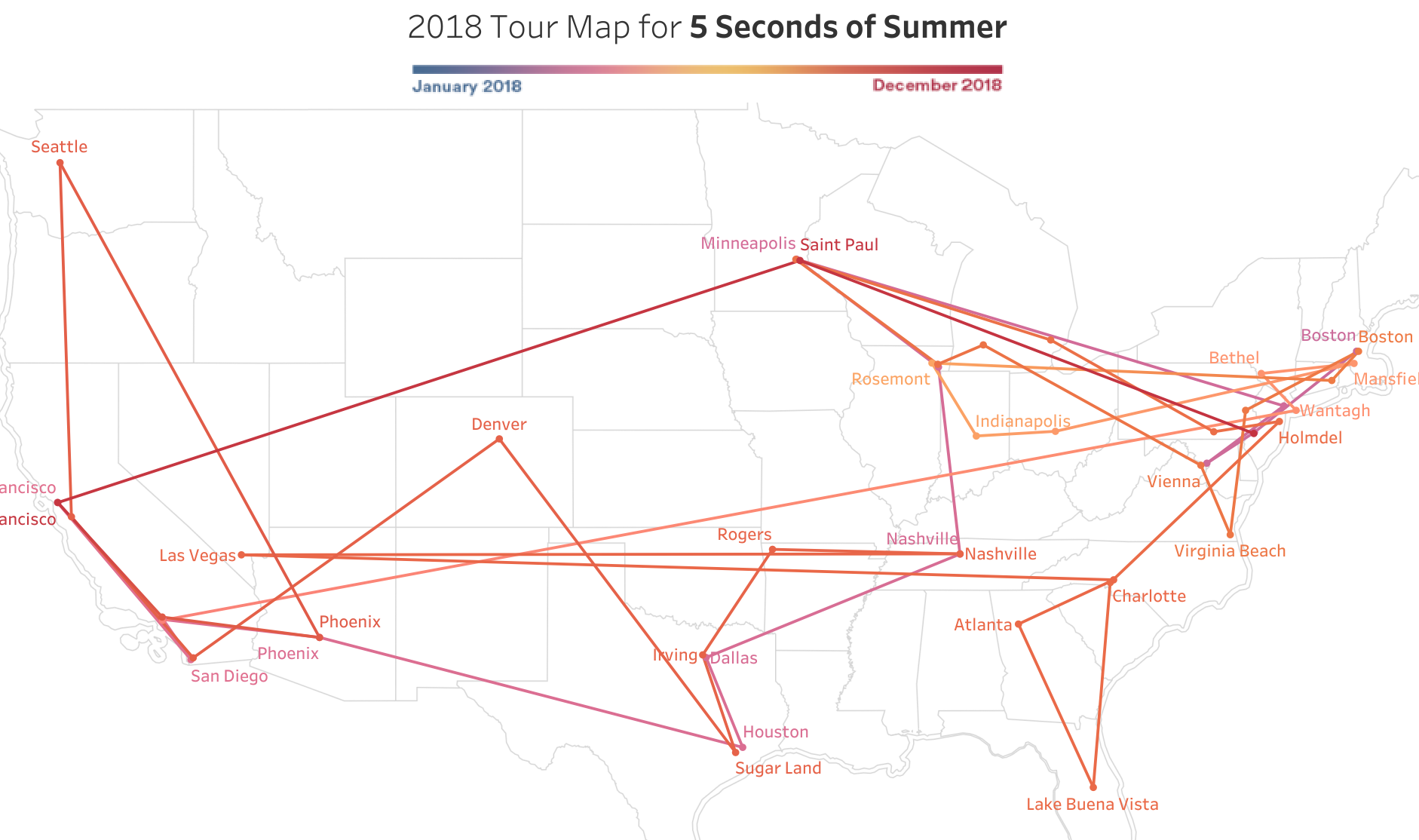 Dive in below—no van required.
Stream hits from these artists and more of the year's biggest stars here in our Top Artists of 2018 playlist.