New Year, New You
Keep Your Fitness Resolution with the World's Top Workout Music
Admit it: Music plays a vital role in making your workout bearable. And as you bid farewell to 2018 and usher in a brand new year, resetting your fitness regime might be on your mind more than ever. So, whether you play hardcore dance beats or punk rock while lifting weights, running on the treadmill, or exhaling in child's pose, be sure that good music goes hand in hand with your new year's resolution.
With 43.5 million workout-themed playlists on Spotify, we get a kick out of checking in annually to see which songs are surfacing as the top motivators for our listeners, as well as where in the globe people are most physically active.
Perhaps due to the intensely motivational lyrics of Eminem's "'Till I Collapse," that track is, for the third year in a row, the top global song of all time for getting through that run or spin cycling class. And while Finland is the most active country in terms of the amount of workout music it streams, Sweden is the most zen, based on the Swedes' enthusiasm for yoga-themed playlists.
Curiously, an area where we saw growth in 2018 was in the number of cryotherapy/ice-bath-themed playlists. It seems people are getting into the chill of this practice, which involves exposure to very cold temperatures in an effort to heal tissue. And the top songs in these playlists are—surprise!—Vanilla Ice's "Ice Ice Baby" and Foreigner's "Cold As Ice."
Let's step away from the cold for now, though, and warm up to the numbers: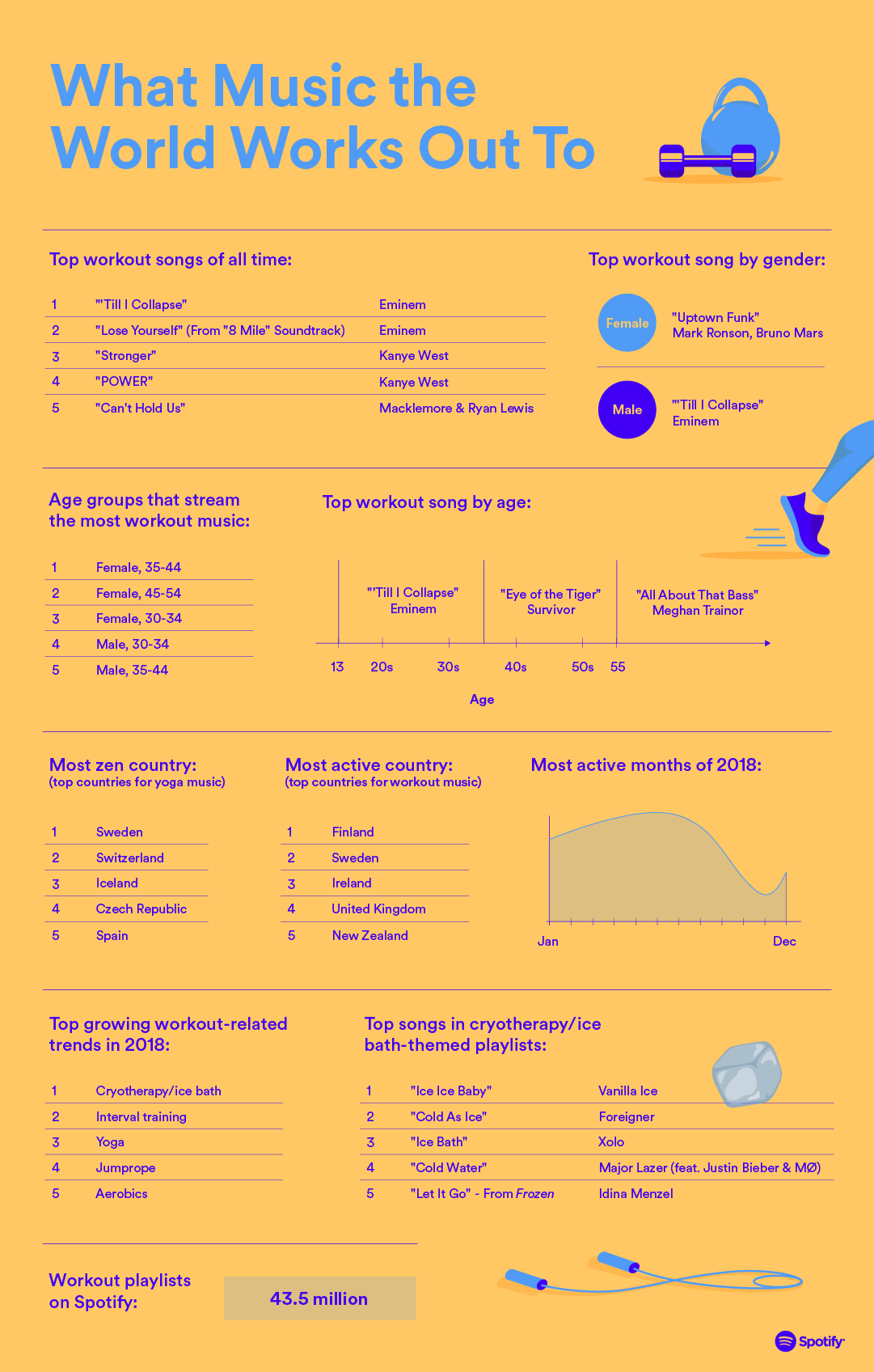 Looking for the perfect playlist to light a fire after all that eggnog? Check out some of Spotify's top workout playlists like Beast Mode, Motivation Mix, and Hype. Happy sweating!