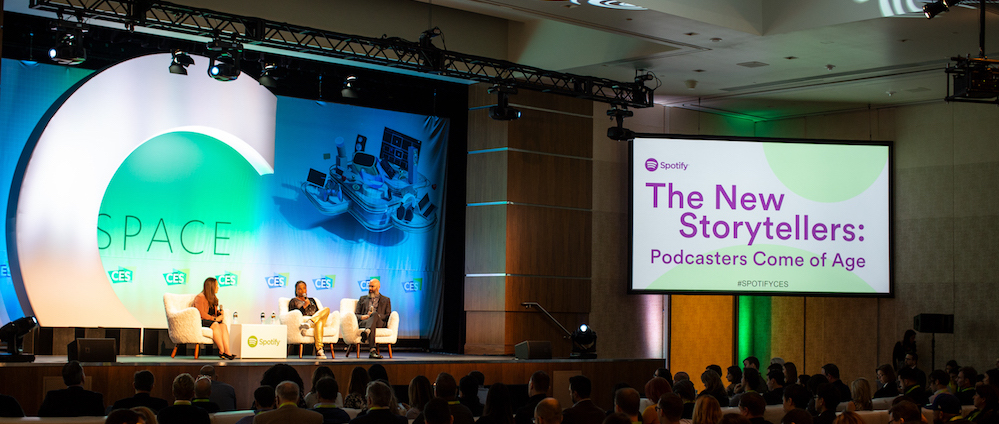 Count me in
Jemele Hill is Unbothered
There are no shortage of podcasts to listen to on Spotify—from the hundreds of NPR titles now on our platform, to the release of the Amy Schumer, Guy Raz, and Joe Budden shows, there's something for everyone.
So it's only fitting that today at CES, our Head of Spotify Studios Courtney Holt sat down with Jemele Hill, former chief correspondent and senior columnist for ESPN's The Undefeated and Emmy Award winning journalist, to discuss how creators are leveraging podcasts to build connections with new audiences, explore the creative spectrum, and reinvent their personal brands. They also chatted about the overall evolution of podcasting into a powerful, authentic storytelling device.
During the discussion, Hill announced that she'll be telling her own story—and joining the Spotify lineup with her own original podcast, Jemele Hill is Unbothered.
Coming to Spotify on Mondays and Thursdays starting this March, Jemele Hill is Unbothered will feature Hill and her co-hosts along with a rotating cast of high-profile guests. On the podcast, Hill will explore the news of the week and the intersectionality between the worlds of sports, politics, music, identity and culture. Jemele Hill is Unbothered is an honest, thought-provoking, always-entertaining analysis of American life, discussed in real-time as it unfolds, only on Spotify.
Thanks to her 12 years at ESPN as a leading voice providing content and commentary for their digital, television and audio platforms, Hill is no stranger to to these topics.
"Spotify and I are very like-minded," Hill says. "We both believe in being bold and authentic. I am thrilled to get the opportunity to stretch myself in a much different way, with a support system that I believe will bring out the best in me. I look forward to sharing my perspective and experience with Spotify's many listeners across the world."
Each 60-75 minute episode of Jemele Hill is Unbothered will delve into the issues that matter—from athletes speaking out about race, to Usher's new perm. The conversations with current newsmakers will be personal and memorable.
"Jemele is an important voice in sports, race, culture, and politics, and their intersection in media," says Holt. "She will bring her unique point of view to our platform with this podcast, which is sure to be a favorite of listeners with diverse interests and viewpoints."
Spotify now has more than 200 million users worldwide, but with the ever-growing catalog of podcasts available, each one is sure to find a story that captivates them.
Hill is represented by Exit 39, CAA, and Jackoway Tyerman.