STANDING TALL
Pop Star Pabllo Vittar Gives Voice to Brazil's LGBTQ Community
On Saturday evening in early November, 10,000 Brazilians gathered at the Hopi Hari amusement park just outside São Paulo and held their lighters aloft. It was Pride Day, and the celebrants were there to see Pabllo Vittar, one of the country's biggest pop stars and the most famous member of its LGBTQ+ community. Amidst cheers from her fans, whom she lovingly refers to as Vittarlovers, she commanded the stage, powering through her anti-bullying anthem "Indestrutível." The song is a paean to resilience, a tribute to Vittar's own well-known struggle against homophobic harassment as a teen.
Onstage at Hopi Hari, Vittar stood a regal six feet, one inch in flats, her long blonde hair slicked back behind her ears; she looked like a video game character who comes in peace, but will defend herself if the situation calls for it. "If I receive pain, I give you my love," she sang to the audience, who mouthed every word. "And the more pain I get, the more I realize that I am indestructible." The ballad concluded as Vittar raised her fist, leading her Vittarlovers in a familiar chant: "Eu resisto, Eu resisto." I resist. I resist.
A Voice for Brazil's LGBTQ Community
Vittar welcomes me with a hug. She is friendly and engaging—laughing easily and often. She is one week into the tour in support of her second LP and wants to talk about the positives.
"I feel great!" she says as we begin our conversation. "I feel full of energy. We have a whole new show, new album. It's like I'm giving birth. I'm euphoric!"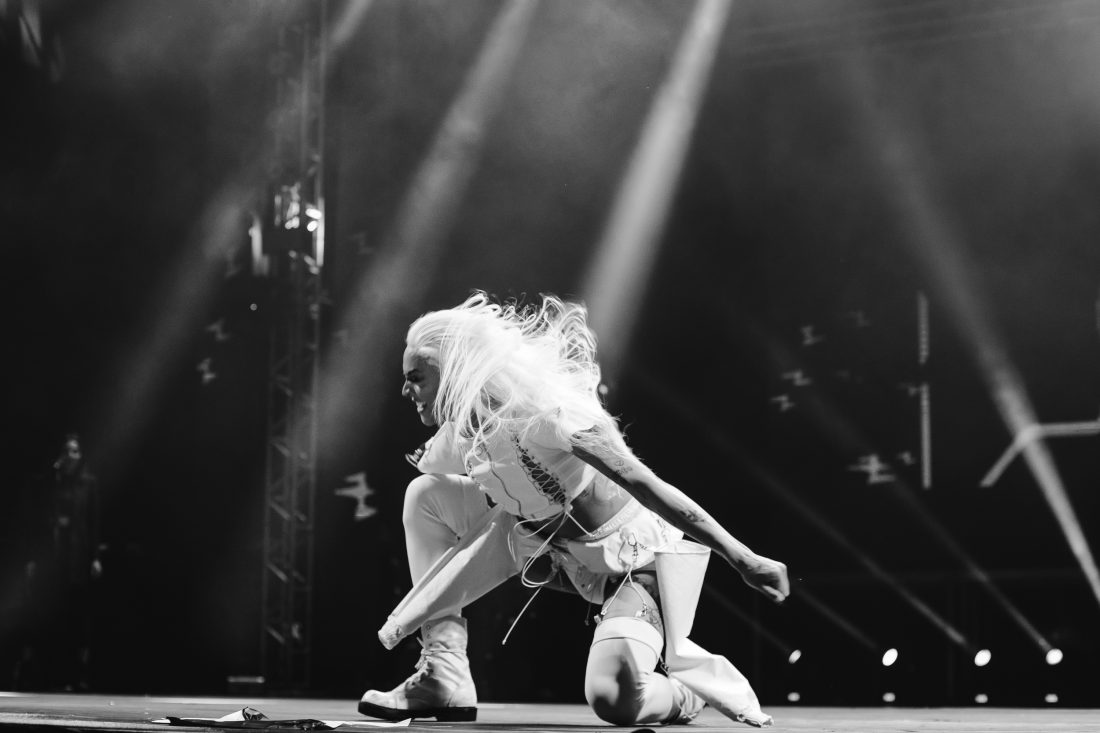 Vittar has every right to be euphoric—her career is taking off, and many of her Brazilian peers are creating exciting work. She is among the leaders of a group of ascendant Brazilian queer and trans artists that includes: Gloria Groove, Linn da Quebrada, As Bahias e a Cozinha Mineira, Aretuza Lovi, Liniker e os Caramelows, Johnny Hooker, Filipe Catto, and Rico Dalasam. She is proud to consider many of these artists her friends and sees their collective success as a testament to the importance of their stories and identities. "We are a voice, we are a flag," she tells me.
A Global Superstar in the Making
When I ask Vittar if she ever worried about limiting her career by delivering her three-octave range in women's clothes, she laughs kindly and simply says: "Society is never ready for anything. I always embrace the 'yes' that I'm given." In drag, she found a way to express her true self. "Pabllo Vittar is an extension of my personality," she says. "Pabllo is where I can let it all out."
Vittar began her career performing at Uberlândia's Clube Belgrano, encouraged by its owners (current managers Leocádio Rezende and Yan Hayashi). Accompanied by drag queen friends, she eventually released a candy-colored video for her Portuguese cover of Major Lazer's "Lean On," retitled "Open Bar." In the breakout clip, her spark is evident, and it was enough to merit a retweet from Diplo, who identified in the young queen the kind of regional star power he is wont to repackage and sell to the global mainstream. Following the success of "Open Bar," Diplo tapped her impressive pipes for the track "Sua Cara" with Brazilian pop icon Anitta. In the video for that track, Vittar's sense of empowered sexuality, for which she's now well known, is on full display.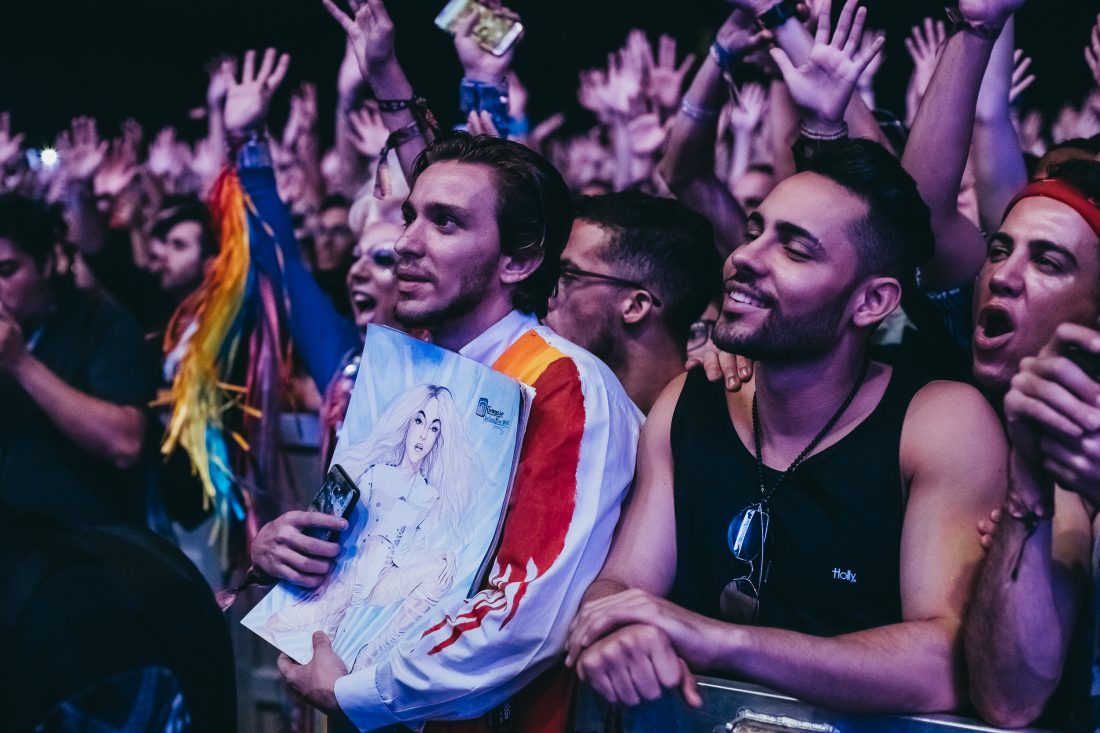 So began the reign of Pabllo Vittar, who released her studio debut, Vai Passar Mal, in January 2017, and followed that up by kissing Diplo in the video for their smash collaboration "Então Vai." These hits, coupled with Vittar's appearances on the television series Amor e Sexo, made her a household name in Brazil. But unlike most of her country's superstars, news of her fame has begun to spread beyond Brazil's famously insular musical galaxy. Vittar told me in our interview that she considers her international career as "important, but not fundamental." But her feature on the 2017 Charli XCX track "I Got It," the "Caliente" duet with Argentine pop princess Lali, and rumors of international gigs (up until now, she's only ventured outside Brazil to play very rare shows in Argentina and Portugal) could indicate her team's ambitions to bring her to the ears of international fans.
In the era of Spanish-language crossover hits like Luis Fonsi's "Despacito" and J Balvin's "Mi Gente," that goal seems slightly more realistic than it may have been in decades past. The fact that most of the English-speaking world can't understand Vittar's Portuguese may not matter as much when listeners are faced with her world-class charisma and soaring vocal athletics. And in fact, the global pop scene's embrace of Vittar may have already begun: last year, she was nominated for a Latin Grammy in the category of Best Urban/Fusion Performance for "Sua Cara." Vittar is the first drag queen ever to be nominated.
Loyal to Brazil
Despite signs that her international career is about to take off, Vittar's primary focus is still on her home country of Brazil. She's already looking forward to Carnival, slated to begin in early March, and is ultimately optimistic about the years ahead.
"It's an unknown future," Vittar admits when I ask what she sees for Brazil in the years to come. "But I tend to be positive. I've always believed that things will head to a better place, a place of equality, more tolerance, more respect. Even if all we can see is darkness up ahead, I believe that at the end of the dark era, everything will work out just fine and we'll be okay."
—Caitlin Donohue
Photocredit: Breno Galtier/Filterless