FINDING MIRACLES IN THE MUNDANE
Poet Tyler Knott Gregson Explores His Creative Process – from Haiku to Song
Poet, photographer, and avid traveler Tyler Knott Gregson just released his fifth book, Miracle in the Mundane, but reaching this accomplishment doesn't mean he's about to take a break. Besides creating a Spotify playlist (below) in honor of the book's release, he's currently planning a destination wedding in Scotland with his fiancé, exploring what he might want to record a podcast about and, somewhere in between, making time to read The Overstory, a novel from the point of view of trees. Every day he also finds the time to write one of his daily haikus on love, which he's been publishing on Tumblr (and now Instagram) for over a decade.
We chatted with an ever energized Tyler about the complexities of telling short stories, why he photographs his written work, and how he is eternally inspired by the world.
What is your creative process like?
The closest thing I have to a process is when there's a line in my brain that just keeps spinning around. So all throughout the day those lines just start building up. When I finally have the space to sit down and do something with them, that's when I feel better.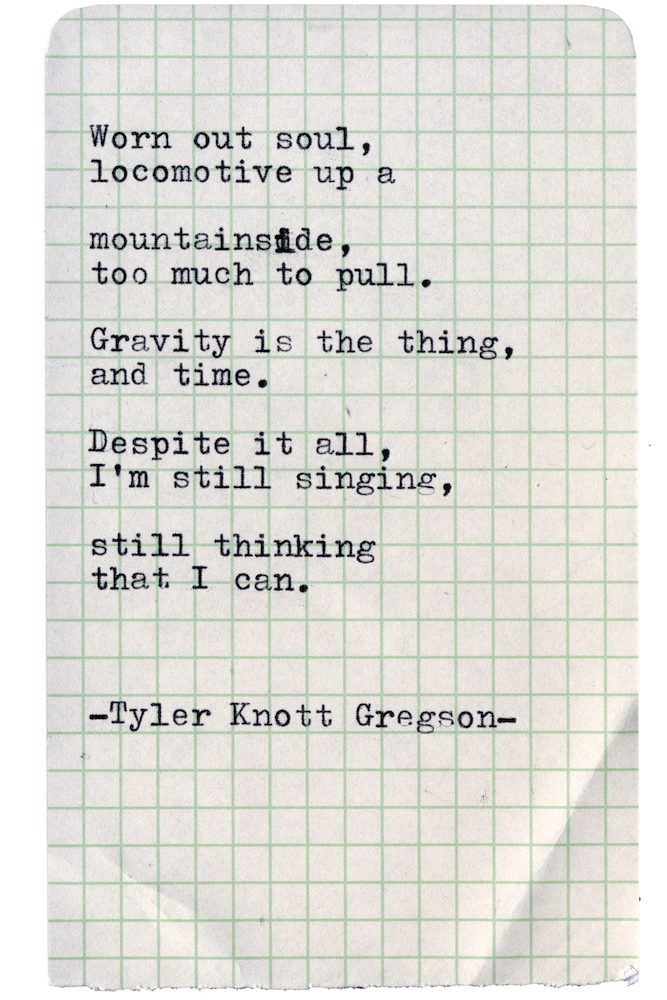 You write 17-syllable "Daily Haikus on Love." What is your method for 'writing short' in a way that resonates with people?
Writing short isn't easier, though a lot of people might expect it to be. With haiku you're given a very limited amount of space to tell a full story and to make someone feel something. I challenged myself to wake up and think differently every morning. I started the "Daily Haiku on Love" series to explore different manifestations of love, and eleven years later I'm still writing about it daily.
Who have been your greatest creative influences?
Walt Whitman's poetry was the first I read that made me realize it was okay to walk around in constant and total amazement at the world. From there, I've fallen in love with everyone from Cormac McCarthy and Hemingway to Pablo Neruda, and I also read new poets like Ada Limón and Ofelia Zepeda, who have unique voices that show life in a completely different way.
As for musicians, my sister turned me on to U2 when I was in sixth or seventh grade. That was my first peek into the world of songwriting and lyrics, and I remember loving the stories that the band was telling in just two or three minutes. Add Bob Dylan and Leonard Cohen, obviously. Jeffrey Martin is one of the finest songwriters right now who's not as well known as he should be.
Speaking of which, have you ever dabbled in songwriting?
Songwriting is something I've always been really interested in. One of my best friends is Gregory Alan Isakov, whose record just came out. Leading up to this album we wrote three songs together, and I got to sit with him in his studio and play with lines. Another band I love, The Ballroom Thieves, and I have been kind of passing lyrics back and forth. The medium that I write in lends to songwriting really well, actually. The transition from poetry to lyric to song is a natural progression.
You take pictures of your typewritten poetry or transpose it on top of photography. Why do you combine writing with imagery?
I wake up every morning feeling creative and inspired. The visual nature of what I do shows a tangible process on a typewriter, using an old, ripped piece of paper that I found somewhere. You can see where the keys pressed into the paper; you can see where the ink was and where I made a mistake. You can just honestly tell that the thing I created came from a real place. It was a real burst of emotion and thought.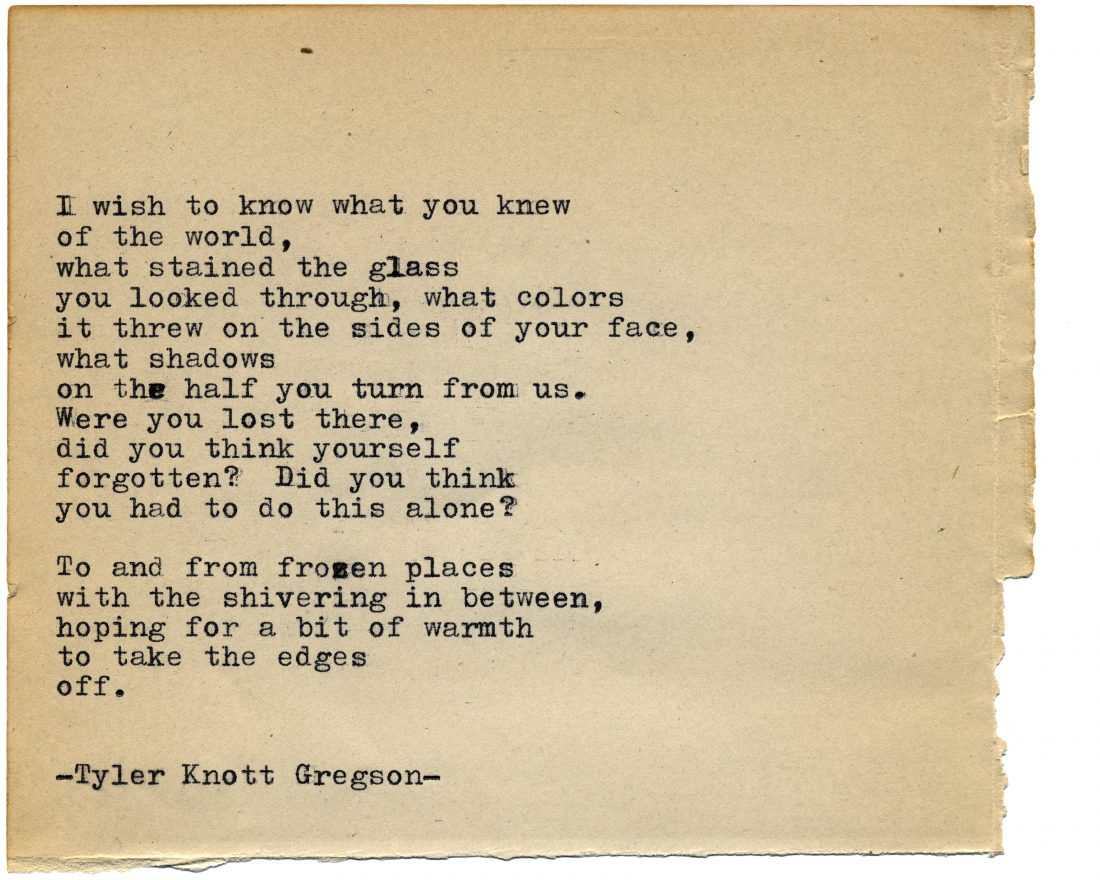 You created a playlist to go alongside your new book. How did you choose the songs for it?
The book is called Miracle in the Mundane, so I wanted to pick songs that felt like these brief little miracles. All of the music I've picked makes me feel something in a pretty profound way. I listen to everything from Sigur Rós to M83 to Kendrick Lamar to opera, and the playlist reflects that. I think the best thing about music is that, until you push play, you don't really know how something's going to affect you. So this is a collection of songs that I play every day that I find to be little bursts of genius and beauty.
Take a listen to Tyler's Miracle in the Mundane playlist below.