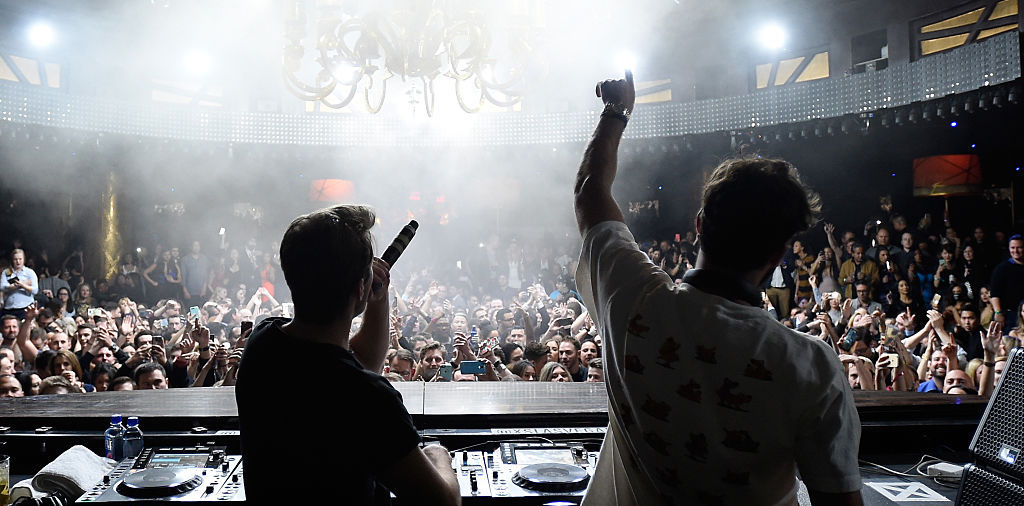 WHAT HAPPENS IN VEGAS
Superstar DJs Spin in Sin City, Amp Up Their Streams
Las Vegas history may be steeped in the sounds of Frank Sinatra and Sammy Davis Jr, but today the city beats to a very different drum (and bass). To many, Vegas is now considered home to the best party scene in the US. Visitors from all over the world descend on Sin City's legendary nightclubs for epic events—headlined by Superstar DJs like Afrojack and Marshmello—that don't stop until the sun comes up. Apparently, what happens in Vegas doesn't stay in Vegas—at least when it comes to the work of world-famous DJs. Even after a long wild weekend in the desert, partygoers are likely to keep streaming these world-class EDM artists on repeat.
Imagine that it's your best friend's birthday party. You and your friends book a room at the posh Wynn resort. After check-in on Friday night you dance straight into dawn at XS nightclub to a performance by The Chainsmokers, the DJ-producer duo of Alex Pall and Drew Taggart. You take a quick break and sleep from sunrise to noon, then catch a second Chainsmokers show in the desert heat and sunshine—an unparalleled pool party at the Wynn's over-the-top Encore Beach Club. Somewhere in between the shows or just after, you stream "Closer" or "Something Just Like Us." You then keep the music playing for weeks to come.
In fact, Vegas visitors who played at least one Chainsmokers track during their stay on the Strip have shown a subsequent 27% increase in the duo's streaming after they return home. And the Chainsmokers are in good company.  
French DJ David Guetta, who has over 36 million monthly listeners, performed 19 times during a two-month 2018 Vegas residency. There was a subsequent 88% increase in his streams among Spotify users who visited Vegas on one of his show dates. Tiësto, the Dutch DJ currently in residence at the Hakkasan nightclub in the MGM Grand, has seen a 40% increase following a recent set of shows.
And it's not just EDM stars who now enjoy the long-tail streaming value of a Vegas residency. Lady Gaga, who kicked off her "Enigma" show at the Park MGM at the end of 2018, has seen a 13% bump in streams among Spotify listeners who were in Fabulous Las Vegas on one of her show dates. Cardi B is also scheduling performances at the KAOS day and night club in the newly renovated Palm resort.
Sure, the eye-popping residency contracts that artists sign make for good headlines. But staying put on the Strip allows EDM stars, in particular, to keep fans all the more engaged and streaming, well after they've returned home (and to a normal sleep cycle). And every weekend brings a new crowd of potential and diehard fans. Take Tiësto's word for it: "It's crazier than I can ever remember, and all the clubs are packed. It's still going strong."
Stream a who's who of EDM in our Dance/Electronic hub, or get streaming right away with mint.