SAIL AWAY
Yacht Rock: How the Smooth Sounds of the '70s and '80s Became a Genuine Genre
When the weather's warm, the weekends long, and the cocktails crafted using blue curaçao, there's no better music than yacht rock—the soft, smooth sounds released between roughly 1976 and 1984 that typically feature vocals and keyboards with guitars barely audible in the background. Yet, this genre of music didn't even have a name until a few years ago. 
Artists like the Eagles, Fleetwood Mac, and Chicago were once viewed as belonging to an adult-contemporary, soft-rock bridge between '70s disco and '80s arena rock. But in 2005, a few friends noticed that several artists' albums of the era had boats on their covers. They jokingly called these albums "marina rock" and created a 12-episode comedy video series that went viral. Yacht rock was born, and today the video series' creators even have a podcast, Beyond Yacht Rock.
On Spotify, yacht rock is most popular among those aged 45-54 and 18-24, indicating that listeners who came of age during the music's heyday and their children love those smooth grooves. While yacht rock is most streamed in the U.S., U.K., and Canada, when measured as a percentage of total streams yacht rock is far and away the most popular in New Zealand. In fact, seven of the top 10 cities that keep yacht rock on repeat are in New Zealand (which also just so happens to be the current holder of the America's Cup—coincidence?). 
But what are the defining characteristics of yacht rock? Let our yacht-or-knot list below be your celestial guide.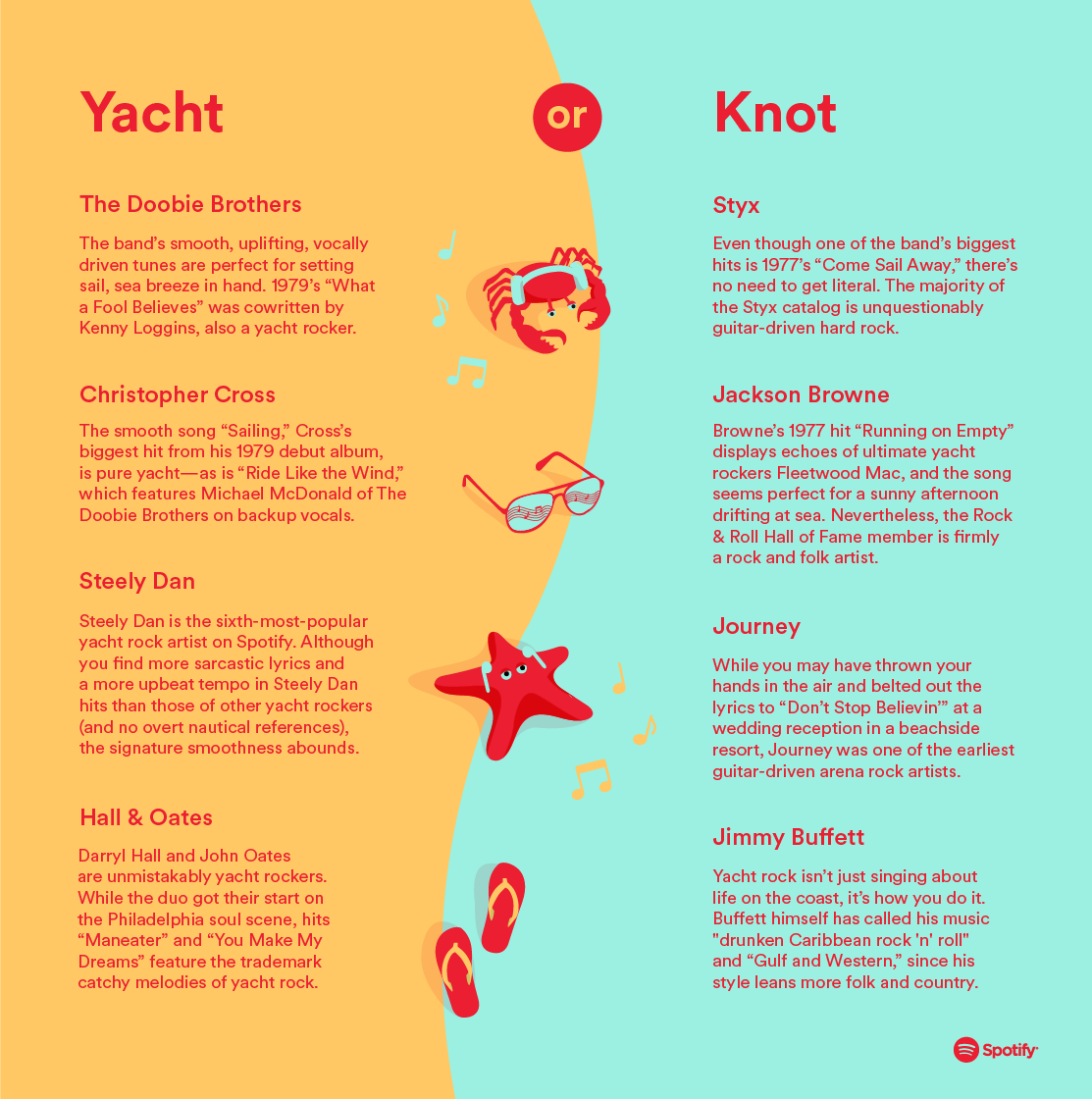 Check out the official Yacht Rock playlist.