SOUND UP
Spotify Hands the Mic to German LGBTTIQ* Podcasters in Audio Workshop
Recently, podcast listening has been growing around the world, and so has the opportunity to showcase voices that haven't always been represented in media—something we've been doing at Spotify through our Sound Up workshops. What started with our New York-based initiative to showcase Women of Color led to a similar program in the UK, as well as one for Aboriginal and Torres Strait Islanders in Australia. This past month, we were proud to hold yet another workshop—this time for members of the LGBTTIQ* community in Germany.
Each Sound Up workshop kicks off with an application process in which members of the particular community are invited to submit podcast ideas for consideration. Ten are selected and invited to the host city for a five-day workshop to learn the ins and outs of podcasting. Finally, three ideas are selected by a jury at the end of the workshop—leaving all attendees with newfound knowledge and accessibility toward podcasts, and three members with an opportunity to host their podcasts on Spotify.
At the July 8-12 workshop in Berlin, podcasting and audio experts provided the participants with knowledge and tips about the successful development of ideas, technical podcast implementation, and successful marketing. 
"With Sound Up, Spotify is creating a platform for the strong voices of the LGBTTIQ* community," says Michael Krause, Managing Director Central Europe Spotify. "We want to provide targeted support to make these voices heard and promote podcast ideas that previously lacked the necessary network or practical knowledge."
Through presentations by content and podcast experts, as well as joint activities, the participants learned what it meant to plan their own podcast episodes conceptually and technically—right up to their own podcast pilots.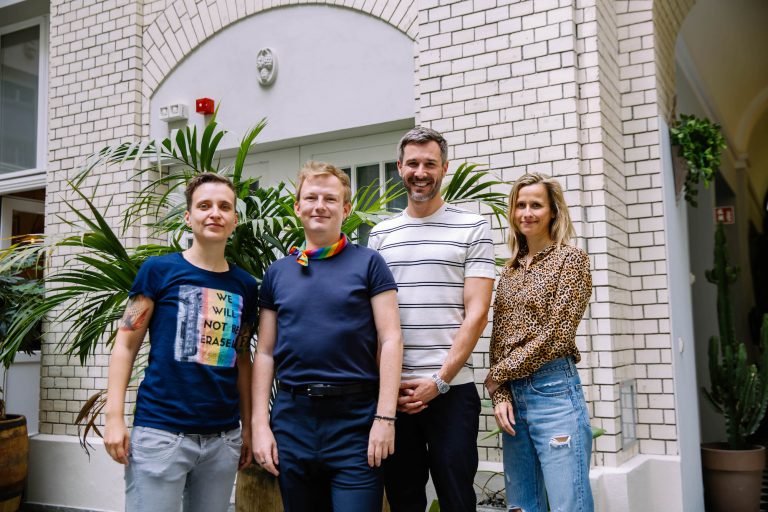 The independent jury who judged the podcast ideas consisted of Felicia Mutterer (editor-in-chief of straight magazine and podcast), Jenny Luca Renner (ZDF television advisor), Christoph Alms (LGBTTIQ* activist, member of the Magnus Hirschfeld Society) and Jochen Schropp (actor and host). The three podcasts selected by the jury included concepts from participants Josefine, Fabian and Tamo* on topics such as representation of the LGBTTIQ* community in shows and films, queer life in the countryside, and being a trans parent.
 Stay tuned for stories and podcasts from Josefine, Fabian, and Tamo*.
 Can't wait? Check out Dope Labs, a podcast by New York Sound Up winners Titi Shodiya and Zakiya Whatley.
In the German market, LGBTTIQ* stands for Lesbian, Gay, Bisexual, Transexual, Transgender, Intersex, and Queer; the asterisk represents unnamed identities.