ONE OF A KIND
Egyptian Star Amr Diab Sings for the Whole World
Amr Diab is perpetually falling in love. His easy smile and sing-along melodies carry a deep yearning, his lyrics full of heartfelt sighs and eloquent entreaties. It's no wonder the term habibi—Arabic for "my dear" or "my darling"—figures so prominently in his greatest hits. "Yalla, let's go! Come my darling, come!" Diab cries in the title track of his forthcoming album, Ana Gheir. "How many times will we live?" 
Born in the coastal city of Port Said, Diab came of age when the country was going through a major transition in pop. The golden age of the 1950s and '60s was a time for greats like Umm Kulthum and Abdel Halim Hafez. Their music was steeped in Arabic classical traditions, prizing orchestral formalism, powerful crooning, and displays of musical rapture. 
But by the time Diab began his career in the early '80s, studios were more high tech and the rise of "world music" had generated a greater international interest in Arabic sounds. Soon, artists like Diab, Syria's George Wassouf and Algerian raï maestro Khaled were reinventing pop across the region, championing eclectic new styles. While Kulthum was celebrated for singing poetry in classical Arabic, Diab's lyrics were usually written in the Egyptian colloquial dialect, which helped him connect to a younger audience. On the radio, hits like "Nour El Ain" ("Light of the Eye") and "Tamally Ma'ak" ("Always with You") combined the syncopated beats and vocal refrains of Cairo street music with swooning Andalusian guitar licks and galloping flamenco rhythms.
Famed for his lovestruck lyrics, steamy Mediterranean grooves, and techno ballads, Diab has since vaulted from his place as one of Egypt's biggest stars in the '80s to a position on the global stage—on Spotify, most of his streams come from the United States, Sweden, and Germany. "Music is a language that speaks emotions and not only words. I am blessed to have touched people around the world with my music," Diab tells For the Record. "Spotify has allowed so many artists to connect with fans beyond borders and I am glad for that."
"What Amr Diab was doing, from the beginning, really, was look [sic] to the Mediterranean for his sound," explains Saeed Saeed, a prominent music and culture journalist who covers Arabic arts and entertainment for United Arab Emirates-based newspaper the National. According to Saeed's research, one of Diab's biggest influences was the Gipsy Kings, the world music stars from the south of France whose love for flamenco, salsa, and Andalusian folk comes through in many of Diab's ballads. "From what I was told, he absolutely loved the Gipsy Kings. He devoured their records, and he really wanted that sound," Saeed says. 
The latest singles from his newest effort, Ana Gheir, reflect Diab's admiration for Mediterranean sounds and romantic lyrics. For instance, the album's aforementioned title track translates to  "I Am Different," and over plucks of nylon-stringed Spanish guitar, the song tells the story of a man promising his new love that he's not like the rest of the guys. Meanwhile, "Youm Talat" ("A Tuesday") unfolds with an Egyptian maqsoom rhythm and Mediterranean accordion and Diab's reveling in delightful wordplay as he swoons over three ladies. 
Diab's continent-crossing sounds and relatable lyrics are what's helped the singer win over audiences not just in the Arab world, but across the globe. "He took Arabic pop music into a new direction, so for that he's deeply important," Saeed says. "His music is quite universal." A 2013 tour celebrating Diab's nearly four-decades-long career saw him playing sold-out concerts as far off as Australia, Romania, and Greece. He was even recognized by the Guinness World Records in 2016 for the record-breaking number of trophies he's taken home in the annual World Music Awards. Now, to celebrate his legacy and global impact, Diab will be appearing November 12 on a billboard in Times Square.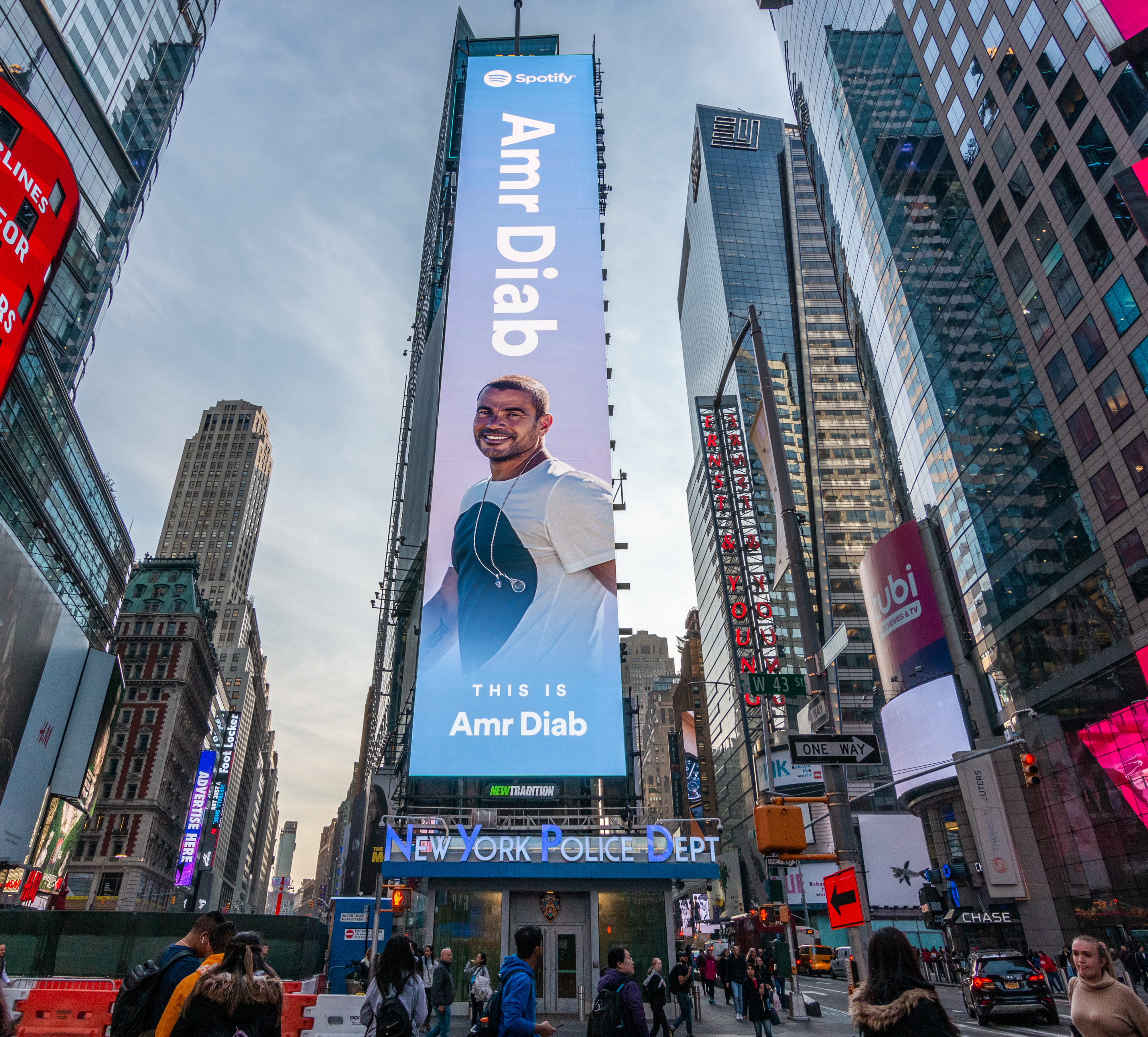 No matter where he is in the world, the swooning singer shines like the moon in the night, always encouraging sweet thoughts of habibi. 
Take a listen to This Is Amr Diab for all things lovely.