GET IT GIRL
This International Women's Day, Stream the Top Female Voices on Spotify
March is all about women's empowerment. In honor of International Women's Day, March 8, we're celebrating female voices by spotlighting the top female artists and female-led podcasts on Spotify. 
Taking the number one artist spot is Billie Eilish—and not only among female artists. She's also the top artist overall this year, based on data from January 1 to March 1. Eilish has more than 10.3 billion all-time streams and more than 60 million monthly listeners. Eilish, whose song "bad guy" has over 1.2 billion streams, also just released the new James Bond theme song "No Time To Die." Coming in second on our global list is "Lover" superstar Taylor Swift, followed by Ariana Grande, Halsey, and Camila Cabello. 
When it comes to podcasts, these female-led shows are fan favorites on Spotify based on hours streamed, and it's clear that the obsession with true crime reigns supreme. My Favorite Murder, a comedic true crime series from comedians Karen Kilgariff and Georgia Hardstark, is Spotify's most popular female-hosted podcast. Crime Junkie, hosted by self-described "crime junkies" Ashley Flowers and Brit Prawat, comes in second. Wondering why women are so obsessed with true crime? According to social psychologist Amanda Vicary, "Women are drawn to true crime because of the information they can learn from it, even if they aren't aware that that may be the reason they are listening!"
 And with that, these are the top female artists and female-led podcasts globally on Spotify.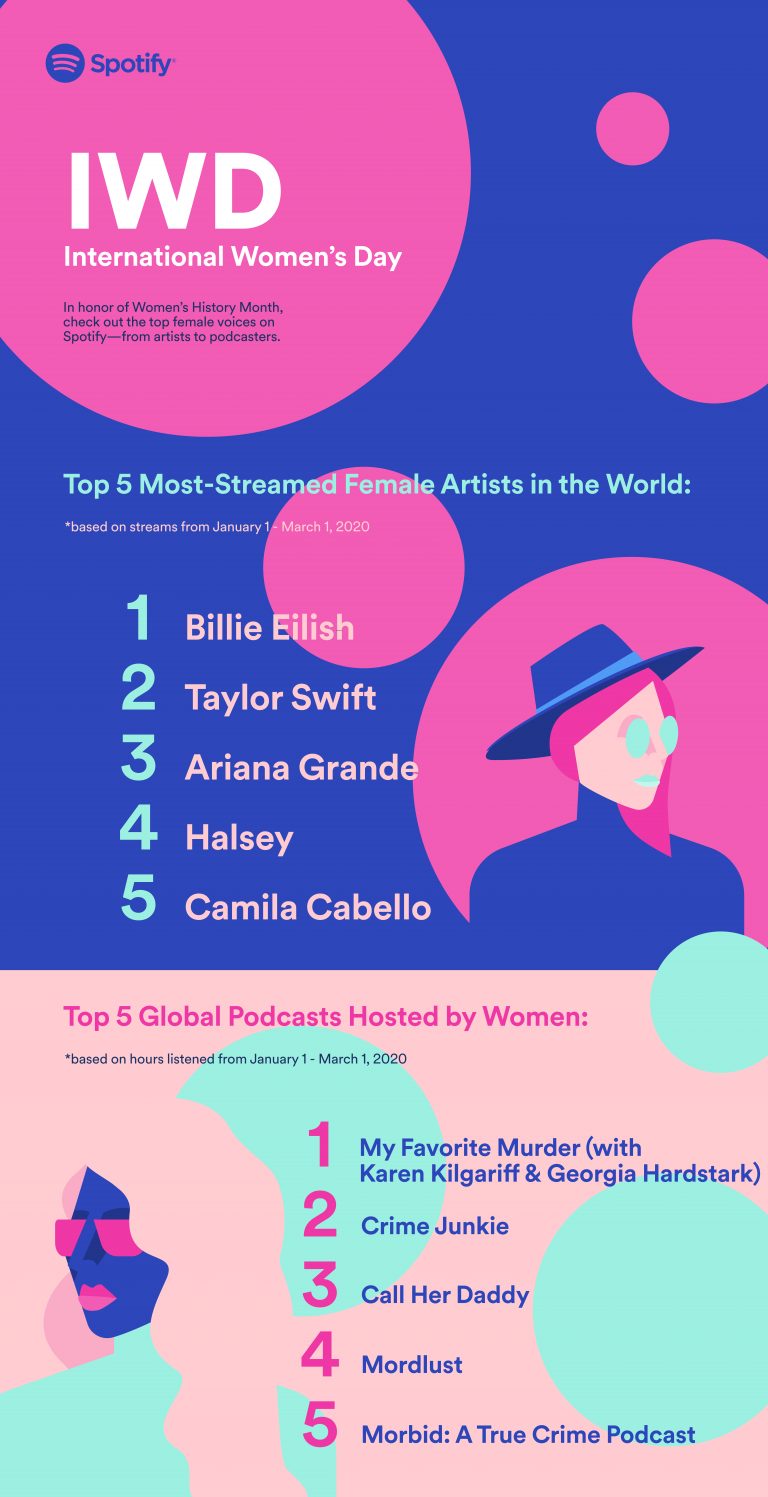 To mark International Women's Day, we're creating our first-ever global campaign to highlight the contributions women have made to this industry. Plus, on March 8, a brand-new Women's History Month hub will be live on Spotify. It will include all-female tracks, playlists, and podcasts, as well as takeovers from some of the most dynamic women in audio, because #MusicNeedsWomen #PodcastsNeedWomen and #AudioNeedsWomen.
In the meantime, be sure to listen to our powerhouse playlist of the top female artists around the world.