COOL KIDS
Meet beabadoobee, Thomas Headon, and Biig Piig, the New Wave of Artists Taking Over Spotify's Community-First 'Our Generation' Playlist
Press "play" on Spotify's Our Generation playlist and you'll find your headphones or speakers filled with the sounds of rising artists from a variety of different backgrounds, identities, and musical styles. Since 2019, Our Generation has surfaced the new wave of artists emerging across the British and Irish musical landscape to young, engaged music fans whose tastes aren't restricted by genre. Now, the curated playlist is getting a makeover, getting rebranded with a new look and guest takeovers from the most exciting acts of the next-gen music scene.
Last week, 21-year-old indie singer-songwriter Thomas Headon selected the tracks he loves alongside his friends in the music community. Starting today, November 19, tune in with Irish breakout singer and rapper Biig Piig. Finally, on November 26 hear from alternative rock musician and RADAR artist beabadoobee. Each will create a truly unique listening experience complete with playlist videos and track selections from multiple artists within the scene.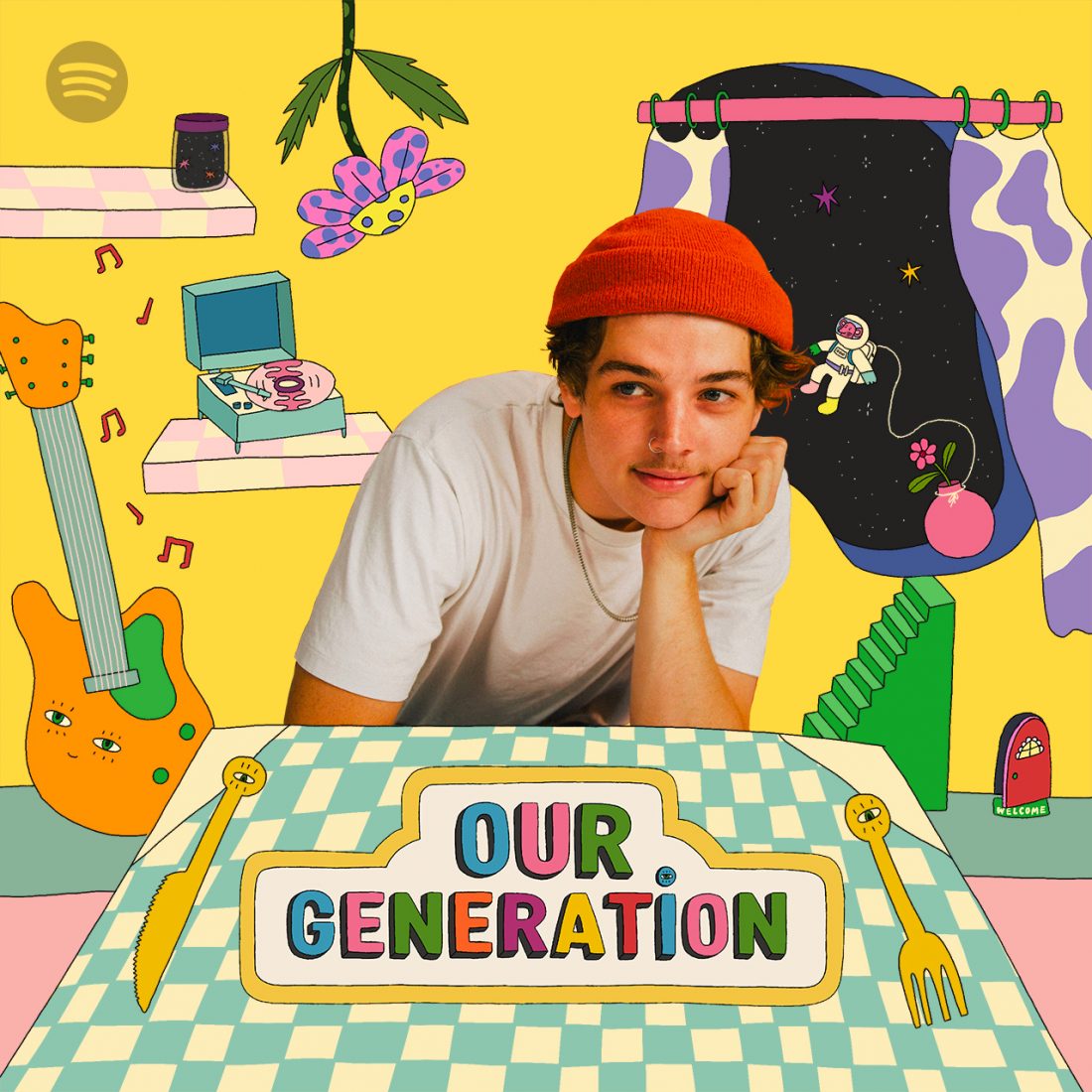 "We're excited to have these three amazing artists collaborate with Our Generation as we continue to expand Spotify's support for emerging talent," says Sulinna Ong, Head of Music for UK and Ireland at Spotify. "We launched Our Generation in 2019 after we identified a gap for a unique offering of genre-fluid, new music for a digitally native audience. With our latest campaign, we are taking it one step further by expanding and enriching the Our Generation brand and offering fans the chance to further explore diverse and culturally influential artists to uncover their new undiscovered favorites via recommendations from some of the playlist's most popular artists. Our ambition is to build a truly engaged community for Our Generation, making it the go-to hub for Gen Z music lovers to discover their new favorite artists."
To mark the campaign, Spotify has teamed up with DIY, the leading independent music publication in the UK, to give music lovers the chance to take a deep dive into the inspiration behind each artist's takeover. Through in-depth interviews, Thomas, Biig Piig, and beabadoobee each reveal the tracks and creators that make them tick. 
The revamped playlist will continue to serve as a destination for listeners to find an artist with a unique sound in a new visual world, including unique playlist cover art created by Australian illustrator and creative Eliza Williams (@doolittleillustrations). The colorful hand-drawn illustrations encapsulate the escapism that the audience can achieve through the music.

Ready to dive in? Stream the newly revamped Our Generation playlist below.