TELL ME MORE
3 Tips & Tricks to Enhance Your 2020 Wrapped Experience
Last week, we unveiled the artists, songs, and albums the world streamed the most in 2020, as well as personalized 2020 Wrapped results for our eligible Free and Premium users. By now, if you've indeed "unwrapped" your Wrapped, you probably learned which song you streamed the most, how many artists you discovered, and the number of hours you binged one particular podcast—but that's not where the fun stops. 
Here are a few tips on three new features we've unveiled to help you get even more out of your 2020 Wrapped experience.
1. Check out the new Wrapped voice commands
Did you know you can play Spotify using your voice? Tap Search on your mobile app and you'll find a small microphone button to the right of the bar. Hit the icon (you may have to grant the Spotify app permission to access your phone microphone if this is your first time using the feature) and simply ask Spotify to play any artist, song, or playlist.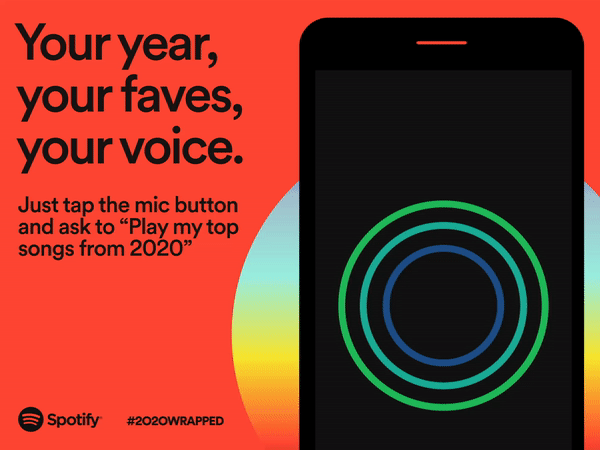 Now, Free and Premium users in the U.S. will also be able to use that same microphone icon to ask Spotify about their Wrapped. Hear one of a dozen unique and personalized facts about your 2020 music and podcast listening habits by saying something like: 
"Tell me a Wrapped fact"

"Tell me about my listening habits"

"Tell me about my listening history"

"Tell me a 2020 listening fact"
Or you can ask it to play music featured in your Wrapped:
"Play my top songs from 2020"

"Play my top songs from this year"

"Play my 2020 top songs"

"Play my top songs playlist"

"Play my top songs"

"Play my Wrapped 2020"

"Play your top songs 2020"

"Play your top songs from this year"
2. Get fancy with our social media integrations
Users and artists love to share their Wrapped on social media channels like Instagram, Facebook, Twitter, and Snapchat—and 2020 Wrapped sharing is already in full force. This year, users can even use two new interactive Instagram Story lenses, Kaleidoscope and Data Story Quiz, to share their reactions and test their 2020 listening knowledge. Here's how:
Navigate to Spotify's official global Instagram profile (

@Spotify

).

Tap the "Effects" icon (after "Grid" and "IG TV") to reveal all of Spotify's custom filters.

Select the "

Kaleidoscope"

or "

Data Story Quiz"

lenses and tap "Try It" to check them out!
This year, we're also adding one more social media channel to the mix: TikTok. This custom Wrapped integration for U.S. and UK TikTok users, available through Thursday, December 11, combines the best of 2020 Wrapped with custom TikTok videos. Here's how:
Open up the TikTok app and tap the Plus button to create a video.

On the video recording screen, tap Effects to search for the branded 2020 Wrapped effect. 

Tap the 2020 Wrapped effect icon and you'll see a flash of color take over the screen. After the flash, the prompt "My #2020Wrapped Top _____ is" will appear.

Share your completed stat with a TikTok video creation!
3. Customize your Share Cards
This year, for the first time, users can also customize their share cards before posting them to their social media feeds. On the final screen, you'll be able to choose from one of four distinct color choices to personalize your Wrapped more than ever before.
Check out all of these features and more by heading to Spotify.com/Wrapped.