BLASTOFF
Go on an Adventure With the Spotify Kids Content Explorer
Parents, if you're on the hunt for kid-friendly entertainment options, the Spotify Kids app is a great place to start. If you're not familiar with the app, you can check out the Spotify Kids Content Explorer, a fun and engaging new way to preview some of the music in the Spotify Kids app before you download it. 
Once you've landed on the Spotify Kids Content Explorer experience, your adventure begins by selecting the age of your child, just like you would in the app itself. We have audio suggestions for both older and younger kids, and we tailor the experience to match. From there, pick an emoji that represents the mood or routine for your young one and the website will offer up corresponding songs that are popular on the Spotify Kids app.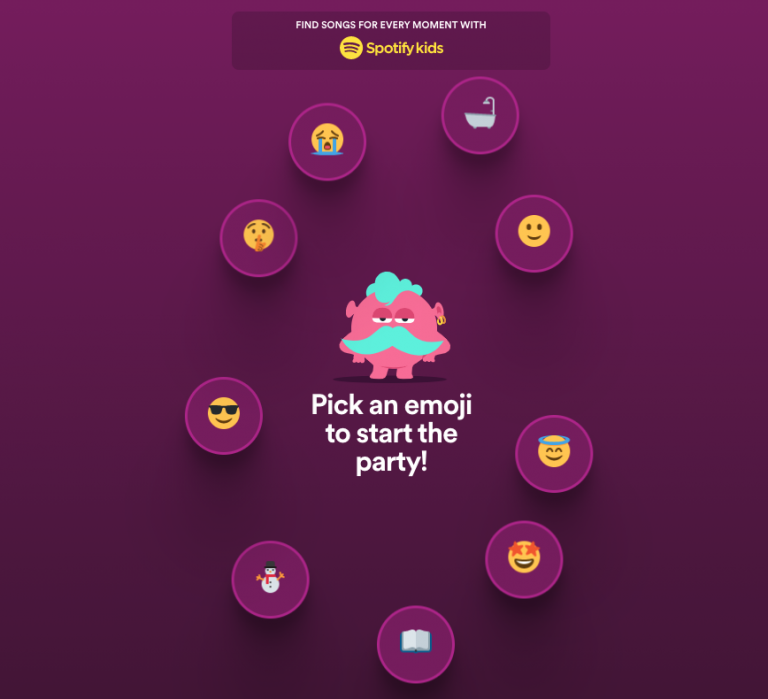 Are you getting your kids ready for dinner? Pick the bath emoji, where you may hear "Wash Your Hands with Baby Shark" by Pinkfong. 
Once you sit down to eat, pick the dinner plate emoji and you might hear a preview of Lil Nas X's track "Panini."
Preparing for bedtime and need a way to get your little one to wind down? Pick the bed emoji to get them settled, and you might preview "You Are My Sunshine" by Nursery Rhymes 123.
The tracks you see are just a small sampling of what's available on Spotify Kids, a standalone app designed specifically for kids ages 3+ and exclusive to Spotify Premium Family subscribers. If you've been scouting out Spotify Kids—or if you're hearing about it for the first time—this new web experience is the perfect way to discover the hand-picked content in the Spotify Kids app for free. The app features a growing library of more than 300,000 kid-friendly tracks and 1,300 playlists curated by Spotify editors.
Love what you see? Sign up for Spotify Premium Family and then download the Spotify Kids app here.