FAST RHYTHMS, LOUD BEATS
'Wakhra Swag' – Tracing the Global Rise of Punjabi Pop
From the pind (village) to pan-India, and from there the world, Punjabi music has seen a meteoric rise, capturing the imagination—and dance moves—of millions. From swagger-filled lyrics and globally-inspired sound production, to banging beats and mega-budget music videos, Punjabi Pop has grown into a larger-than-life celebration of cultural moments that is driving a whole new generation of fans and artists.
Global growth
The essence of Punjabi Pop can be traced back to its humble beginnings as an independent genre in the late 1950s. It has since grown from classical folk Punjabi songs, where poets and singers composed ballads, to a multi-million dollar industry. In fact, by 2018, it was almost five times the size of India's Telugu music industry, the second-largest in the country's regional music market.
It was in the 1990s that Punjabi Pop garnered mainstream prominence as iconic artists like Daler Mehndi, Gurdas Maan, Bally Sagoo, and Malkit Singh ruled music charts, producing singles and albums that have gained cult status today. 
Then, in the 2000s, the genre's talent truly took center stage. These years saw the rise of Punjabi Pop artists Jay Sean, Dr Zeus, Miss Pooja, Panjabi MC, Juggy D, Jazzy B, and more.  The global contribution of Punjabi Pop is exemplified in the mash-up of "Mundian To Bach Ke" by Panjabi MC featuring Jay-Z. The original track, produced in the late '90s, shot to global fame when it caught Jay-Z's eye and was later re-released as a remixed single in 2003.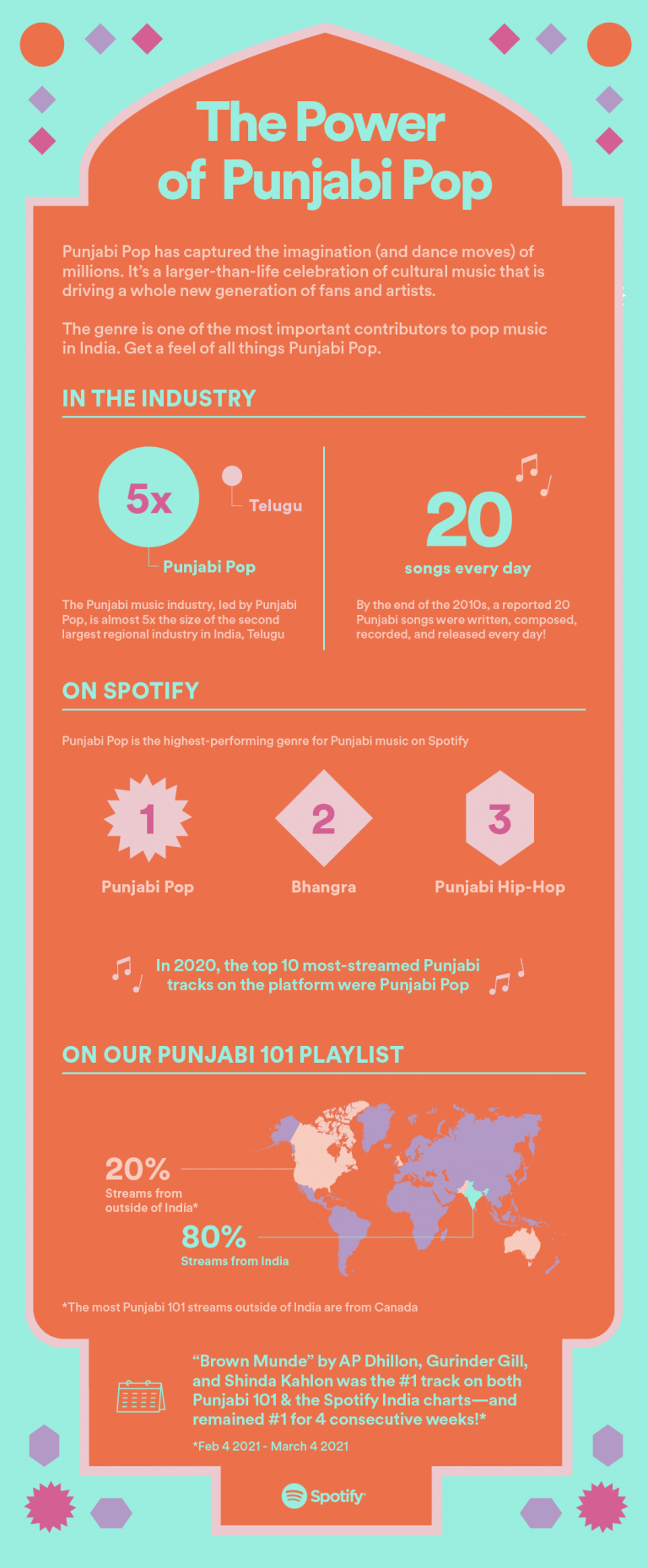 The 2010s saw the true globalization of Punjabi Pop, taking the Indian music industry into overdrive. By the end of the decade, a reported 20 songs were written, composed, recorded, and released, every day. From household names to global stars, Yo Yo Honey Singh, Diljit Dosanjh, Guru Randhawa, Hard Kaur, B Praak, Jassie Gill, Garry Sandhu, and Jasmine Sandlas, among many others, defined this decade.
Punjabi music has continued to grow in popularity among global listeners, and there are now several emerging Punjabi artists across the UK, the U.S., and Canada. Fusion music, remixed classics, and crossovers have gained immense popularity and great response internationally. 
Punjabi Pop is currently the highest performing genre for Punjabi music on Spotify, and in 2020, Punjabi Pop was the sixth-most consumed genre on the platform in India. Even the top 10 most-streamed Punjabi tracks featured Punjabi Pop—in addition to Punjabi Hip Hop and Bhangra.
Discover more
Since its launch two years ago, the Punjabi 101 editorial playlist on Spotify helps listeners discover the best Punjabi songs to stream. It's grown significantly in this short time, with more than 300,000 followers to-date.
Want to learn more? To celebrate the genre's vibrant journey and the artists who made it happen, Spotify recently launched a microsite where you can discover even more playlists and delve deeper into the genre's artists. You can visit it here.