NEW AND NOTEWORTHY
Spotify's New Fresh Finds Program Helps Independent Artists Build Their Careers
For independent artists, sometimes all it takes is having a song in the right place at the right time for a legion of new fans to discover your music. Spotify's Fresh Finds playlist serves as this type of launch pad for up-and-coming artists who are beginning their careers. 
The playlist, which started in 2016, now has 10 accompanying playlists that have specific focuses, like Fresh Finds: Experimental and Fresh Finds: Latin. These playlists are the place for fan and industry tastemakers alike to find the next big thing in music. Since its launch, Fresh Finds has featured more than 25,000 artists, like Clairo, Omar Apollo, and 100 gecs, who have seen their music take off after their songs were included on the list. Spotify data even shows that artists featured on Fresh Finds see their average monthly listeners increase by 108% in the 28 days following their addition to the playlist. 
Now, Spotify is taking its support of these independent artists to the next level with the Fresh Finds program. Building off the success of the playlist, this new program focuses on giving developing artists the tools and educational resources needed for long-term career success. 
"Independent artists are at the forefront of what's next in music," says Rachel Ring, Music Marketing Manager at Spotify. "It's vital that we continue to create space and opportunities for this wide-ranging group of artists, meet them where they are, provide tools for them to have agency over their careers, and give them a voice in our marketing campaigns." 
Over the span of six to eight weeks, artists in the program have access to one-on-one mentorship with members of Spotify and a personalized Masterclass to learn how to best use Spotify for Artists tools (like Canvas and Marquee). There will also be collaboration opportunities with songwriters and producers set up in partnership with Noteable, Spotify's Songwriter and Publishing Relations team. At the end of the program, each of the four groups of artists and producers/songwriters will release an original Spotify Singles track. The collaboration process will be documented through a social content series so fans can follow along as the tracks are created and see the songs come to life.
"It was important for us to build an ecosystem around the artists we're working with to ensure they have the tools, resources, and support they need to succeed in the short and long term," continues Rachel. "At the end of this program we want our Fresh Finds artists to leave with a fluency in Spotify's tools, a connection with other creators, growth across a wide range of new fans, and deeper engagement within their existing fan base."
Spotify has announced the inaugural four independent artists chosen for the Fresh Finds program. Get to know them below.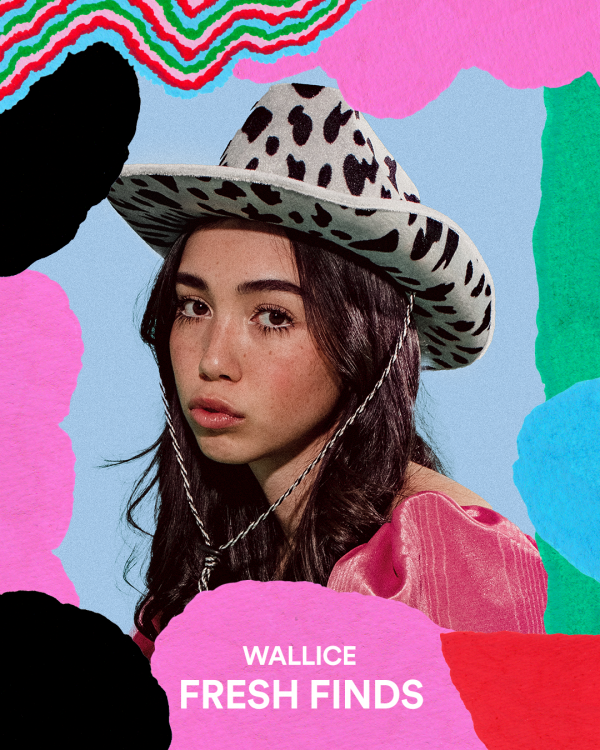 Wallice, who first started writing songs in middle school, has a sweet and nostalgic sound with a rowdy edge. After completing a year at the New School's Jazz Vocal Performance program in NYC, the California native moved back to the West Coast to focus on her music. Her first single, 2020's "Punching Bag," was influenced by the favorites of her youth (Weezer and Lana Del Rey), as well as her current role models (Vampire Weekend and The Drums). Wallice will be paired with songwriter and producer marinelli and producer Ariel Rechtshaid for the Fresh Finds program's song collaboration.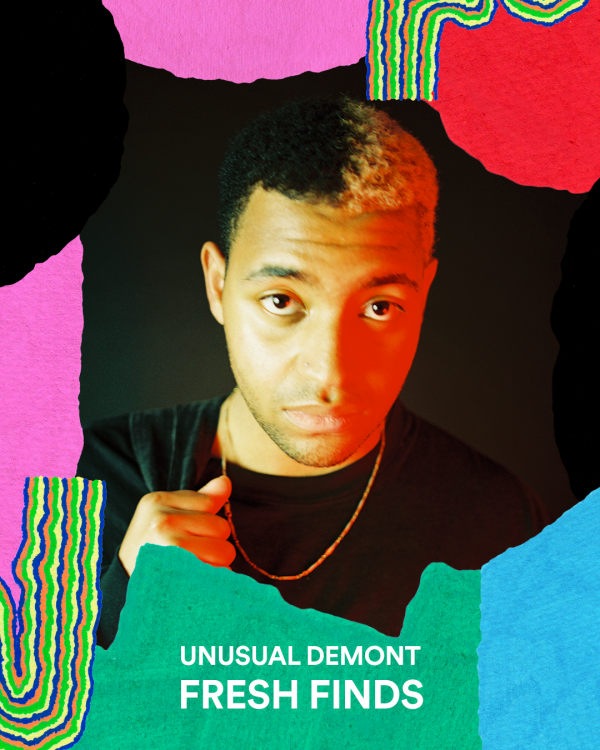 Unusual Demont is a Wisconsin native whose music is effortlessly forward-thinking. His grandfather, who was the drummer for R&B and soul legend Curtis Mayfield, has influenced his work, but the artist also finds inspiration from other sources, ranging from K-Pop to Frank Ocean. Unusual Demont originally started honing his skills as a rapper, but has shifted to singing with a more eclectic pop sound, which can be heard in his 2020 single "Amber." Unusual Demont will be collaborating with producer Kieran Watters, professionally known as "The Idiot," for the Fresh Finds program's song collaboration.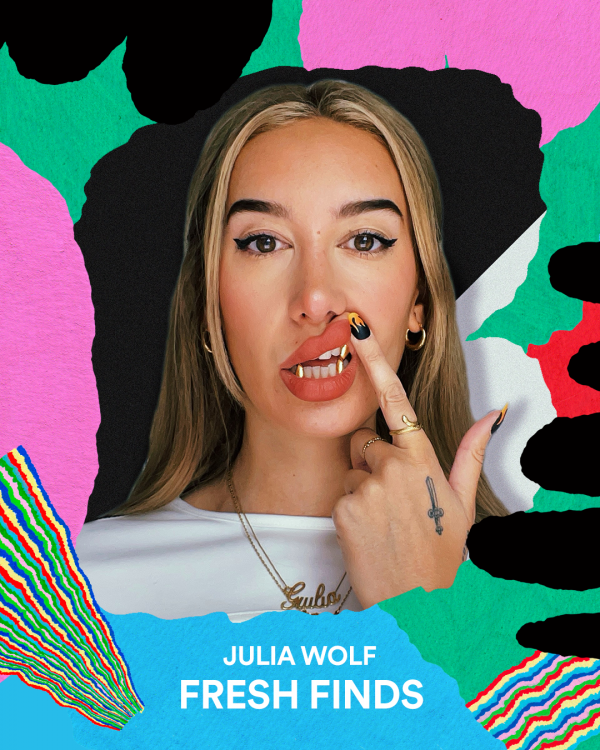 Julia Wolf hails from Queens in New York City. She's a singer-songwriter and visual artist whose confident and left-of-center vision for pop music has built her an already rabid fan base since she released her music on social media in 2019. The classically trained pianist had her breakout moment with the single "Hoops," defying genre conventions with her stream-of-conscious lyrics and unforgettable hooks. Julia will be working with songwriter and producer Jackson Foote for the Fresh Finds program's song collaboration.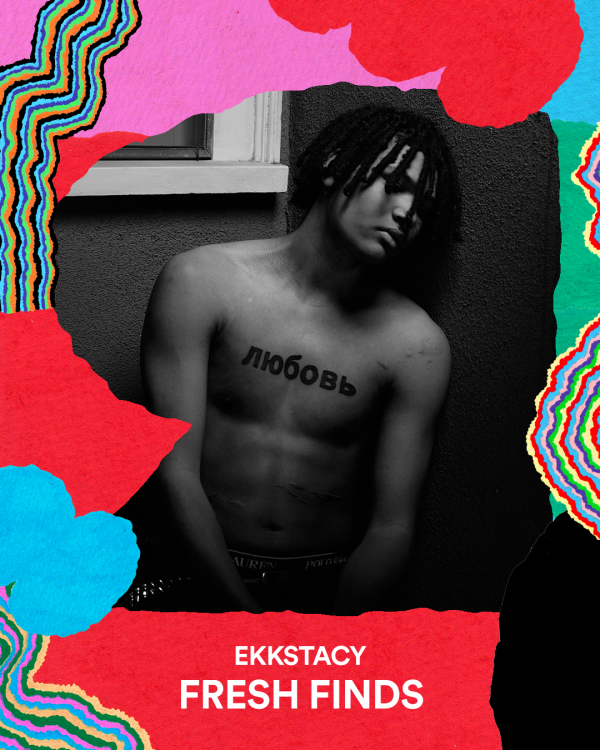 Canadian singer-songwriter EKKSTACY has found refuge in his music. After a challenging youth that included his parents' divorce and alcohol abuse, the artist turned to writing and recording music as a way to share his thoughts and feelings. EKKSTACY, who was influenced by the work of Elliott Smith, Bon Iver, and Bedroom, describes his music as fusing elements of indie, post-punk, and synth wave. The artist's unique sound can be heard in tracks like "i walk this earth all by myself." EKKSTACY will be paired with Jonny Pierce of The Drums for the Fresh Finds program's song collaboration.
These artists are only the first to benefit from Fresh Finds, and they won't be the last. But how to choose who's next? 
"To select these artists, we utilized a combination of data and editorial decision-making, with our Editorial and Artist & Label Partnerships teams choosing artists for the program that are showing momentum both on and off Spotify," says Rachel. "Ultimately, we don't have formalized qualification criteria because being a developing artist is undefinable, and career growth can mean different things to different artists. Our gut instincts are based on what we think is the beginning of an amazing career."  
Alongside the program's launch, Spotify is releasing 13 new regional Fresh Finds playlists in Brazil, Spain, Australia/NZ, UK/IE, Philippines, Indonesia, Singapore/Malaysia, Vietnam, India, Italy, Germany/Switzerland/Austria, South Korea, and Turkey to further our mission of disseminating the music of developing artists on a global scale.
Follow the four Fresh Finds artists to be the first to hear their new Spotify Singles, releasing on June 23. In the meantime, discover new music from independent artists in our Fresh Finds playlist below.