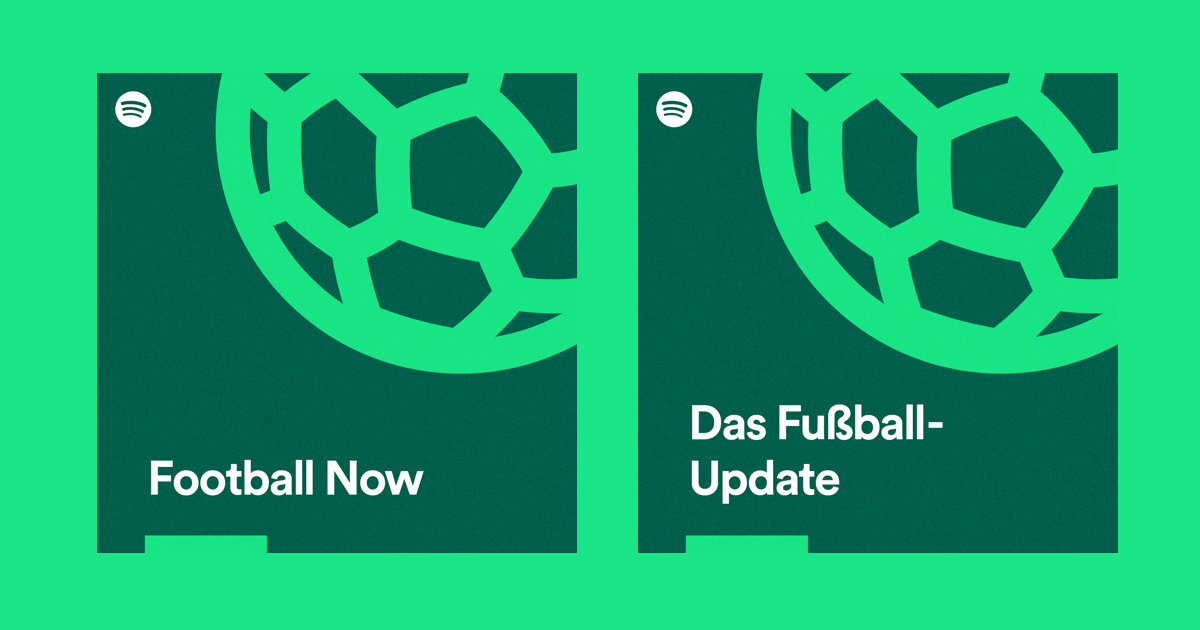 GOAL!
What Type of Fan Are You? Celebrate the Arrival of Spotify's Football Now Playlist in the U.K. and Germany
League preferences and team allegiances may differ, but one thing remains consistent in the world of football: the sport's legion of passionate fans. For those wanting to stay on top of the latest and greatest, Spotify's new Football Now playlist is the perfect companion.
Similar to Spotify's Daily Sports and Daily Drive playlists, Football Now gives fans one destination for access to the sport's best audio content. The playlist also includes music based on a user's personalized preferences, making it a unique experience that's tailored to every listener.
Updated daily, this football-specific playlist is currently accessible for fans in the U.K. and Germany. Whether you prefer to yell "goal!" or "gol!" Spotify has plenty of football podcasts to give you the game commentary, latest news, interviews, opinions, and more about your favorite leagues, players, and clubs.
Need help deciding which football podcast to explore first? We've rounded up suggestions of some of our favorite U.K. and German podcasts based on their topics. Check it out below:
For the fan who wants to hear stories from the professionals
Einfach mal Luppen (German): This podcast is cohosted by two professional footballers—and brothers—Real Madrid midfielder Toni Kroos and Eintracht Braunschweig midfielder Felix Kroos. In the episodes, which will be released three times a week, Felix calls up his brother to discuss the latest updates surrounding the German national team.
Welcome to 'Wrighty's House' (U.K.): Former professional footballer and television and radio personality Ian Wright hosts this podcast, where he interviews a variety of guests about the sport, personal experiences, and more.
For the fan who wants real-time updates in a concise format
kicker News (German): This podcast releases regular football updates, summarizing the latest news in brief, 90-second episodes. The show is updated throughout the day so fans can easily stay up-to-date on what's happening with their favorite sport.
Das EM-Update (German): This Spotify Original podcast, produced in collaboration with Deutsche Presse-Agentur, provides all the Euro tournament updates you want. Episodes will be released twice a day on match days and will offer insight into all 51 matches. In addition to sharing statistics and tactical analysis, episodes will also include reporter interviews from those on and off the field. 
For the fan who wants to hear about football history
GIANT (U.K.): This weekly Spotify Original podcast is hosted by Owen Blackhurst and features guests who share their personal football stories. From the great Arsenal and Manchester United rivalry to the most legendary on-the-field penalty stories, the podcast covers a variety of topics and stories for football fans.
Players (German): This podcast goes behind the scenes of the Euro tournament through short and concise episodes that will be released twice a day. On the show, listeners will learn more about the background and context of the tournament as the host explores questions like "Who actually came up with the idea of a pan-European European Championship?" In the morning edition, host Raphael Späth and European Championship reporter Matthias Friebe will talk about the topic of the day. In the evening, the podcast will dive deeper into another narrative topic.
For the fan who wants a good laugh
The Teamsheet (U.K.): On this Spotify Original podcast, celebrity football fans serve as guest hosts who share their top fantasy picks if they were in charge of building their own football team. Over the course of a week, episodes will be released daily, and in each one guests debate the merits of whom to add for their goalkeeper, defender, midfielder, striker, wildcard, and manager. On the final day, the hosts design their perfect kits. Listeners can expect laughs and legends as they hear from the likes of comedian Elis James, professional footballer Lianne Sanderson, and more.
Ready for more football fun? Germany and U.K.-based listeners can find your personalized Football Now playlist here.