IN GOOD TASTE
Pastry Chef Ravneet Gill Brought a Medley of Flavors and Audio Wisdom to the 'All Ears on You: The Supper' Event
Spotify Advertising's newest and first-ever global B2B brand campaign, All Ears On You, is all about the immersive listening experience and the spellbinding nature of audio. To mirror the surround-sound nature of our platform, Spotify U.K. hosted a special evening filled with food, music, and celebration called All Ears on You: The Supper.
The multisensory evening included good food and good sounds, starting with a meal prepared by Johnnie Collins, head chef at London's Light Bar & Dining. Henrie Kwushue, South London–born DJ and host of Spotify Original Podcast Who We Be TALKS_, enriched the dining experience with rhythmic beats. Following Henrie's set, Years & Years took the stage to perform some of their biggest hits, including "King" and "Desire."
But it was the evening's dessert chef Ravneet Gill, host of Junior Bake Off and author of The Pastry Chef's Guide: The Secret to Successful Baking Every Time, who stole the show. She served a delicious assortment of flavorful pastries, including slices of basque cheesecake and pots of vanilla custard topped with bramley apple compote.
For the Record got the inside scoop from Ravneet on the immersive experience of baking, which she says can be enhanced with the right audio backdrop.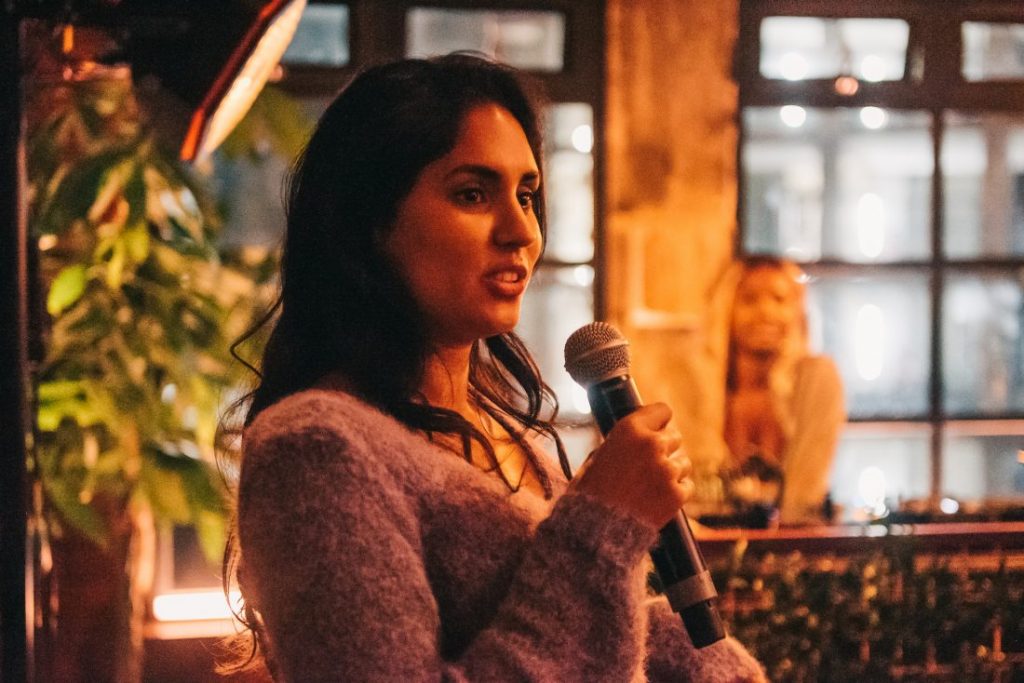 No dinner is complete without good music. Are there any Spotify playlists you go to for that final touch of ambiance? 
Are & Be! I love that playlist. I'll stick it on when I've got loads to do and need something good in the background!
You wrote a book about dispelling people's fears when it comes to baking. Are there any cooking or baking podcasts that you'd recommend to novice bakers?
I think Honey & Co: The Food Sessions podcast is so brilliant and really fun. I also recently started listening to Table Manners with Jessie and Lennie Ware; it's quite a laugh.
If you had a "walk-up song" for when you enter the kitchen to work, what would it be? What song or artist gets you energized?
BEYONCÉ [Platinum Edition]—it reminds me of one of the hardest kitchens I have ever worked in. I didn't enjoy it there, so I'd blast Beyoncé through my headphones on my way to work in the mornings to distract myself!
As the host of Junior Bake Off, are there any songs your contestants have introduced you to?
The contestants and Liam [Charles] know all of the trends and TikTok songs, but I often don't. So during breaks, they're usually rapping or dancing or singing along to them. This year, it was all about AJ Tracey. Outside the dressing room, it's a mix of Afrobeats, gospel songs, and R&B, with Liam dancing or singing along.
What do you listen to when you're baking, and does it vary based on the project or pastry? 
If I've got a long day of testing or cooking, I usually put albums on that I haven't listened to in ages, or I'll choose a song I love and go to Spotify Radio to find more good'uns. Erykah Badu, Jhené Aiko, Ari Lennox, Angie Stone, Maxwell, Nao … I could go on!
How does your background influence the way you cook? How does it influence what you listen to?
Always with love! Growing up, and even now, food is such a focal point for me. It's at the center of every get-together, and it also breaks down barriers. Everyone can connect somehow through good food. It should always be joyful; my mum says if you cook when you're angry, the food will spoil. So the music's gotta be enjoyable to keep the mood up!
Now that you have the recipe for audio excellence, check out all the details on our Spotify Advertising campaign All Ears On You at ads.spotify.com/all-ears-on-you.