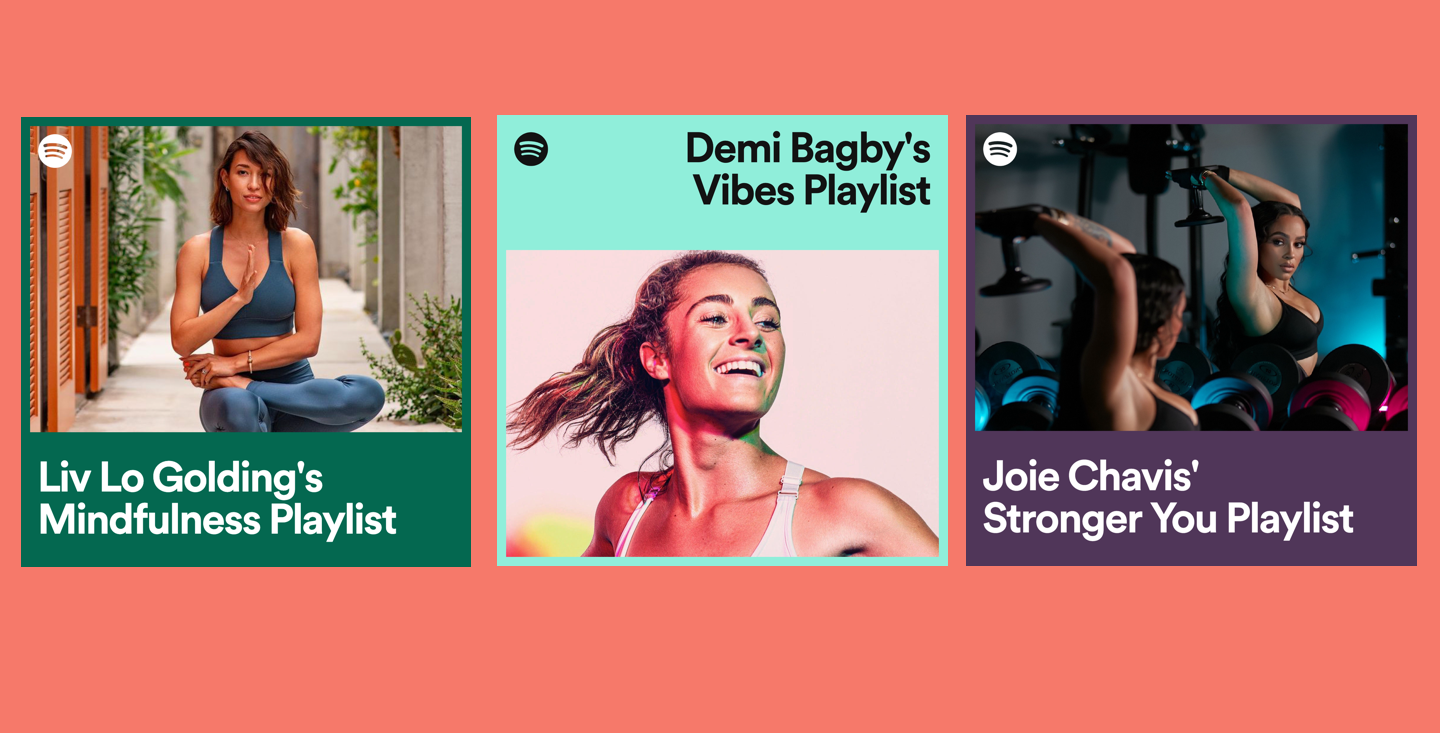 NEW YEAR, SAME MINDFULNESS
The Self-Care and Wellness Listening Trends on Spotify That We're Taking Into 2022
For some, 2022 brings new mental and physical wellness goals, while others are continuing to hone the mood-boosting skills they learned in 2021. No matter how listeners choose to kick off this season of self-care, we know one thing for certain: their favorite audio is along for the journey. To launch a new year of listening, we took a look at the songs, artists, and creators on Spotify that have helped power listeners' mental and physical wellbeing. 
One standout finding is that listeners around the world have created more than 97.1 million workout and fitness playlists on Spotify to date. To help bring this trend into 2022, Spotify is working with fitness and wellness experts Amanda Kloots, Liv Lo Golding, Mia Lind, Demi Bagby, Jeanette Jenkins, Corey Calliet, Katie Austin, and Joie Chavis to take over the Spotify At Home hub with fresh curated playlists to sweat, dance, and unwind to.
Each tracklist is geared toward a specific vibe, with a mix of new hits and classic beats. For Katie Austin—fitness personality, model, and host of podcast Austin AF—curating Katie Austin's Hype HIITs Playlist is all about celebrating favorites. And celebrity trainer and actor Corey Calliet takes a similar approach to Corey Calliet's HIIT Playlist, finding inspiration in tried-and-true tunes. "In curating this playlist I had to throw in some of my favorite songs I grew up listening to—they always get my energy up," said Corey. "This is my soundtrack for 2022. No matter the vibe, I'm showing up and not slowing up!"
Here are the other trends helping get listeners' energy up on Spotify.
Main character moments galore
Listeners are also continuing to exercise their self-confidence, creating playlists dedicated to wellness inside and out. That includes more than 160,000 "that girl" playlists to date created by users on Spotify around the trending aesthetic of sticking with routines and getting things done. Some of the most popular songs added to those playlists include "Good Days" by SZA, "telepatía" by Kali Uchis, "Woman" by Doja Cat, "successful" by Ariana Grande, and "jealousy, jealousy" by Olivia Rodrigo.
Creator Demi Bagby joins the empowerment movement with Demi Bagby's Vibes Playlist, a playlist that celebrates her love of music and the songs that fuel her. "I chose these songs because no matter where you're from or what genre you like to listen to, these are all bound to put you in a good mood," she shared. "I feel so free with all these songs, and it's definitely 'main character vibes.' They feed my soul!"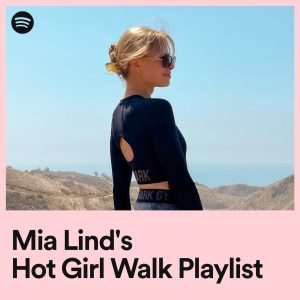 2021 also welcomed the "hot girl walk" trend and inspired the creation of more than 7,000 playlists on Spotify to date. Walkers around the world took their strolls to the next level by using their time on the trails to self-reflect and set goals. Popular soundtracks to their steps include "Maneater" by Nelly Furtado; "Gimme More" by Britney Spears; "WAP (feat Megan Thee Stallion)" by Cardi B, Megan Thee Stallion; "Truth Hurts" by Lizzo; and "good 4 u" by Olivia Rodrigo.
To take the trend a step further, we partnered with the founder herself, Mia Lind, to create Mia Lind's Hot Girl Walk Playlist, a playlist with the best "hot girl walk" tracks to stream while hitting the pavement. "I curated this playlist to be a combination of songs that make me feel confident and pump me up no matter the time of day," Mia told For the Record. "They are all upbeat to keep you at a good pace, and there are plenty of them so you never hear the same song twice!"
Hip-hop is a heavy hitter (and lifter)
For some Spotify fans, it wouldn't be a new year without a new workout. And based on the data, we would guess hip-hop will remain a top choice for workout tunes in 2022. After all, in 2021, the genre reigned supreme when it came to fitness playlists. Some of the top tracks added to user-generated workout and fitness playlists to date include "Can't Hold Us" by Macklemore & Ryan Lewis feat. Ray Dalton; "Numb / Encore" by JAY-Z and Linkin Park; "HUMBLE" by Kendrick Lamar; "Stronger" by Kanye West; and "Eye of the Tiger" by Survivor.
Many workout regimens also feature "leg day"—and Spotify has the user-generated playlists to prove it. Top tracks include: "Anaconda" by Nicki Minaj; "WAP (feat Megan Thee Stallion)" by Cardi B, Megan Thee Stallion; "Miss New Booty" by Bubba Sparxxx, Mr. Collipark, Ying Yang Twins; "Get Low" by Lil Jon & The East Side Boyz, Ying Yang Twins; and "Booty" by Jennifer Lopez, Iggy Azalea—which all are all helping to get glutes in gear.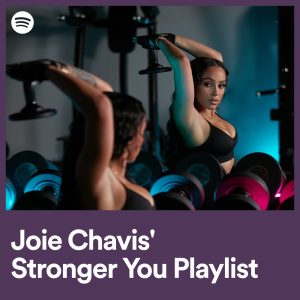 To keep flexing in 2022, fitness and dance personality Joie Chavis brings the same energy to Joie Chavis' Stronger You Playlist. "I always work out first thing in the a.m., so an upbeat playlist with my favorite music is a great way to wake myself up and start the day," she explained.
Many minds are on mindfulness
Mindfulness, an important theme from 2021 is still important to listeners in the new year. Last year for World Mental Health Day, Spotify encouraged both listeners and employees to "take a beat" and "tune into yourself" with playlists in the Spotify At Home hub from mental health advocates Chelsea Cutler and WE THE URBAN.
And the data shows that Spotify users are doing just that—creating more than 402,000 self-care, mindfulness, and health and wellness-related playlists to date. Topping those tracklists are "Confident" by Demi Lovato, "Scars To Your Beautiful" by Alessia Cara, "Who Says" by Selena Gomez & The Scene, "Born This Way" by Lady Gaga, and "Rise Up" by Andra Day.
Podcasts are also inspiring new confidence and self-acceptance. The most popular shows worldwide to date are Unlocking Us with Brené Brown, The Mindset Mentor, On Purpose with Jay Shetty, The Self Love Fix, and Radio Headspace.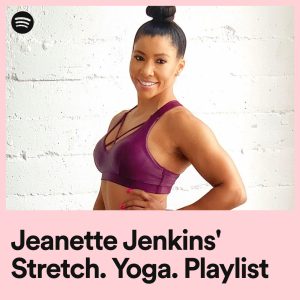 And trainer Jeanette Jenkins's tracklist Jeanette Jenkins' Stretch. Yoga. Playlist supports listeners as they stretch physically and mentally. "For the first 60 minutes of this playlist, I picked some of my favorite R&B, soul, and reggae songs with positive, uplifting lyrics and vibes that will put you in a great mood," Jeanette explained. "The second half of this playlist is a compilation of some of my favorite instrumental Buddhattitude songs, which can help you release your mind and just be present in your body during your movement practice or meditation. It has the perfect ending—ocean waves and nature sounds—for a final kiss to your spirit and soul."
Whether this year is all about building physical or mental strength or sticking with self-care, check out the Spotify At Home hub for mood-boosting mindfulness, fitness, and wellness playlists.