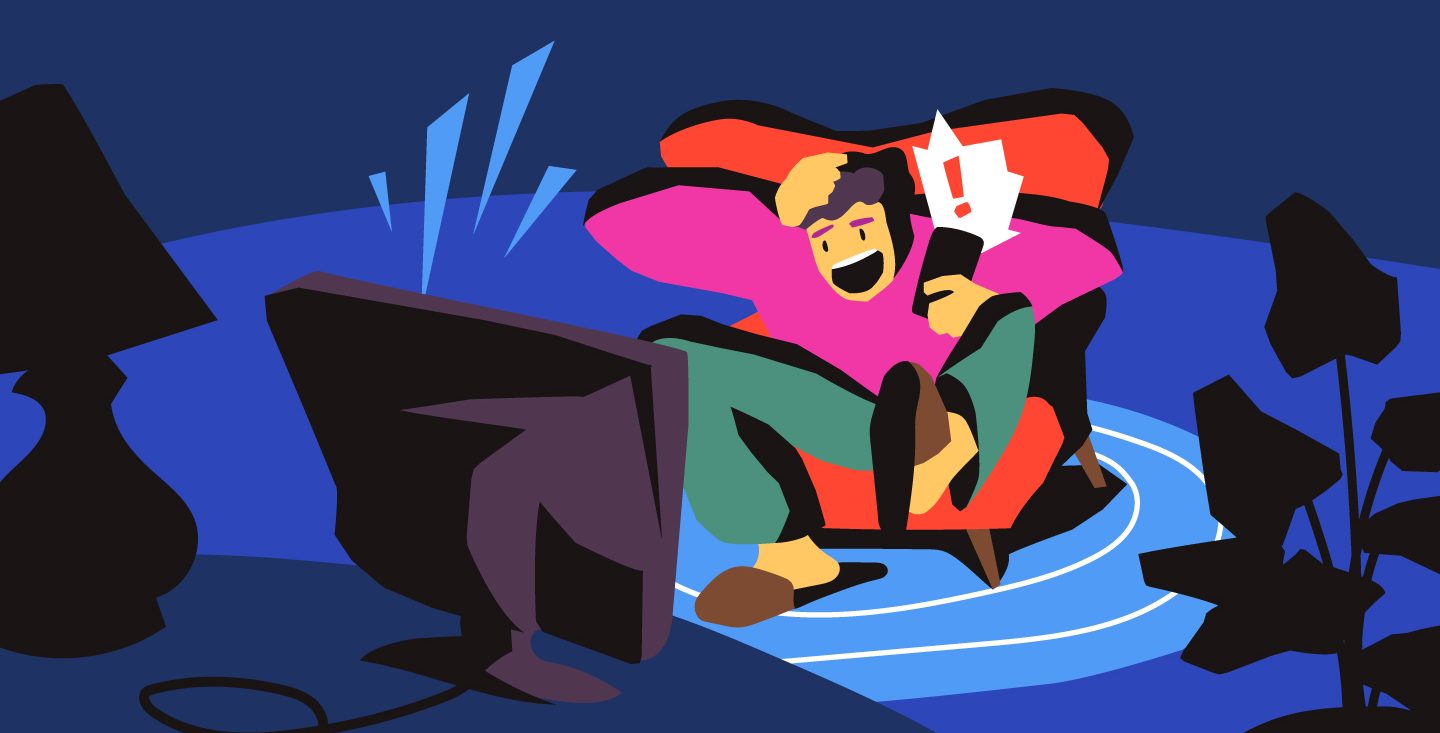 LIGHTS . . . CAMERA . . . AUDIO
Movie and Film Buff? Spotify's 'Listen If You Watch' Page Has the Perfect Podcast for You
The third season of the show you've been bingeing ends with a sudden cliff-hanger. A movie with many twists and turns comes to a conclusion that leaves you wanting more. There's nothing else you can watch until you've sufficiently processed. It's time to turn to podcasts. 
"With TV shows and movies, sometimes we finish and we just want to talk to somebody as passionate as we are about it," said Jessica Diaz-Hurtado, Spotify Podcast Editor, Music and Entertainment. "Podcasts are a great entry point to hear people, specifically pop-culture experts who studied television and film, talk about a piece of media—or maybe you can even hear from the director themselves. Podcasts can give an entirely different point of view."
Jessica recommends queuing up Spotify's "Listen If You Watch" page, which she helps curate alongside a team of pop-culture aficionados. Their job? To help fans find the interviews from, insights on, and analysis of their favorite media—and maybe, just maybe, help them find their next favorite podcast, too. 
Where to "listen if you watch"
On Wednesdays, when fans navigate from Spotify Search to the Podcast tile, they'll see a shelf called "Listen If You Watch." Each week, the Podcast Editorial team takes a relevant cultural TV or film moment and builds out a set of podcast recommendations that are related to it. 
But if you miss a Wednesday, have no fear—type "Listen If You Watch" into Search to find an even more expansive page curated by Podcast Programming Lead (and self-proclaimed industry aficionado) Isabella Way, complete with refreshed curations every week. Isabella explained how she takes the shelf from the podcast page and builds it out into four distinct sections:
Listen if you watch …

–

The first shelf is the same as what's on the homepage of the podcast section—curated episodes about and inspired by the TV show, movie, or genre of the moment. It's updated every Wednesday, but you can find it here throughout the week. Recent themes have included

West Side Story

, the Emmys, and

Don't Look Up

.

For [GENRE] fans

–

The second shelf features podcast episode curations around your favorite TV- and film-related themes—think superheroes, true crime, or action

.

"This is also where we have a chance to tie in our Owned and Exclusive content," said Isabella. "For example, when we curated for 'Horror' fans we were able to feature three Parcast episodes, one of which highlighted haunted houses that they made into fictional stories on

The Conjuring

."

made for … [NAME] stans

–

The third, brand-new shelf has a tagline that reads, "episodes inspired by the celeb of the moment, curated by our resident Gen Zer." This shelf allows the team to ensure they're programming content that all our audiences, including Gen Z, are interested in. At the forefront of culture, Gen Zers are passionate about diversity and inclusivity, and having this space allows us to program content that is equally so. The first week of the new shelf, timed to the season two debut of

Euphoria,

was "made for … daya stans" (aka

Zendaya

). An upcoming title could include "made for … timmie stans" (that's

Timothee Chalamet

). And yes, it's curated by an actual Gen Z Spotify employee, lowercase and all.

Stay up on all things TV and Film

–

The final shelf features 8-10 different podcasts around the TV and film industry, and it captures a broader picture instead of a specific topic or theme. This shelf features podcast titles on the show level, rather than by episode, so it paints a more holistic view of the space. It's updated monthly, which gives you ample time to get deeply invested in a show or host. 
Always in the know
With a film and TV hub to update weekly, the podcast editorial team needs to constantly stay on their toes, ready to feature a new obsession at any moment. The secret? They don't plan that far in advance. 
Of course there are some events and dates and cultural moments to time curation to—annual award shows and big movie franchise release dates are always top of mind. But the team stays loose and flexible, ready at any minute to jump on a trend like Squid Game. They do this by keeping up on social media, online publications like magazines and newspapers, and podcast newsletters—and of course, they're listening to podcasts like Pop Culture Happy Hour from NPR to introduce them to media they haven't heard of.
It's also important to the team to find, listen to, and program shows that represent diverse populations. Jessica is a fan of The Bechdel Cast, which features women in TV, film, and music, and Isabella often tunes into Black Men Can't Jump [In Hollywood], which is a comedic podcast that reviews films with leading actors of color and analyzes them in the context of race and diversity. And the team makes sure to vary the size and scope of the podcasts they feature as well. "When I was curating around Reservation Dogs, I was also trying to pull some more shows by indie podcast creators, especially since I wanted to highlight podcasts that were created by Native Americans who were talking about the show or talking about issues related to the show," Jessica shared. 
The "Listen If You Watch" page is full of episodes and shows with hot takes, thoughtful reflections, fan theories, and much more. It holds up a topical, relevant audio mirror to the world of TV and film media that surrounds us. What's more, it's a great way for you to find an episode or two related to your interests—then be launched into an even larger and more expansive world of podcasts. 
Tune in weekly (or even more often) to hear podcasts curated from—and for—people who are just as obsessed as you. 
This week's "Listen If You Watch" is: YA Movies. Hear about Twilight, To All The Boys I've Loved Before, The Hate U Give, Booksmart, and Lady Bird from culture fans and experts.