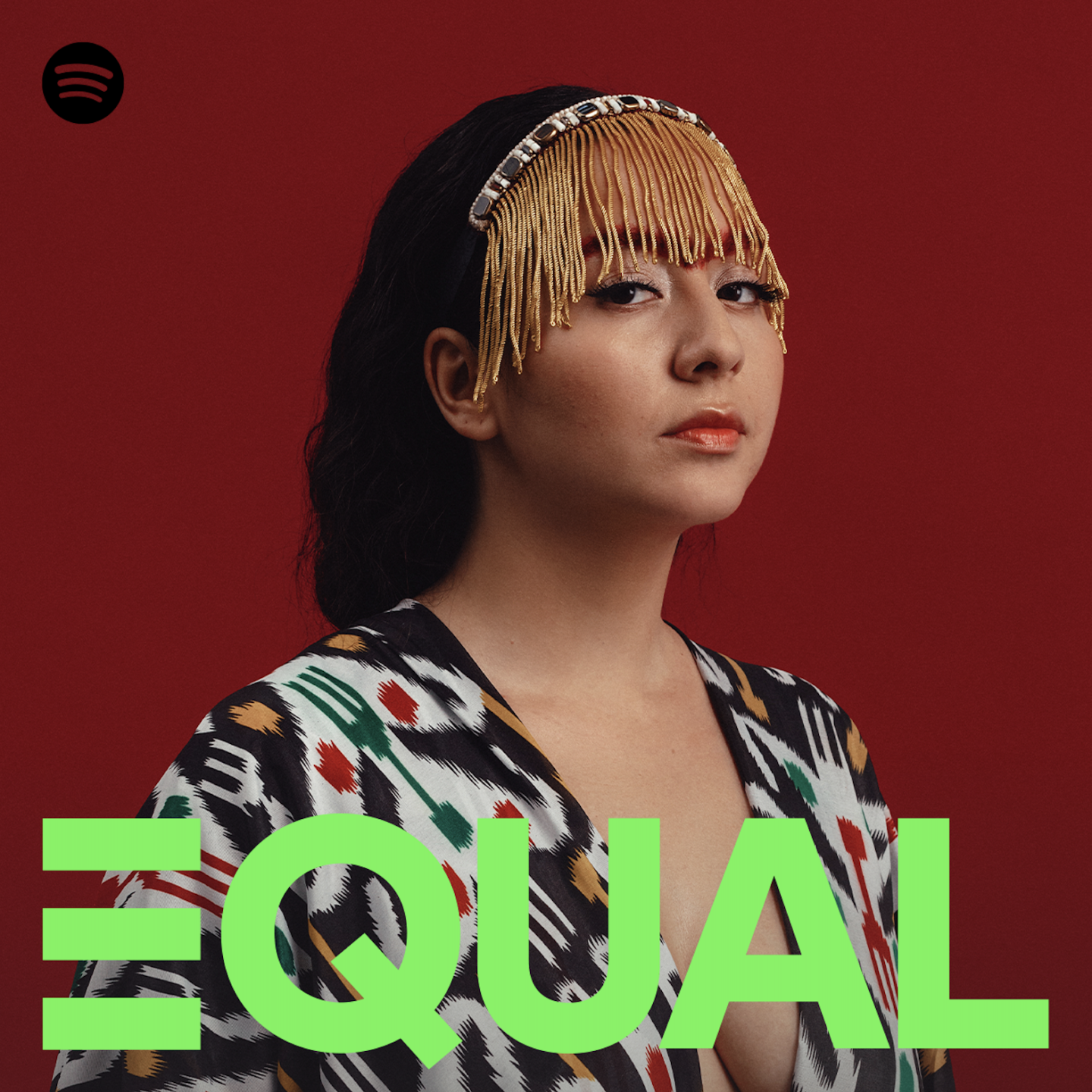 WOMEN AT FULL VOLUME
Manizha Shares Her Vision for Gender Equity in the Music Industry as EQUAL Ambassador of the Month
Singer-songwriter Manizha is a strong proponent of using her voice for change. Her up-tempo, Tajik- and folk-inspired beats and eclectic art-pop aesthetic have been the defining characteristics of her music for almost a decade. But Manizha really got people talking during the Eurovision Song Contest in 2021 when she seized the opportunity to champion the causes she is most passionate about—including preventing LGBTQUIA+ discrimination and domestic abuse. Her song "RUSSIAN WOMAN," a girl-power anthem about the transformation of women's roles in Russia, landed her ninth place in the competition.
Earlier this month, she became the face of Spotify's EQUAL Global playlist and joined the EQUAL Global Music Program, which aims to combat gender inequality in the music industry. As part of the program, Manizha also recorded her newest single, "Now or Never"—a cover of  the traditional folk song "See-Line Woman," popularized by Nina Simone—through the Spotify Singles program. The song is Russia's first Spotify Singles release and will be available on January 28.
Russian-Tajik singer-songwriter #Manizha is using her lyrics for good. Find out how Spotify's EQUAL Ambassador of the Month is using her growing platform to empower the next generation of women. https://t.co/5PIIlGTGKY pic.twitter.com/YH0z0j51ip

— Spotify News (@SpotifyNews) January 24, 2022
Manizha was born in Tajikistan and lived there until the height of the Tajikistani Civil War in 1994, when she fled to Moscow and began studying music and participating in children's singing competitions. In 2016, she began recording music as a solo artist, and in 2020, she was announced as a Goodwill Ambassador for United Nations High Commissioner for Refugees. Manizha speaks out regularly against unattainable beauty standards for women, and at a recent concert, she removed her makeup and handed out wipes to audience members who wanted to follow her lead. 
Fans may spot Manizha on a billboard in Times Square, New York, this month, but in the meantime, we got to ask her about her career highlights, musical inspirations, and vision for the future of women in music.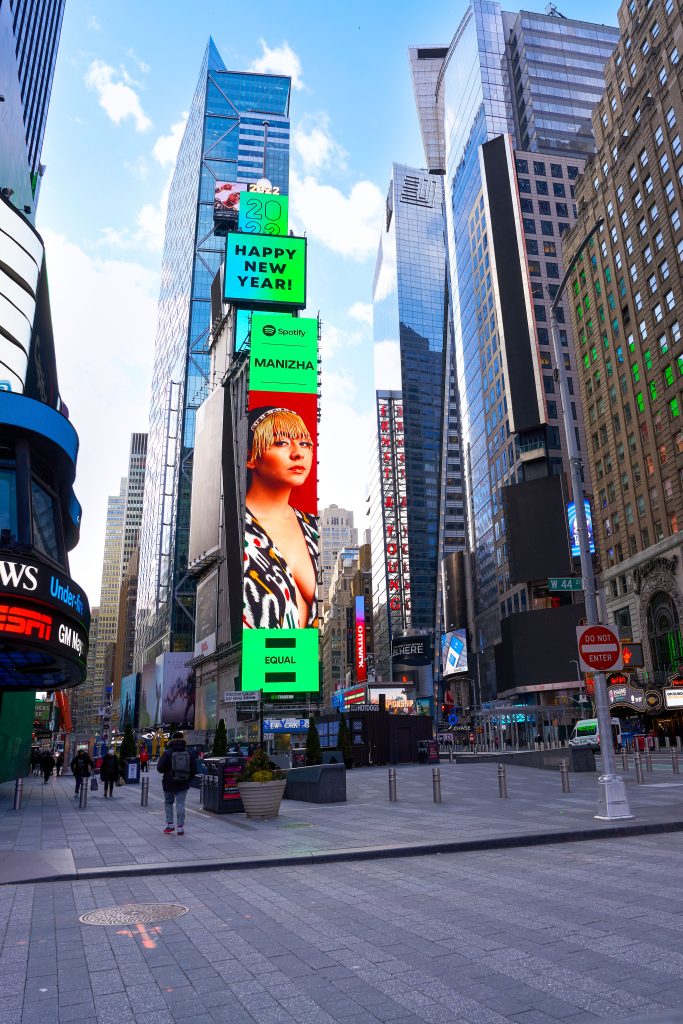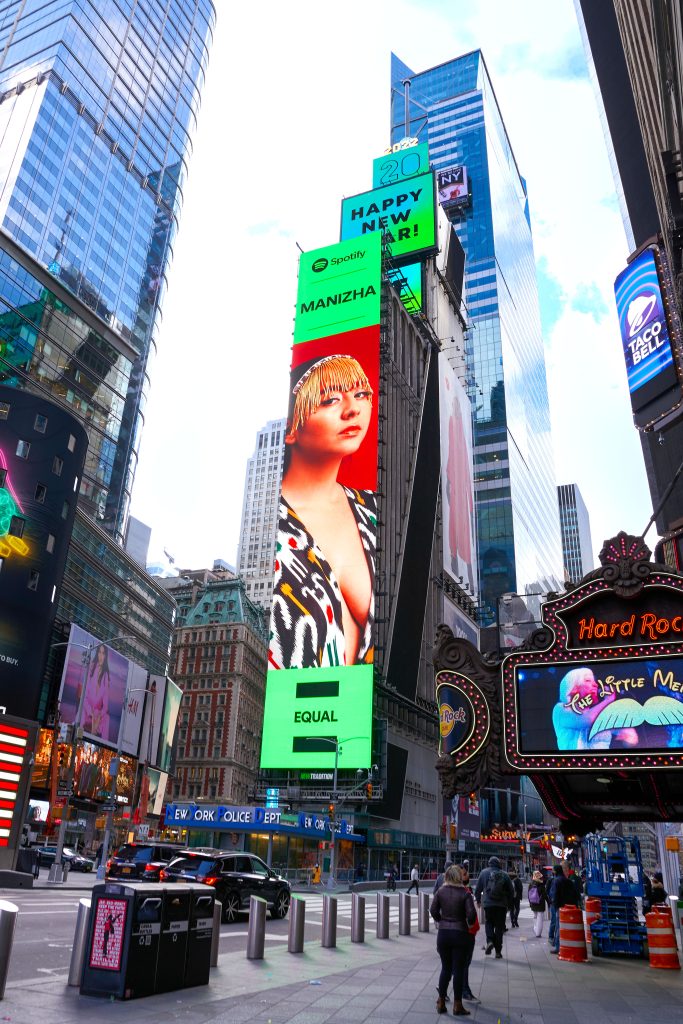 The artists who have most inspired me are _____.
Björk, Nina Simone, and Tanita Tikaram.
One piece of advice I'd give other women artists is _____ .
Before doing what you're told, think first, and then say, "Hell no, I'm keeping it the way I want it!"
One notable moment in my career so far is _____.
My first big solo show in Moscow!
My creative process consists of _____.
Finding new ways to be more honest in music.
One way I'd like to see greater gender equity in the music industry is _____.
Not following the stereotypes of beauty, maintaining your own individuality, and not conforming to the majority or whomever.
A few up-and-coming women artists I'm excited to watch are _____.
Ama Lou, Celeste, and Tierra Whack.
My girl-power anthem is _____.
"Got to Be Real" by Cheryl Lynn.
Want to turn up the volume? Listen to new music from Manizha and other women music artists from around the world on our EQUAL Global playlist.