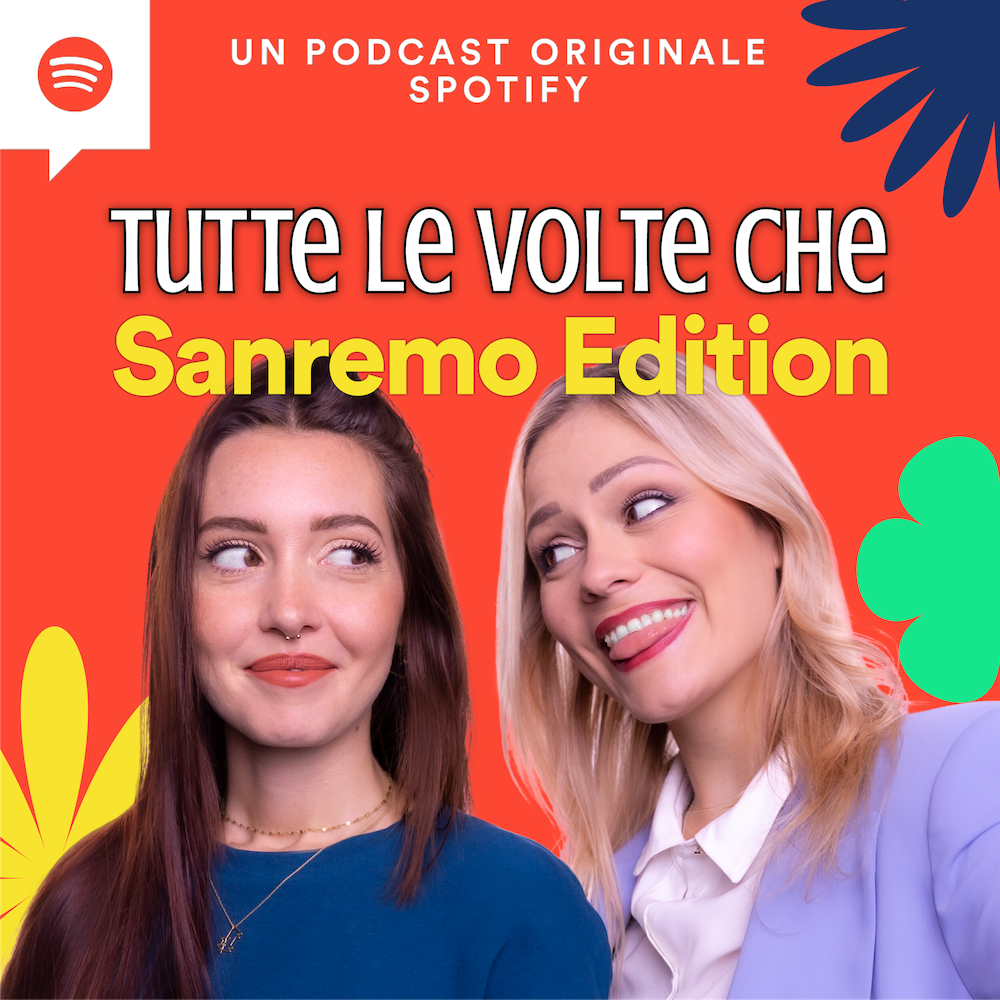 COMPETITION VIBES
Catch Up on the Festival di Sanremo With Camihawke and Alice Venturi on the 'Tutte le Volte Che' Podcast
Italy's Festival di Sanremo is an annual music competition where artists perform new songs in the native country's language. The show, which takes place at the famous Ariston Theater, is broadcast live on television and the winners are determined both by votes from a jury and by guests watching and voting from home.
This year, whether you're a fan watching the performances in Liguria or tuning in from the comfort of your living room, you can find plenty of Sanremo-related podcasts and music on Spotify. Listeners can explore songs through playlists like Sanremo 2022 and Sanremo: La Storia on Spotify's Sanremo Hub, and they can sing along to their favorite hits with the Lyrics feature on the app.
Fans looking to dive deeper into the festival can check out Tutte le Volte Che, the popular Spotify Studios podcast cohosted by Italian influencers Camilla Boniardi and Alice Venturi. For their weekly show, where they chat about their personal experiences, they will release six special episodes focused on the Festival di Sanremo. In these episodes, the two have fun recounting and sharing their opinions on this year's performances.
For the Record caught up with Camilla and Alice to learn more about their special edition episodes and why the festival is so important to them.
The Festival di Sanremo is a pretty significant event for you two. Isn't that where you first met?
Alice: We met in Sanremo in 2017 while we were both working with the same brand, in the same place, and with the same agency. But we had never met before! The job consisted of leading daily livestreaming from the brand's spot in Sanremo.
A member of the staff introduced us and asked us to test making a livestream video together. The result was unexpected: We felt like we had known each other for forever, despite just meeting. A director of an Italian radio show saw us interacting and, just one year later, we started a new adventure as radio hosts together!
Why did you decide to create special podcast episodes dedicated to Sanremo? 
Camilla: Our podcast, Tutte le Volte Che, aims to share real chats between 30-year-old friends sharing their point of view about everything happening—from serious to entertaining topics. And we couldn't miss Sanremo! Festival di Sanremo is known as the most important music event in Italy and for a week, it's the talk of the town! Everybody talks about Sanremo, especially the morning after each show. So, in this special edition of our podcast, we are going to talk about what's happening during this festival but also share some gems from the past.
What is your favorite part of Sanremo?
Camilla: My favorite part of the show, besides the music performances, is the artists' "grand entrance." I don't know why but I always hope one of the artists slides down the stairway, obviously without getting hurt. It would be a very fun moment!
Alice: I obviously love the music performances but also everything about Sanremo. Every year, I spend all of my "Sanremo week" watching artist interviews, sound checks, and I can't resist following the festival's bizarre moments, like "police chases in the night" (i.e., "the Orietta Berti situation" in 2020). Sanremo always has some big surprises!
Can you share a past winner (or winners) of Sanremo that you are big fans of?
Camilla: "Come Saprei" by Giorgia in 1995. Everybody knows that song by heart—even today. That's why I think it was very deserving of the win.
Alice: Totally agree with Cami. But my favorite edition ever is the 2001 one, when Elisa won with "Luce" and Giorgia got second with "Di sole e d'azzurro."
The festival starts tomorrow and the first special edition episode of Tutte le Volte Che is available now. Give it a listen.