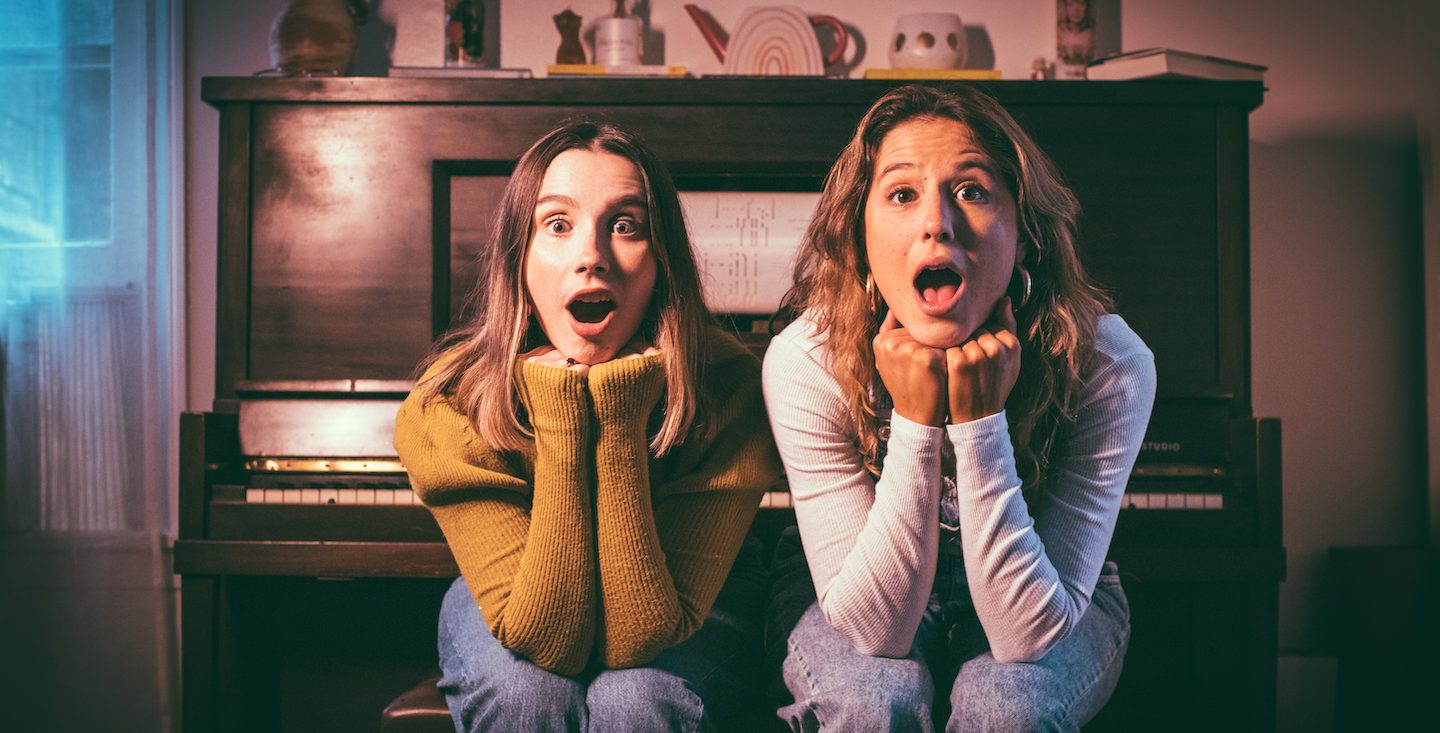 SUPREME FANDOM
'Sounds Like A Cult' Podcast Gets Its Own Fervent Following as It Rises in the Charts
With more than 3.2 million podcasts on Spotify, it's impossible for listeners to know every show that drops. Fortunately for fans, our Podcast Editorial team is here to help. They follow the trends, listen to new episodes, and determine what shows should be recommended to Spotify users across a variety of genres. By highlighting different shows and topics—such as true crime—the team gives podcast creators a way to build new audiences while helping listeners discover a new binge.
So when Sounds Like A Cult was placed in the coveted spot on Spotify's main podcast page, it was thus propelled into the earbuds of new listeners.
Cohosted by Isa Medina and Amanda Montell, Sounds Like A Cult offers a humorous take on the true crime genre as each episode examines modern-day "cults." From cheerleading to astrology, they analyze what it is about the topics, people, and companies that results in such a loyal fanbase. And it seems that the creators struck a chord with listeners because their show soon made its way onto Spotify's Top 50 charts and even ranked in the top 10 in the Comedy category. 
Fans have been craving more from Isa and Amanda, so Spotify worked with the duo to create a new curated playlist called The "Cults" We All Follow. The collection features some of their favorite episodes across a variety of podcasts, giving listeners who love Sounds Like A Cult new shows to check out. For the Record recently spoke with the hosts to learn more.
What gave you the idea for this podcast?
The podcast initially stemmed from Amanda's book Cultish. There were so many fascinating "cults" from pop culture and the zeitgeist that didn't make it into the book, and we wanted to explore them in a fun and conversational, but still insightful, way. We were inspired by the juicy-meets-bantery format of "cult-followed" podcasts like My Favorite Murder and Be There In Five, so Isa's hilarity combined with Amanda's nerdiness felt like the perfect way to cover the "cults" we all follow!
When it comes to the people and things who are at the center of these "cult" groups, are there any shared characteristics or qualities that lend themselves to this level of fan worship?
You can't earnestly compare the "cults" of Trader Joe's (which happens to be our favorite cult that we've covered) and The Bachelor franchise to flat earthers and multilevel marketing schemers, but that's why we have our three cult categories—Live Your Life, Watch Your Back, and Get the F*ck Out—which we use to classify the "cult" of the week at the end of every episode. 
As a broad generalization, though, what these different groups offer is the promise of belonging, ritual, and meaning, which are fundamental human drives that a lot of us find ourselves sorely lacking during this turbulent time in history. Some groups mostly deliver on their promises, but some become powerful by way of deception and exploitation. We genuinely hope these conversations make people feel better equipped to engage in life's "cultiness" the healthy way. That's why our sign-off at the end of every episode says, "Stay culty . . . but not too culty!"
How has working with Spotify helped you broaden your audience reach?
Spotify is the perfect platform for us. The core Spotify listener seems savvy and curious, and that's exactly the type of listener who vibes with our show. We would not be where we are today without Spotify's support. Almost 90% of our listenership comes from Spotify.
How was having your podcast featured on Spotify's "True Crime Scene" section on the main podcast page impactful?
The Spotify true crime feature was vital for us. True crime fans are always thirsting for new pods, but it's becoming harder to find ones that add something new to the mix—not to mention, in these tough cultural times, we don't always want to listen to a pod that's going to make us feel worse! We basically made this show for Spotify's true crime listener demo, and Spotify's audiences really trust their playlists, so getting that exposure was like lightning in a bottle for us.
After the Spotify feature, we saw a significant uptick in streams and shares on social media. Appearing in this section seems to have caused a word-of-mouth snowball effect, and we're so grateful for it.
What are some ways you've seen success with the podcast? 
Sounds Like A Cult wound up on Spotify's Top 50 charts (and Top 10 in the Comedy category), and after gaining some traction, we were able to sign with the podcast network All Things Comedy to receive production help and actually start earning revenue from the pod! Up until a couple weeks ago, we just made the whole thing on our own in our bedrooms for free. We've also seen a flood of new followers engaging with us on social media. Our listeners are so engaged, constantly messaging us and recommending episode topics.
You recently announced that the podcast is moving to a weekly format. What factored into the decision to release episodes more frequently?
The least we can do for our supportive listeners (or "culties," as we call them) is to use these new resources to deliver the show weekly! Our team agrees it's also just better for the growth of the podcast not to have long mid-season breaks. Consistency is everything.
Can you tell us about the curated playlist you made for Spotify? What podcasts made the list?
We wanted to curate a diverse mix of episodes from shows that you might not think of as "cult" podcasts but that comment on the cultiness and scaminess in various corners of everyday life in a smart, entertaining way.
All you "culties" out there, are you ready for more? Check out what shows made it onto Isa and Amanda's The "Cults" We All Follow playlist.