NEW PERSPECTIVES
Spotify's Sound Up Program Continues to Bring Diverse Voices to Podcasting
Since its start in 2018, Spotify's Sound Up has helped underrepresented creators get their feet—and mics—in the door for podcasting. The program's aim is to diversify the voices in the audio space by providing participants with educational opportunities, resources, and access to industry experts. Sound Up graduates have released popular shows that have ranked on Spotify's podcast charts, including Dope Labs, Search Engine Sex, You Heard Me Write, and FOGO: Fear of Going Outside.
Now, four years after its inception, Sound Up has launched in 12 markets (Japan, Italy, the U.S., U.S. LatinX, India, Mexico, Australia, Sweden, the U.K., Germany, Brazil, and Argentina) and helped hundreds of graduates find careers in podcasting. 
How does Sound Up work? In each market, 10 participants are selected to be a part of the program. The creators then go through a four-week virtual or in-person immersive experience where they hone their storytelling, get more experience in audio production, and have a chance to workshop their ideas. After the session ends, the participants continue to receive year-round support from Spotify as they create professional pilots of their ideas, which have a chance to become a Spotify Original.
In 2020, as people around the world altered their lifestyles based on social distancing protocols and COVID-19 risks, Sound Up also had to adapt. "It was an incredibly difficult two years where, globally, we had to adjust the program to virtual trainings," shared Natalie Tulloch, Sound Up Global Lead. "But we also got the chance to see wonderful stories begin to take shape, and now as we launch new podcasts, it feels incredibly gratifying."
For the Record traveled across the globe to check in on a few of the current and recently graduated program participants to learn more about their experiences and the podcasts they are creating.
Gigi (U.K.)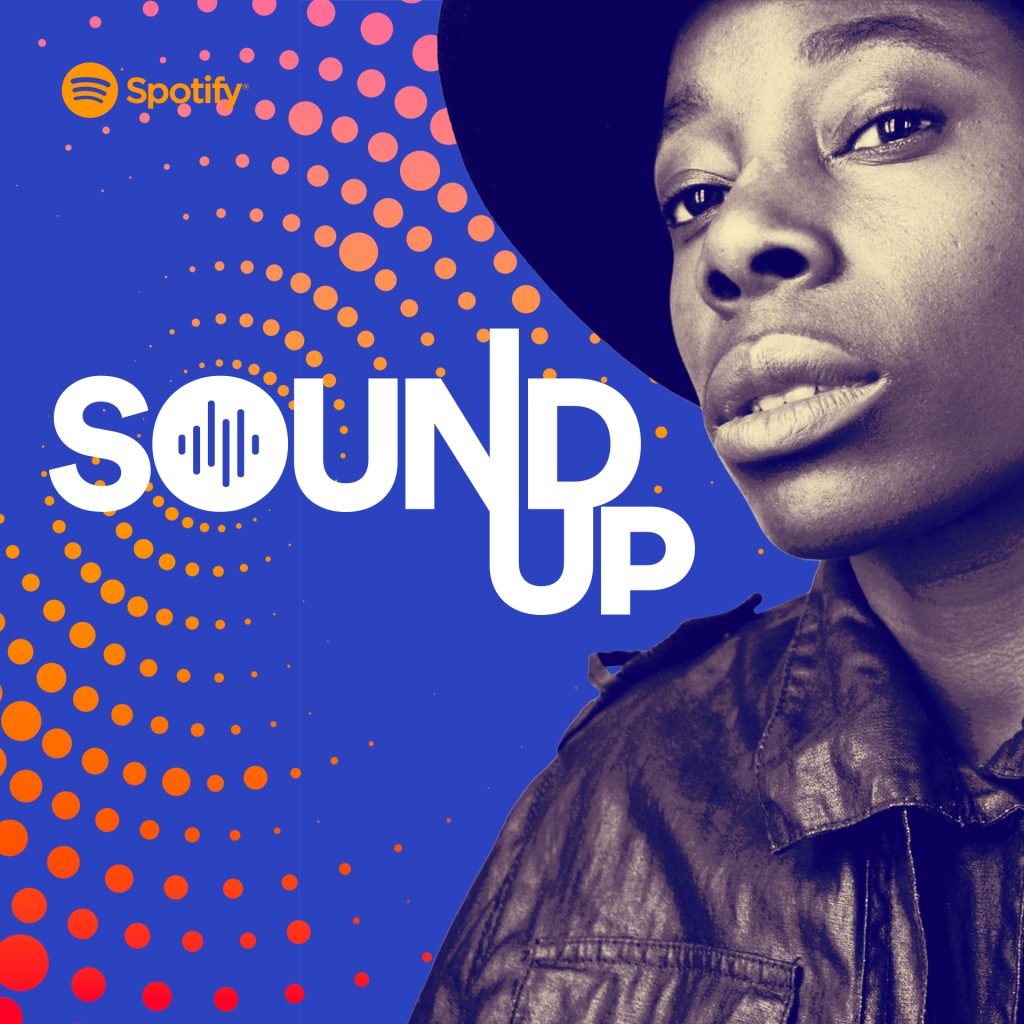 Gigi just finished the program and is working on her podcast, Journeys With Grace, which is an immersive self-contained story of discovery. From storytelling to copyright details, Gigi's Sound Up experience taught her plenty about the industry. Her favorite part of the process was developing the trailer and pilot episode. "Layering up my trailer with soundscapes and adding atmospheric audio here and there was fun to me—a stressful kinda fun," explained the podcaster. "I'm a creative, so seeing my vision come to fruition was a super-dope moment. You can't really replace that feeling." Now her focus is on developing the script and finding a way to invite listeners into her show in an intimate way. "I'm looking forward to the process, the vision being out there, and the podcast finding and resonating with the people it's supposed to."
For U.K. and Ireland creators who are interested in the Sound Up program, applications are open now through March 14, 2022. Submit your application here.
Fatima Hellgren Camara (Sweden)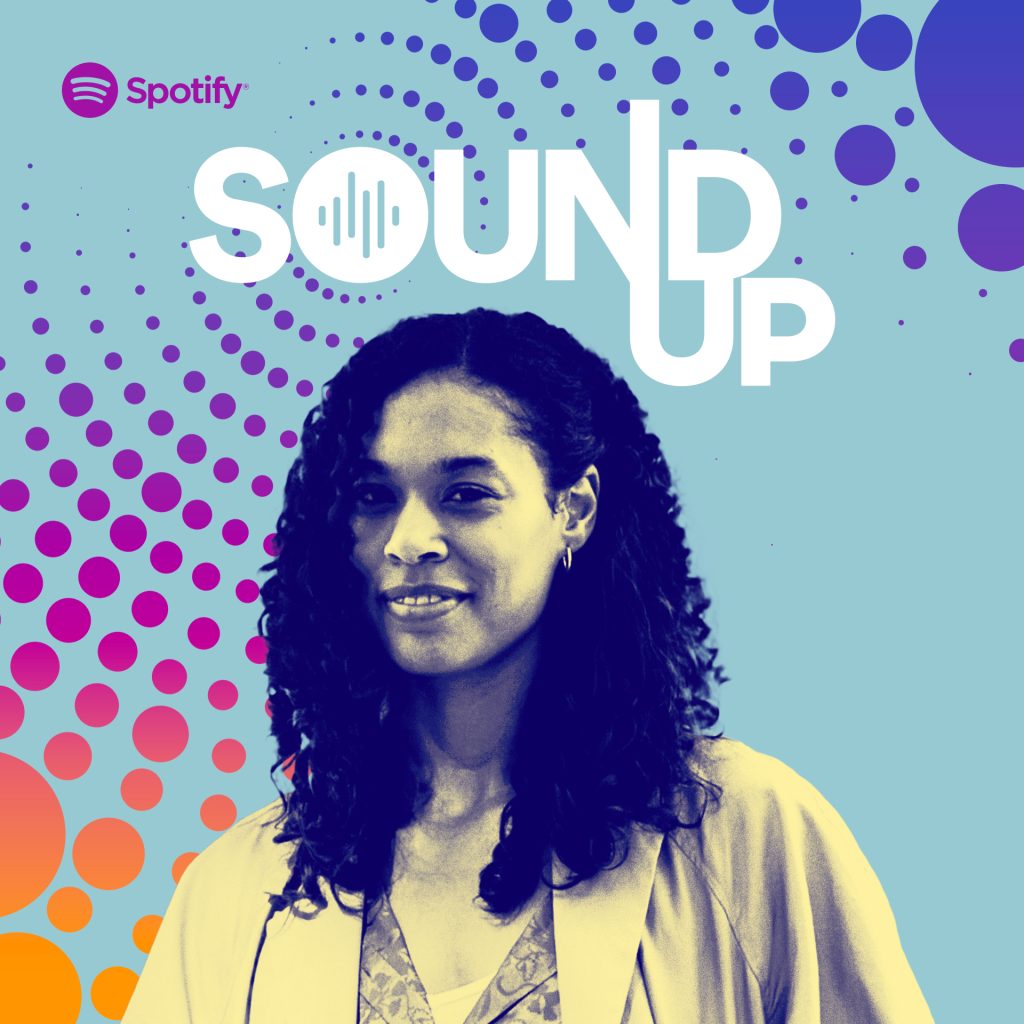 Fatima Hellgren Camara's podcast Välkommen till Ön (Welcome to the Island) is a comedic look at annoying people and their frustrating habits. Each week she discusses these people and whether they should be sent off to a deserted island far, far away. The show just finished its second season, during which Fatima learned how to edit and produce her own episodes. Her favorite part of Sound Up? "To have been given the opportunity to learn an entirely new skill set," shared the host. "However, my absolute favorite part was getting acquainted with technical equipment."
Roba Kadhem (Sweden)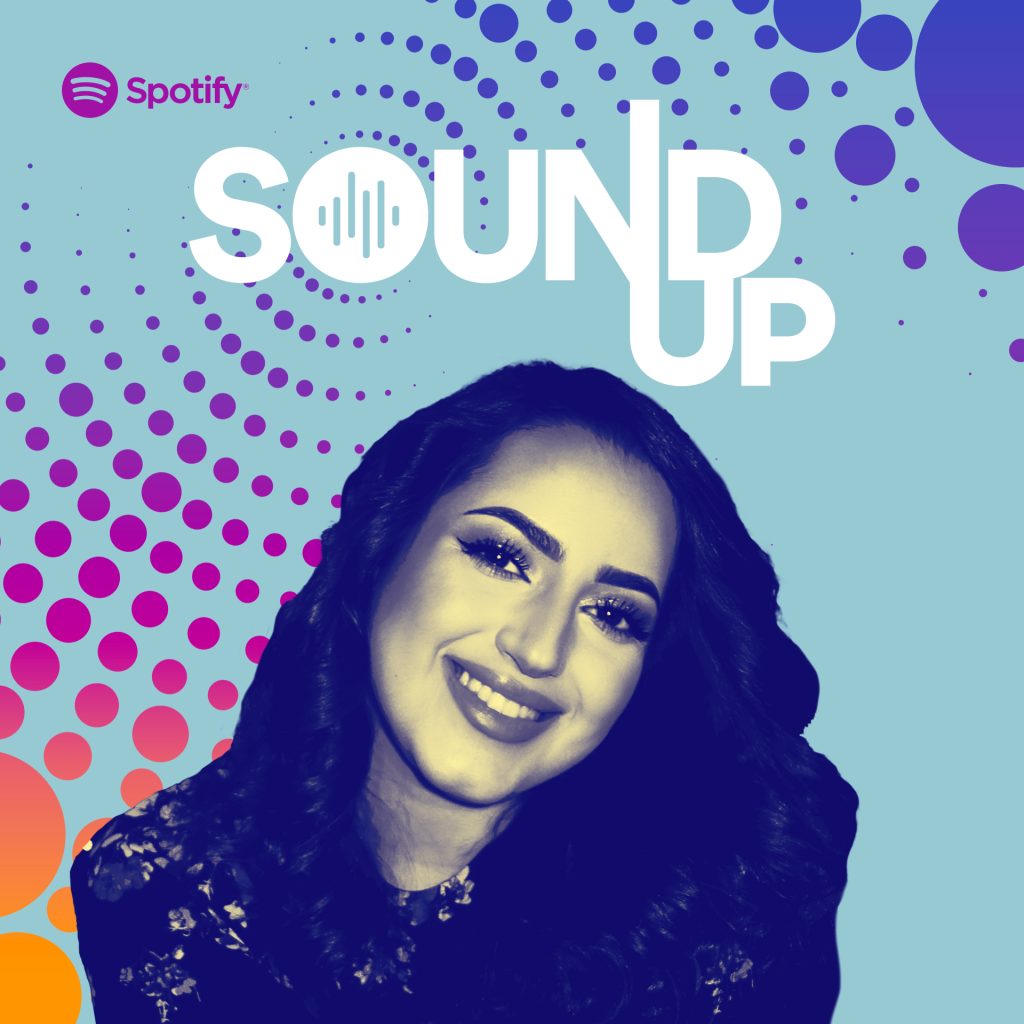 Currently in its third season, Lyssna Tjejer (Listen Girls) is a podcast cohosted by Roba Kadhem and Aya Said. On the show, the two discuss topics from Pink Room, Scandinavia's largest Facebook group for women. Through Sound Up, Roba has experienced a greater sense of community from others in the industry. "It was so cozy to see these incredible people every week and get to know them so well even through a virtual meeting," explained Roba. 
Arunima Tenzin Tara (India)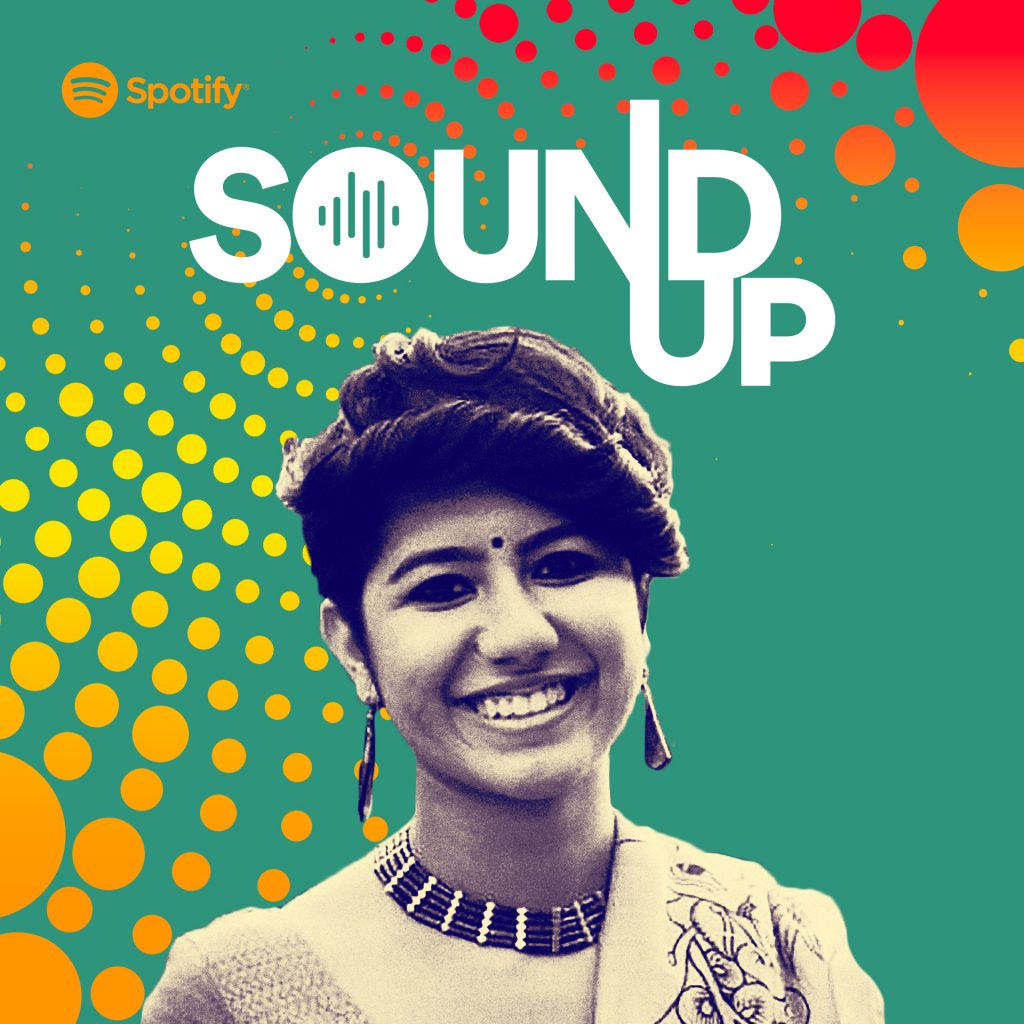 In Dinner by Ear, host Arunima Tenzin Tara gives listeners tips on preparing dinner in only 30 minutes. Arunima is currently testing out new recipes, developing quick versions of dinners she loves, and reading up on as much food history as possible. Still in the middle of her Sound Up program, all this preparation will allow her to start recording episodes as soon as it's time. Her favorite part of the experience thus far has been determining why she was making this show and who her audience was. "I think this exercise was something that I enjoyed because it forced me to critically analyze my podcast concept and narrow the audience down to a very particular kind of person," explained Arunima. "This focus has helped me gain clarity about the kind of recipes to include in the show." As she moves into the next phase of the program, Arunima will have the chance to record sounds in the kitchen, create original music, and spend time perfecting her voice.
Shreya Dasgupta (India)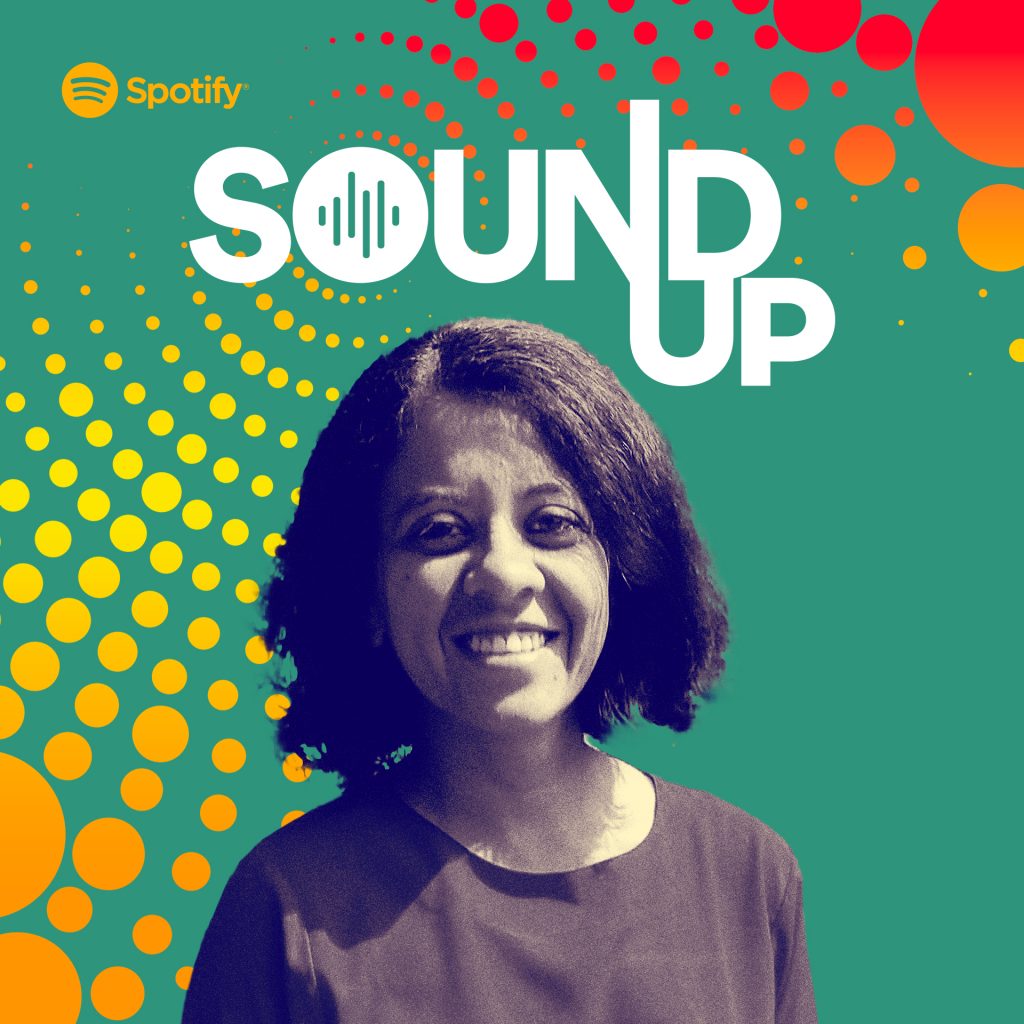 Shreya Dasgupta's podcast, Imagined Tomorrow, features a variety of experts who use their backgrounds in science and technology to speculate on India's future. Shreya is using the tools she learned in phase one of her Sound Up experience to prepare for a new season; she's currently in the outlining, researching, and reporting process for upcoming episodes. So far, she's had two favorite parts of the program. "The first has been getting to know such incredibly creative fellow podcasters," said Shreya. "The second has been learning from the Sound Up mentors and others on the Spotify team who not only placed their faith in my idea, but have been super committed and enthusiastic about seeing my vision through." Shreya will soon be entering phase two of her Sound Up experience.
Maickson Serrão (Brazil)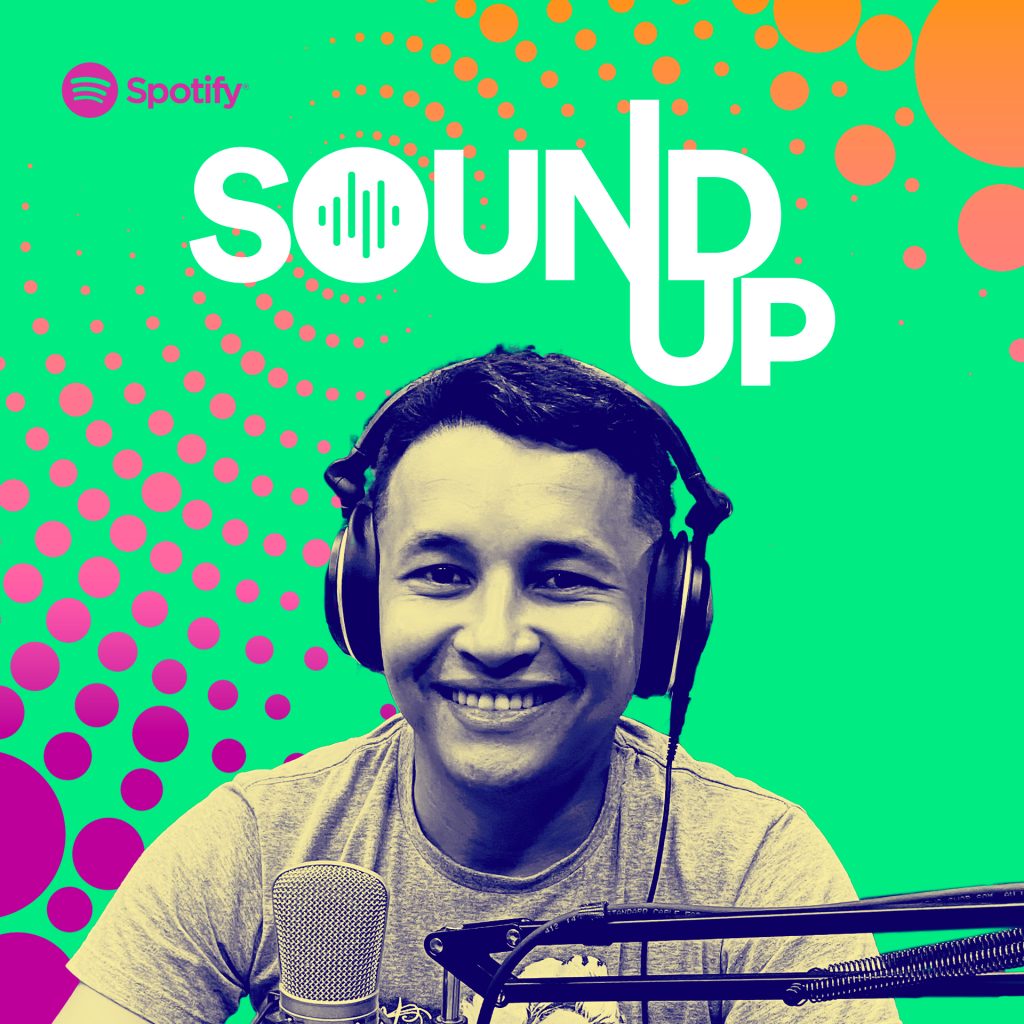 Maickson's Pavulagem – Contos da Floresta (Pavulagem – Tales From the Forest) is a nonfiction podcast about Amazonian folklore stories. The creator is currently working with his team to map out the storyline for all 12 of the show's episodes. "We'll talk about creatures like Mãe da Mata (Mother of the Forest), a really famous legend here, but also unknown tales like the bird that eats people," shared Maickson. "I have already interviewed some traditional storytellers. These people live off the many rivers in the region and are also elders from Indigenous people from the Brazilian Amazon." During his Sound Up experience, Maickson appreciated how hands-on the program was while still allowing plenty of opportunity for creative freedom. "I hope that all participants from Sound Up become very successful and that the program continues to impact the lives of many other young talents in our country. Many stories need to be told of Brazil's pluralities and blooming diversity," said Maickson.
Samara Costa (Brazil)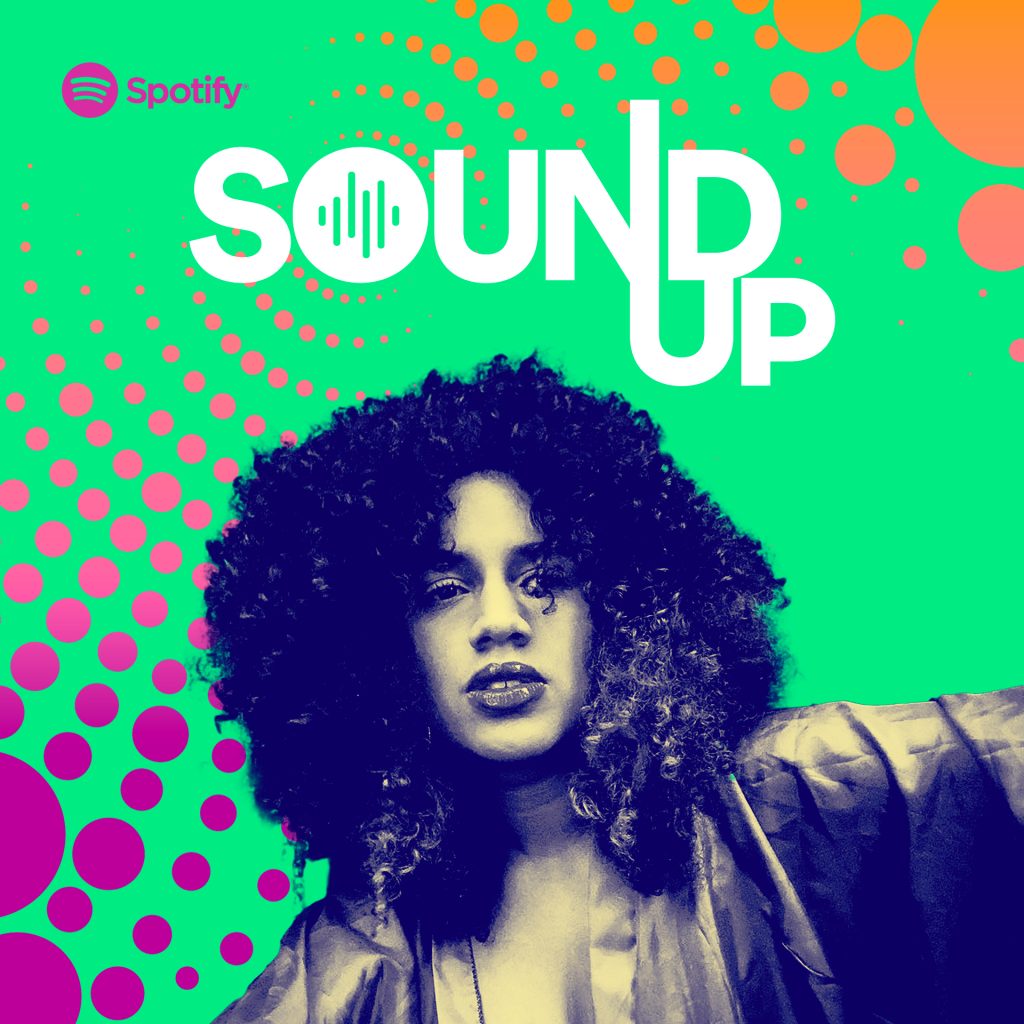 ZUMBIR is a podcast that highlights Afrofuturist fictional tales. The creator, Samara Costa, is currently working on ideas for episodes, and that involves a lot of traveling. She recently visited Angola as part of her research. "The Angolan stories and myths made a big impact on me, especially the sound, mysticism, and lifestyle of young Angolans," explained Samara. "I think that the combination of both Brazilian and Angolan references will be elements that will serve as a basis for the creation of some ZUMBIR episodes." Her favorite part of the Sound Up experience was seeing her pilot episode come to life, from an idea on paper to a polished episode. "I was able to feel the voice of the characters, how they talk, walk, how they laugh, all through audio.… It was fantastic! All of this was created with the technical and emotional support of everyone involved in Sound Up, from mentors and organizers to friends that I made during the program."
Caio (Brazil)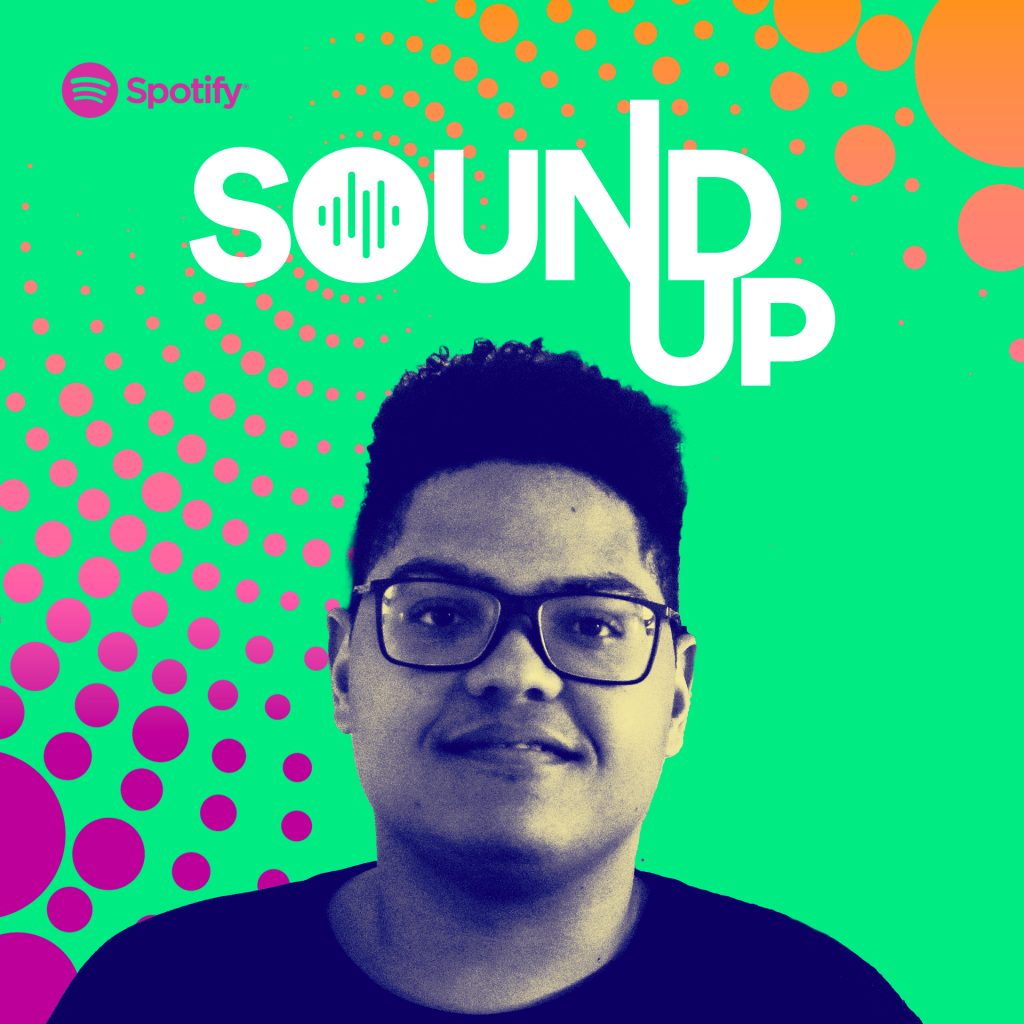 Raízes is a documentary podcast that tells the stories of Brazilian families. In the first season, Caio investigates his own origins in an effort to answer one question: Where did I come from? The Sound Up participant is currently working on producing the first season and has already written two scripts. "I'm betting that a lot of people will connect with the charisma of the characters and their stories," shared Caio. For the next phase of his journey, the podcaster is hoping to continue telling tales from the people of Northeast Brazil. 
Lucas Moura (Brazil)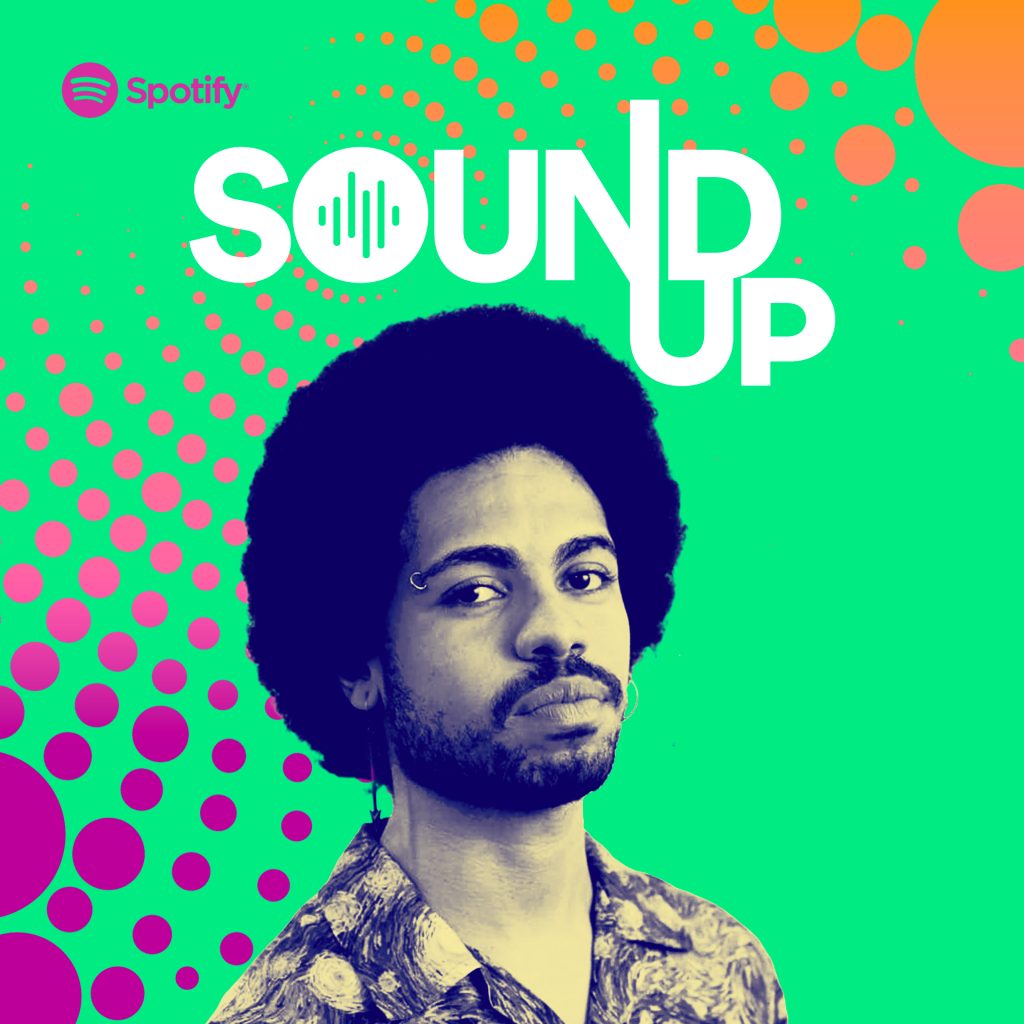 Lucas Moura's Calunguinha, o cantador de histórias (Calunguinha, the Singer of Tales) is a fictional podcast that Lucas hopes will expand the imagination of Black children by sharing the history of Black people in both Brazil and around the world. Lucas is currently working on finalizing scripts and finding the right voices to make them shine. The creator's favorite part of the Sound Up program was the artists he was able to meet with for the podcast. "We invited one artist (Lázaro Ramos) to participate in our podcast and he accepted," explained Lucas. "There it became clear to me that Sound Up is a project that can help broaden my horizons."
Peppa Smith (Australia)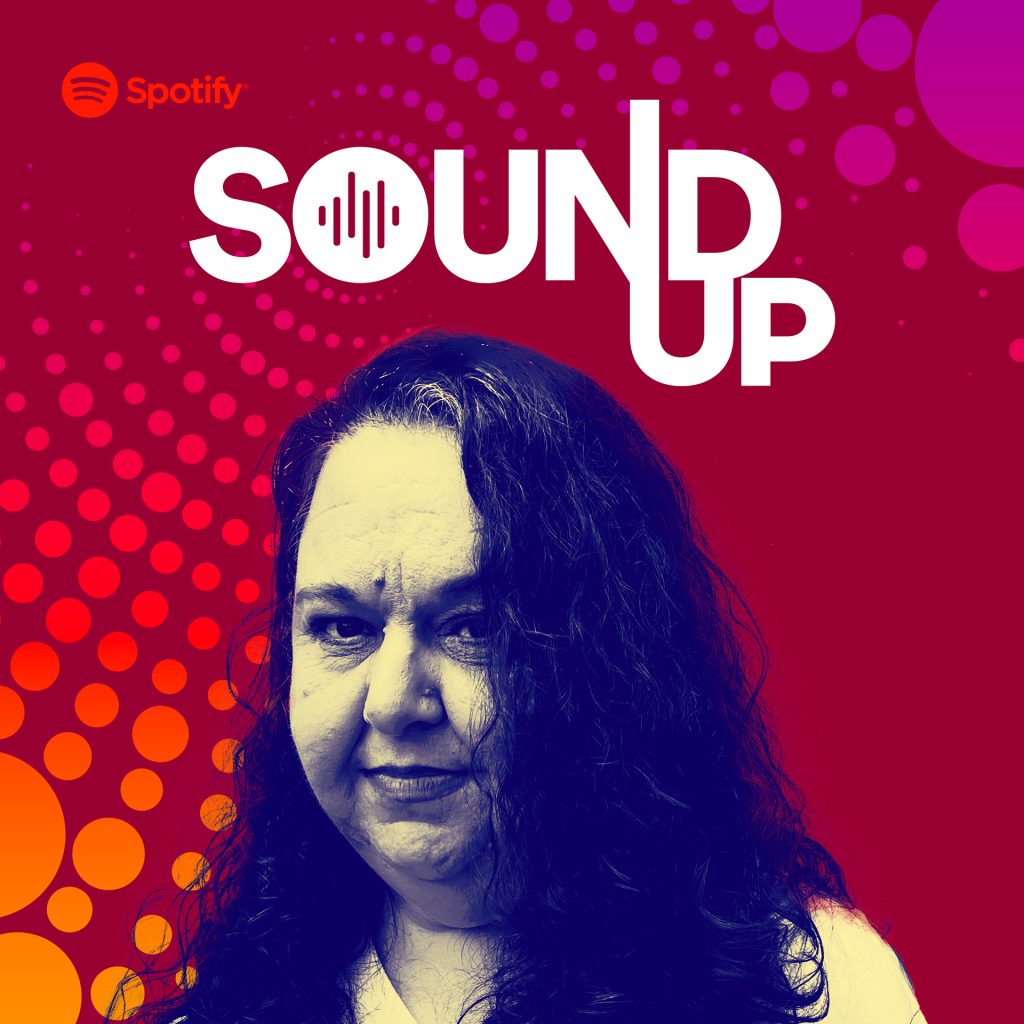 Yaama Mama is a podcast created by Peppa Smith that focuses on parenting Indigenous kids. Through both serious themes and sarcastic commentary, the show examines and dismantles the way parents are taught to raise children in her community. Peppa is currently in research mode, working on collecting information to be used in her episodes. One of her favorite parts of Sound Up was the people she's had a chance to meet. "There's been meetings where I have met with some hugely clever and talented people in the industry," said the podcaster. "I've also been lucky that the other members of the cohort for 2021 are a brilliant, funny, and incredibly good-looking mob."
These creators and their stories are just a small sampling of the podcasts that are being developed through Sound Up. To learn more about the program and how it's working to amplify underrepresented voices, visit Sound Up's website.