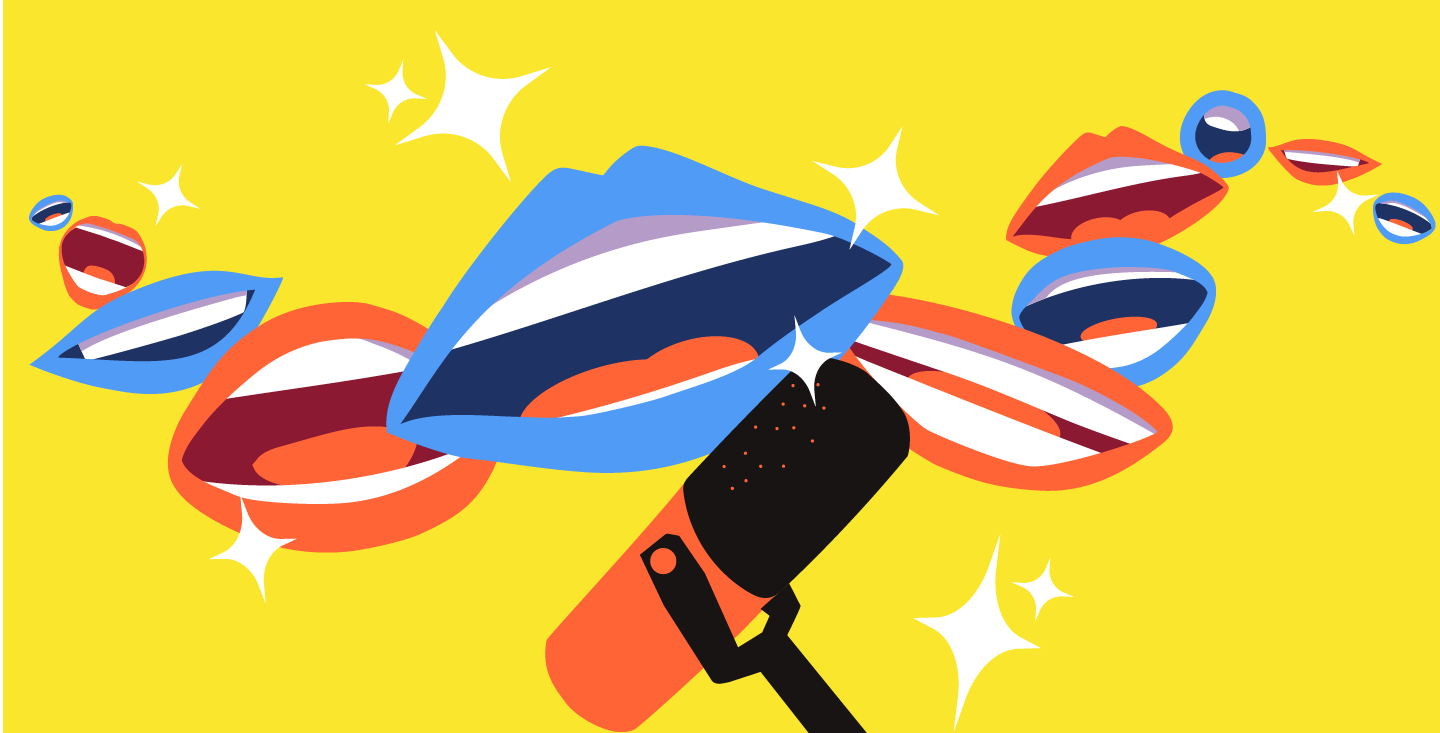 WHAT IT SOUNDS LIKE
Dive Deeper Into Your Favorite Artists and Genres With Spotify's Music Podcast Playlist theLINER
Spotify Senior Editor in Podcast Editorial Jessica Diaz-Hurtado is a true audio connoisseur. She spends her days flipping back and forth between her favorite music genres (hip-hop, salsa, reggaeton, R&B, and house) genreless Spotify playlists like Mixto, and at least five podcast episodes per day. As the curator for Spotify music podcast editorial hub theLINER, she straddles the two worlds of music and podcast, finding the spaces where they come together to tell stories, drive cultural conversations, or simply entertain. 
There's been a boom in music podcasts in recent years, including Spotify Originals like rapper Nas-hosted The Bridge: 50 Years of Hip-Hop and Danyel Smith's Black Girl Songbook, as well as Off the Record with DJ Akademiks, Spotify: Mic Check, and Bandsplain—not to mention classic favorites like Song Exploder. Jessica's background as a music journalist in the audio space primes her to listen to and pick apart that next great music podcast any listener can fall in love with. 
"Really, anybody who's a music listener or a music fan can find something on theLINER," Jessica told For the Record. "We all have that artist, genre, or scene that we can relate to in a way that only music can bring out of us. theLINER engages those who love music, have that curiosity, and want to learn and discover more."
Read on for our full conversation. 
You have a background in audio journalism. How does that inform your approach to podcast curation in your role at Spotify?
I used to be at NPR, where I was a Kroc Fellow as well as a producer. I spent a lot of time with the music teams—I've always loved music, and my background is in the arts and in writing. So I just gravitated toward that space and was able to produce and cohost and it was a lot of fun. From there, I did some documentary work, I taught a little bit, and then I found my way to the Podcast Editorial team at Spotify, where I started as an editor. Since then, I've focused on music and entertainment, given my background and reporting experience.
I know as a former audio journalist that there's a ton of research and music listening before you step into an interview or story. So, when I curate, I look for that preparation within the stories. I look for the moments that the producers and editors may have cut intentionally to really try to pull the listener in. I also look for the storytellers' intention in the way they put together and curate their own stories. 
What are some elements that you listen for when you first start to listen to a new podcast?
The intro is always important. It helps any listener understand the personality of the show, especially if it's host driven. When it doesn't sound too scripted—having a person who is comfortable with their voice, and that takes a long time to get used to—I think that also brings other listeners in. And then of course, the production and engineering and how sound is used to tell a story. Whether it's being quirky or innovative, how a podcaster or storyteller builds a story through sound is always interesting to me. 
Each month, you program theLINER, and specifically the Best of theLINER playlist. What are some of the episodes you programmed this month? 
So one is from the podcast Rightnowish. It's a Bay Area–based podcast where they interview a Richmond rapper named Pallaví aka Fijiana who embraces her Indo-Fijian identity. I thought it was a great point of view, a perspective I had never really heard. She talks about being a woman and owning her sexuality, as well as the sexism that she has experienced due to her identity, to her upbringing, and growing up in the Bay Area and how that impacted her music. I liked hearing about her before hearing her music; it made me want to discover it a little bit more. 
Another one that's on is Still Processing. They just came out with a new season, and their first episode is about American Top 40. Wesley Morris, who's one of the hosts and an amazing journalist, has a very interesting conversation with a cultural critic named Daphne A. Brooks where they challenge how we think about the music canon. More specifically, they take a deeper look into how we can care more about the music and the artists who make it, and about which kind of art gets prioritized. 
Another episode I'm including is from Snap Judgment called "J Dilla's Lost Scrolls." This episode actually came out in 2014, but I think it's definitely a gem that's worth listening to. This story is about a record store owner who stumbles upon a record collection that he brought out of an abandoned storage unit and then learns the collection belonged to the legendary producer J Dilla. It was a very interesting, crazy, historic find. The episode does a good job of blending curiosity, surprise, the love of music, and the love of people who create and honor the music. The fact that it came out almost eight years ago and is still relevant made me want to include it.
What do you look for in a music podcast? What qualities make a show a Best of theLINER candidate?
Stories that are intentional definitely get my attention, as well as ones that are unique—when they have an authentic, raw, real, vulnerable conversational format. To make art and music, we have to tap into that vulnerable side. 
I'm also fascinated when producers experiment with format, and a great example is the Spotify Original podcast and Sound Up production You Heard Me Write. It's very interesting to listen to because it feels like an artistic workshop in real time. They give a one- or two-word theme that serves as a source of inspiration to a writer. Then the writer goes and writes a short-form written piece. From there they give that written piece to two different audio artists or musicians as a jumping-off point to create an original, sonic piece of art. None of the artists are in contact with each other until they get on the show to discuss the process. I find that format really breaks up what a podcast could sound like and it does more with music and artistry.
theLINER also features guest curations from artists like Dua Lipa and cultural figures such as Hanif Abdurraqim. What's on tap for this month? 
Every month we find different curators—whether they're journalists, cultural critics, or artists—who are really embedded into the music world. We get to really learn about music from their point of view, and about different podcasts around a specific topic that they're really interested in. In May, we're going to be having guest curations from Asian and Pacific Islander artists for Asian American Pacific Islander Heritage Month. 
Is there a dream guest curator on your bucket list?
Oh my gosh, Kendrick Lamar is always on my bucket list as far as collaborating goes. Also Janelle Monae. I think I would love to see what they would curate. I've heard Phoebe Bridgers loves true crime, so that would also be interesting. My hope is to continue to share these stories so people can feel heard and then for listeners to identify with or be inspired by them. 
Check out Jessica's curation, Best of theLINER, which updates every month.