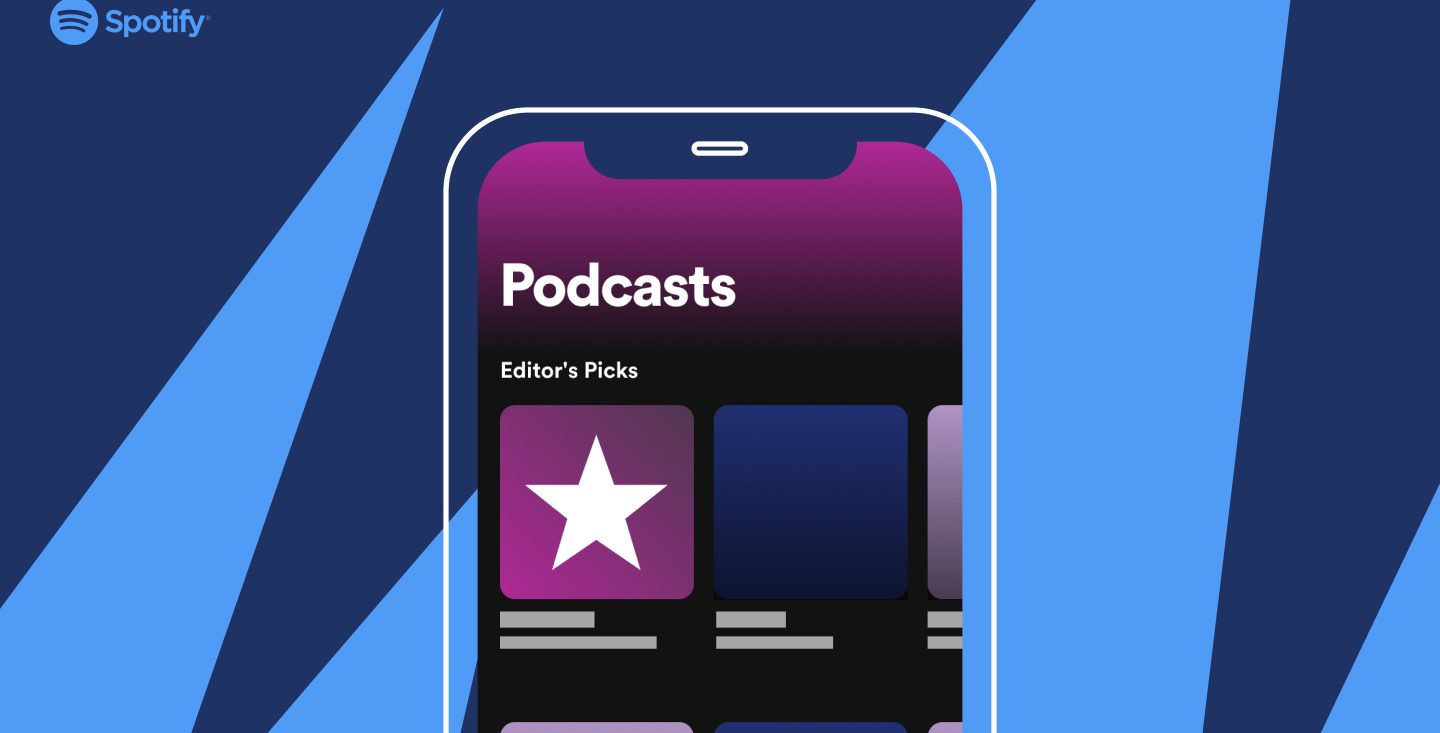 SURFACING INDIE CREATORS
The Eyes and Ears Behind Spotify's New Podcast Editorial Submission Form
Every day, members of Spotify's Podcast Editorial team curate selections of their favorite podcasts across genres like true crime and sports, interests like television and music, and impactful topics like gender equity and finding community. And with a constant flow of new podcasts for the team to wade through, there's always plenty to choose from—which also means it's possible that the next great podcast could slide through the cracks. 
To help better find, review, and amplify the latest, greatest, and most diverse indie podcasts, the Podcast Editorial team recently opened up an editorial submission form for the U.S. podcasting community. Each applicant will be considered for their editorial features, with the aim of highlighting a wide range of formats (including video podcasts), backgrounds, and experience levels. And if you do get an editorial feature, you'll have earned a coveted spot as one of Spotify's featured podcasts across one of our community destinations or in our New Releases section. Read more about how to get your podcast featured on Spotify.
Spotify Head of Editorial Carmen Dukes and Podcast Programming Lead Isabella Way are two of the many individuals who have brought this tool to life, and they help spearhead the team that will be listening to each and every podcast. For the Record asked them to tell us more about the importance and potential impact of the editorial submission form. 
How does this new tool help listeners find even more podcasts to love? 
Carmen: We believe that listening is for everyone, and no matter what you love, there is a podcast for you. By creating this submission tool, we're hoping to amplify this idea by going beyond genre to find cool stories—on the obscure, the fringe, the funny, the playful, the inspirational, and everything in between. Ultimately, this is about recognizing the full breadth of human storytelling beyond the traditional and well-known podcasts and turning up the volume on more voices.
We know that listeners listen to podcasts for a sense of belonging, to learn, and to be a part of something bigger. We want to help them discover new creators and new shows that match their identity, tastes, and interests by better connecting them more with all the great podcasts that are uploaded to Spotify every day.
Why is it so important to use tools like this to surface these indie creators?
Isabella: Many creators don't have money for marketing or know someone who knows someone, so we want to use this tool to give voice to all creators and give them a place where they can be featured, celebrated, and grow their audiences. Indie podcasting by nature is a passion project. Creators make their podcasts from their closets with little money, but they want to say something, tell a story, or make someone laugh—or all of the above—so what's better than helping these creators shine some light on their work? The more listeners and fans, the more these podcasters can make and start to see in exchange for their work.
How does this tool help make podcast discovery easier for the listener? 
Isabella: Podcast discovery is hard, even for our team sometimes, and finding the podcasts that interest you can be a mystery. We want to make this discovery process easier, especially in finding podcasts from communities and voices that you may relate to or want to hear from. It's easy to hear and know about the big, power-player podcasts, but maybe that's not your thing. Our goal with the submission form is to help fans find their new favorite podcast and feel like they were in it from the very beginning of the fandom. 
How has Spotify been growing our Podcast Editorial team in order to support this initiative? 
Carmen: Our editorial strategy is called Community Made Here. We seek to cultivate a sense of belonging and community between listeners and creators through our editorial curations. In order to do that, it was important that I build (and continue to build) a team that represents the diversity of our listeners and our creators. My team is amazing and they are so passionate about serving their listeners—this starts with empathy, understanding, and being empowered to share their own fandoms and passions with others. I believe that people care about people not things, and at the core of our work is a relentless focus on connecting humans to humans through shared experiences, shared joy, and shared ambitions.
Why are you personally excited for this new offering? 
Isabella: Being an Asian American who grew up in Laramie, Wyoming, I felt othered and different, and I found that I often did not connect with some mainstream stories—as much as I really wanted to fit in. I really love that podcasting as a storytelling medium carries a low barrier to entry to allow for so many different types of people. 
I've been working on getting this out to creators for the last eight months and am really thrilled that we have already received so many submissions. There are millions of podcasts out there, and we want to identify and surface creators doing great work. We will review every submission that comes in to give everyone an equal chance to be heard.
Carmen: Joy sharing is contagious, aspirational, and necessary work. To me, creating a podcast is a mode of joy sharing, and we're happy to dedicate more space on Spotify to indie creators who subscribe to that idea. This is an opportunity for an indie creator to be recognized for their storytelling and creativity.
Like what you hear? Submit your podcast with the new editorial submission form, then come chat with the U.S. Podcast Editorial team and Anchor creators on the Spotify Podcasts Discord.