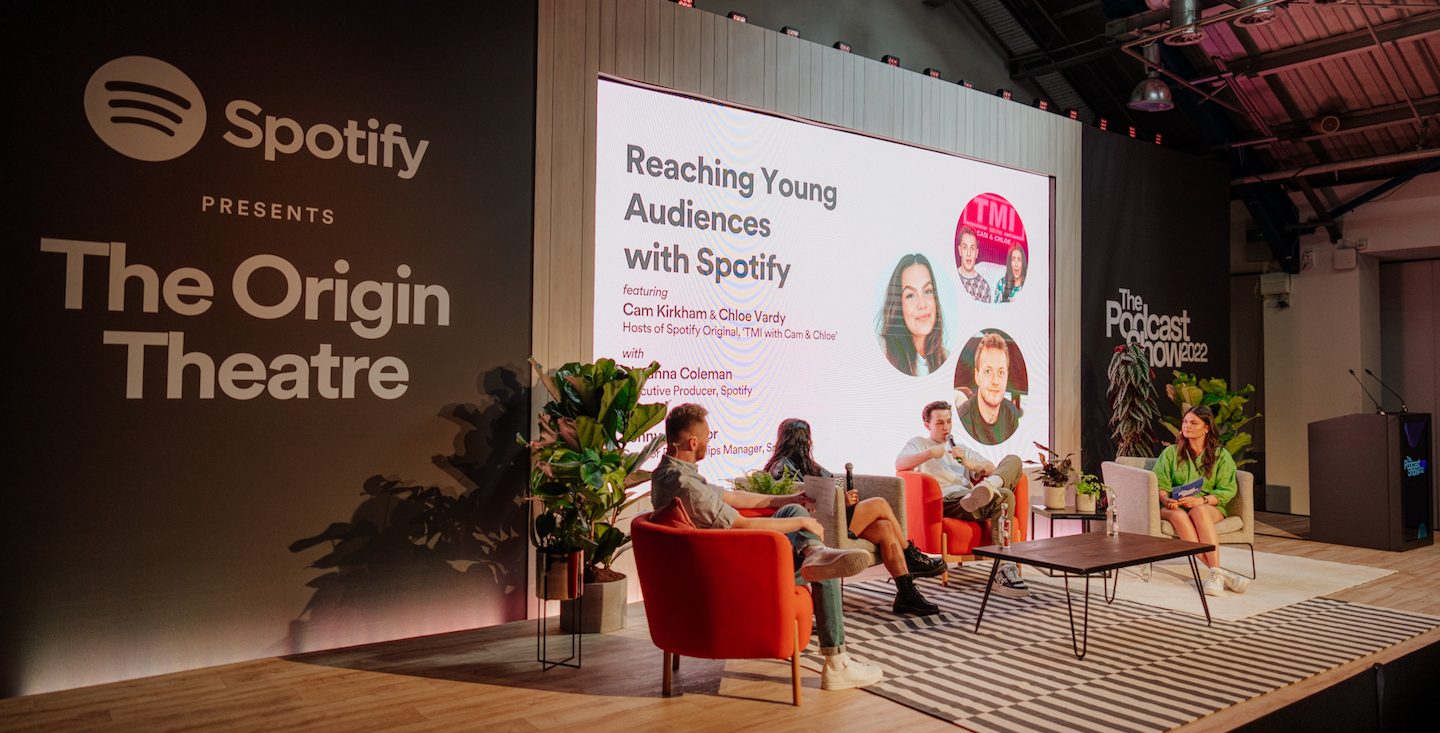 GETTING STARTED
10 Tips for Gen Z Podcast Creators
Making a podcast isn't as daunting as it used to be. With easy-to-use editing tools like Anchor and 120 million podcast listeners in the U.S. alone, there's never been a better time for passionate creators of any age to start a podcast. 
Cam Kirkham and Chloe Vardy, the hosts of the Spotify Original podcast TMI with Cam and Chloe, are the experts when it comes to creating a podcast that captivates younger audiences. On their show, the couple weighs in on the conversations and questions Gen Zers have but are too embarrassed to ask their friends. So May 26 at The Podcast Show in London, the duo joined Spotify Executive Producer Rhyanna Coleman and Spotify Creator Partnerships Manager Jonny Mounsor for a conversation about their experience building a hit podcast and the podcasting trends that resonate with young audiences.
Following that talk, For the Record had the chance to pick the brains of the four podcast experts on ways Gen Z creators can build a successful podcast. Below are their top-10 tips to help your show stand out from the crowd.
Be your authentic self.
Lots of people might be able to host a show or format, but your unique selling point is that you are unique. Being honest and presenting your truest self will help your audience connect with you.
Don't be afraid to stray from the norm.
Just because someone's format, style, or duration works for them, doesn't necessarily mean it's the best fit for you. Experiment with some new and different ways of doing things to find what suits you best. Not every podcast has to be an hour long!
Consider adding video to your podcast using Anchor.
People are consuming podcasts in lots of different ways now, and young audiences have become accustomed to watching podcasts—so why not cater to that audience? Allow people to connect with your show however they love to listen.
Utilize your existing channels to build your podcast brand.
Podcasting is way more than just an audio file. You should be building around the podcast with other great ways for your audience to get involved. That could be Instagram, Reddit, bonus content—whatever it is for you, make sure you're thinking about the whole brand.
Look for the gaps in the market.
With millions of podcasts now available on Spotify, it's really important to stand out and have a niche in order to increase your discoverability.
Be consistent with releases (whether always-on or seasonal).
Building listener habits is so critical in podcasting. You want your audience to know which days your episodes are released and be waiting for that content to drop!
Make sure you prep and research ahead of recording.
Preparing topics, doing research for guest interviews, and planning special features and segments in advance will have positive results on your output.
Focus on the best-quality audio and recording equipment available to you.
You don't necessarily need to have the most expensive equipment to achieve good audio quality. Your audio may not sound like a studio from the very start, but take the time to learn how to make it sound as good as it possibly can. Poor audio quality is one of the biggest reasons people choose not to listen to a podcast.
Define your ideal listener.
Don't forget that the most important part of your podcast is your audience. It's really important to know exactly who it is that you're speaking to when you're recording, as this will help you tailor the content to ensure it's exactly what they want.
Be proactive in promoting your podcast.
Nobody will talk about your podcast unless you do! With word of mouth representing 25% of all discoverability in podcasting, you want to shout about your podcast at every opportunity. There are more tools than ever to help promote your shows, so don't ignore any of them.
Now that you have some tips, you're ready to get started. Head over to Anchor to get access to all the tools you need to create, distribute, and monetize your podcast. And in the meantime, hear more from Cam and Chloe in the latest episode of their podcast below.