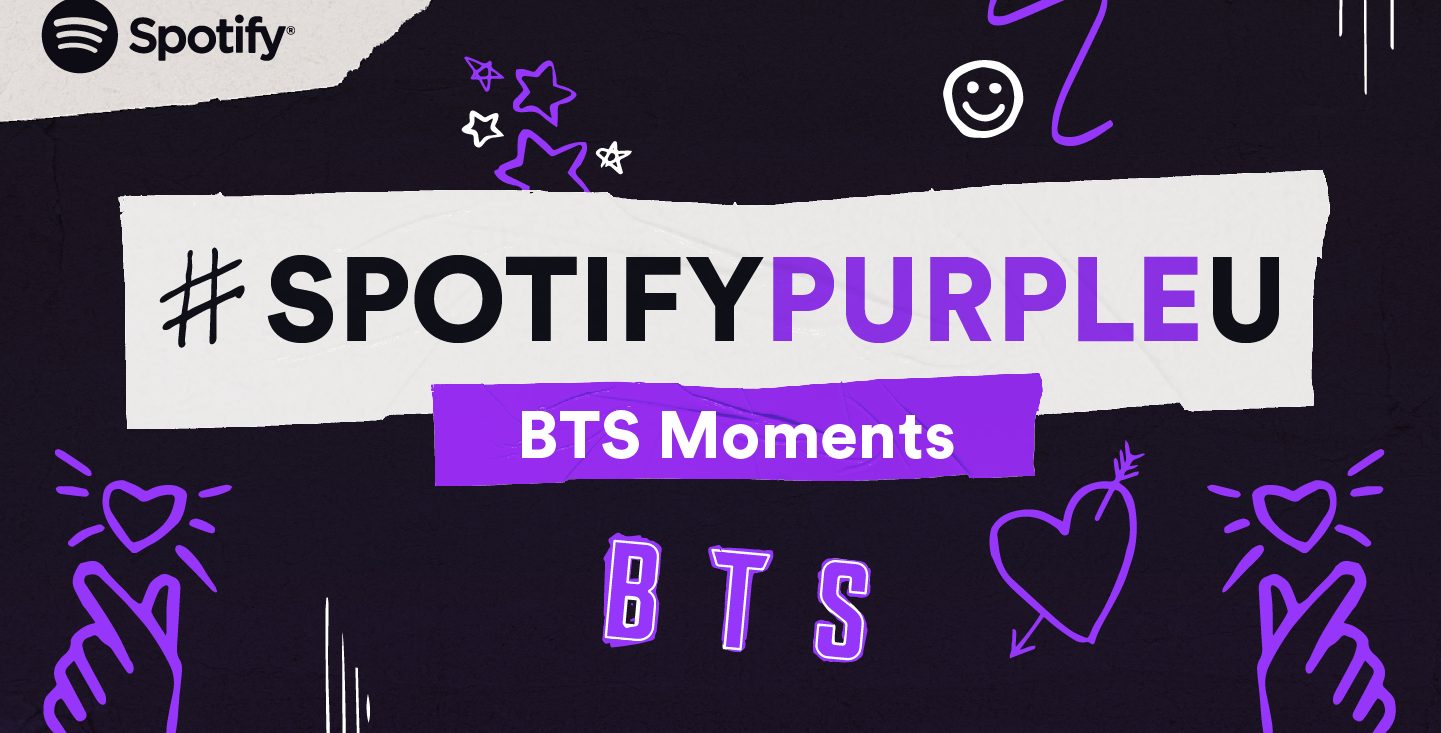 STREAM WITH THE MASSES
Celebrate BTS's Upcoming Album Release With Our Exclusive Countdown Destination, #SpotifyPurpleU
Spotify's been counting the days until K-Pop band BTS releases their new music, and now we're inviting fans all over the world to join the fun. In anticipation of the group's newest anthology album, Proof, coming out June 10, Spotify launched #SpotifyPurpleU, an immersive microsite experience, to build excitement among new and longtime listeners. 
BTS fans have long proven their love for band members Jungkook, V, Jimin, Suga, Jin, RM, and J-Hope. The group has racked up over 25.8 billion streams on Spotify in addition to 35 million monthly listeners and 50 million followers worldwide.* The BTS ARMY has also helped the band break records: BTS was the first artist from Asia and the first K-Pop artist to join the Spotify Billions Club with their song "Dynamite," Spotify's This Is BTS playlist has 6.5 million followers—more than any other This Is playlist on the platform, and BTS was the third-most-streamed artist of 2021, according to Spotify Wrapped. 

For years, BTS has transcended regional boundaries, languages, and cultures to touch the hearts of people everywhere. In celebration of the band's decade-long history and their fans' unyielding dedication, #SpotifyPurpleU features exclusive band content, messages from the members, and a countdown to the highly anticipated album release. The site also gives fans the chance to create personalized #MyBTSProof share cards based on their favorite songs, which they can then post to social media to celebrate with ARMY members around the world. The site will be available in eight languages: Korean, Thai, Bahasa, Japanese, English, Spanish, Portuguese, and, on June 10, Arabic. 
In addition to the microsite, Spotify is featuring exclusive video clips on our This Is BTS playlist . On social media, Spotify's social accounts have turned purple in celebration of BTS's milestone, and BTS and Spotify will release a short film that looks back at all of the band's eras, starting from their inception in 2013. 
Starting June 3, the BTS ARMY can also spot #SpotifyPurpleU billboards around the world, including in South Korea, the United States, Brazil, Mexico, Japan, the Philippines, Indonesia, Thailand, and Vietnam. 
Help celebrate BTS's comeback by heading to #SpotifyPurpleU. And head back to Spotify June 10 to listen to Proof. 
*As of May 25, 2022