BALLIN' OUT
Check Out Our 2022 All-RapCaviar Teams and Cast Your Vote for MVP and Rookie of the Year
When it comes to iconic duos, hip-hop and basketball are a match made in heaven—dedicated fans, unbridled passion, and unmatched competition bring these two worlds together. And while the playoffs have reached their thrilling conclusion, Spotify is just getting started with our third year of All-RapCaviar.
Our flagship RapCaviar playlist has attracted more than 14 million followers and featured over 13,000 artists since its launch in 2015, and the All-RapCaviar teams are our way to honor the standout performers. Just as pro basketball's end-of-season awards are created to celebrate the best players in the league, we are picking the top 15 rappers in the game. We base this on their streaming performances on RapCaviar and other Spotify hip-hop–centered playlists throughout the duration of the basketball season (November 2021 to June 2022).
And the wait is over. Here are our 2022 All-RapCaviar picks.
All-RapCaviar First Team: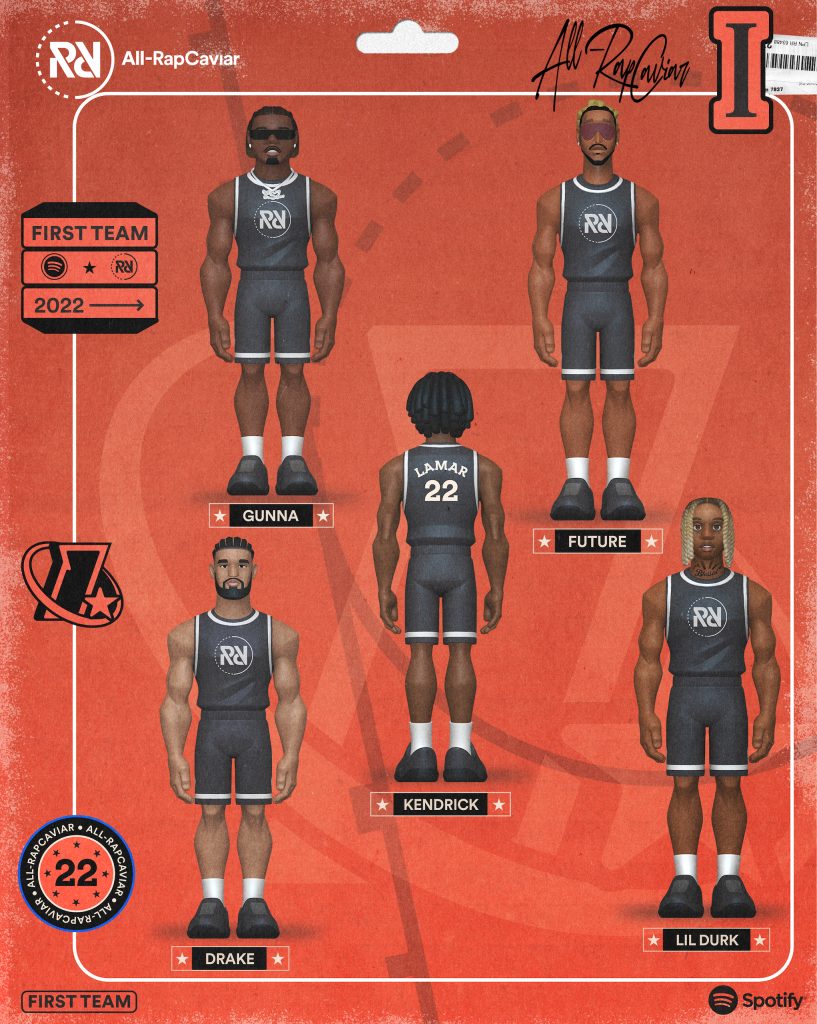 Kendrick Lamar, Future, Drake, Gunna, Lil Durk
All-RapCaviar Second Team: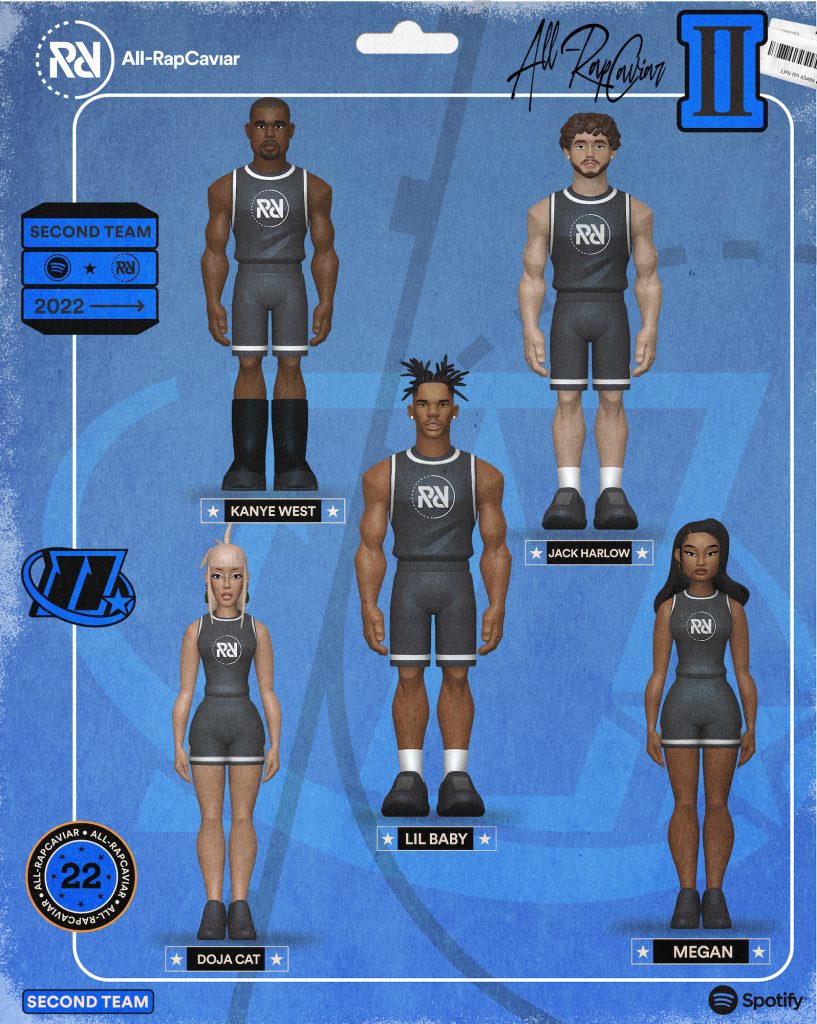 Lil Baby, Kanye West, Doja Cat, Jack Harlow, Megan Thee Stallion
All-RapCaviar Third Team: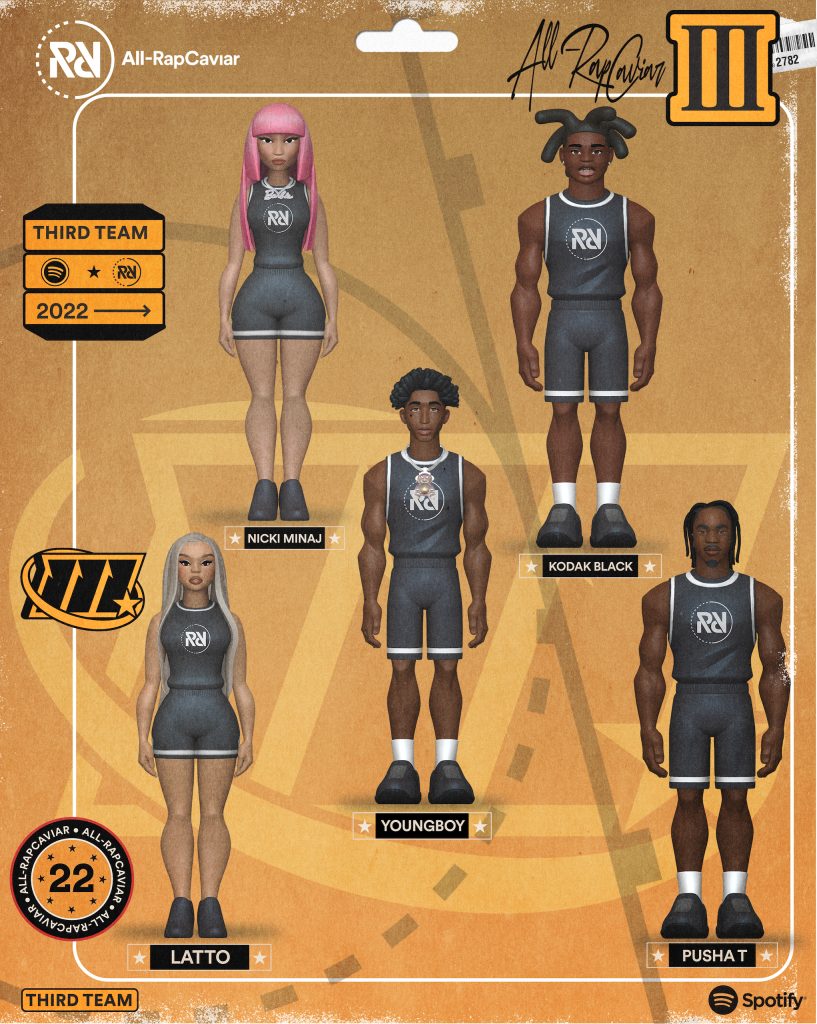 Nicki Minaj, YoungBoy Never Broke Again, Kodak Black, Pusha T, Latto
The fun doesn't end here, however. 
The nominees for All-RapCaviar MVP and Rookie of the Year have been revealed on the RapCaviar Twitter account. Now, you and your fellow rap fans get to vote on the winners. Here are the nominees:
All-RapCaviar MVP Nominees
It's time to choose the 2022 #AllRapCaviar MVP 🙌 Who's got your vote—K. Dot, Gunna, Future or Durk?

— RapCaviar (@RapCaviar) June 21, 2022
All-RapCaviar Rookie of the Year Nominees
The #AllRapCaviar Rookie of the Year is in your hands! Vote now for the winner ⬇️

— RapCaviar (@RapCaviar) June 21, 2022
Following the MVP and Rookie of the Year awards, we'll also announce our pick for the All-RapCaviar Coach of the Year on June 22. And as voting commences and the online debates unfold, we'll be discussing our All-RapCaviar teams and nominees with hip-hop's biggest influencers on "Inside RapCaviar," a mini episode that you can watch on Instagram and Twitter. 
"Every rapper wants to be a baller and every baller wants to be a rapper. We kicked off the All-RapCaviar franchise on social two years ago but after seeing such a positive response from fans online, we decided to bring it to life for real," Carl Chery, Creative Director, Head of Urban Music at Spotify explained to For the Record. "This is a digital campaign that taps our audience to share who they think should win MVP & Rookie of The Year; allowing fans to really share their opinions and encourage a little friendly debate online. We look forward to creating these moments for our listeners and recognizing a wide array of artists that have been featured on our RapCaviar playlist." 
As the leading destination for hip-hop, conversation, and culture, Spotify and RapCaviar are thrilled to host this one-of-a-kind fan vote, and even more thrilled that fans will make their voices heard. 
So who will take home hip-hop bragging rights? It's time for you to make your voice heard.
Visit RapCaviar on Twitter to vote for All-RapCaviar MVP and Rookie of the Year. And as you wait for the results to roll in, stream the latest tracks from all of our picks and nominees on the RapCaviar playlist.