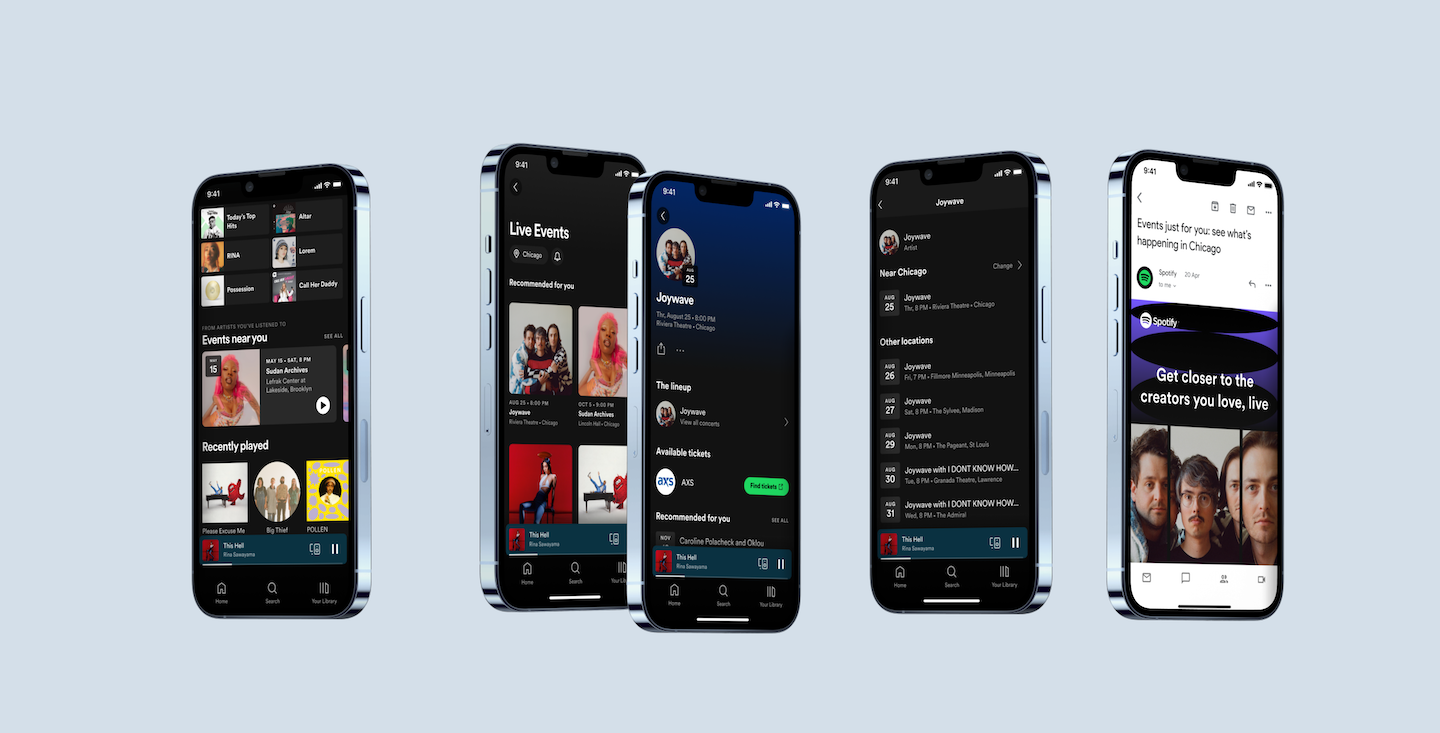 GETTIN' BACK OUT THERE
Find Shows Tailored to You Right in the Spotify App
There are few things like going to see your favorite artist in person. The energy, the bass pulsing beneath your feet, the other just-as-obsessed fans belting out lyrics—whether you're seeing a solo performer or a 15-person ensemble, being in the crowd for the creators you love holds a special significance. These days, avid fans and touring musicians alike are excited to be back out at live events. And if you're ready to get out there, Spotify is here to help you find the perfect show. 
Some fans already use the Spotify app to look for upcoming shows, but we know we can do more to combine our deep understanding of our users' tastes with our ability to directly reach them in-app. So we're introducing a new Live Events Feed, replacing the Concert Hub, and introducing a number of updates to help fans find their favorite creators' live events. You can find the new feed by searching "Live Events" in the app.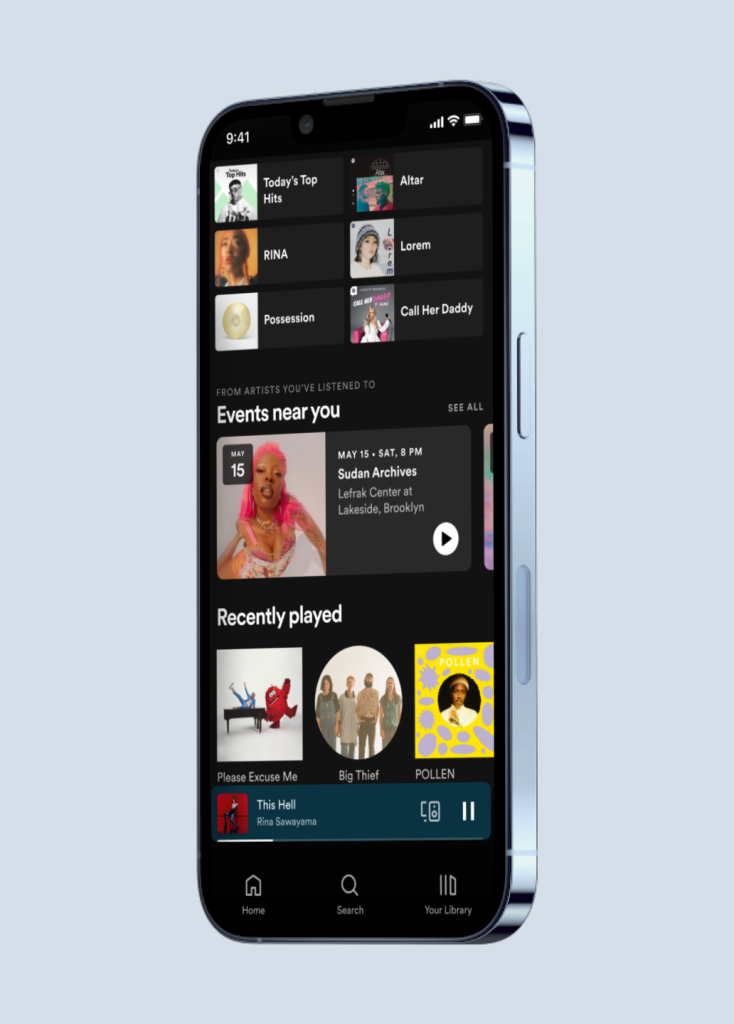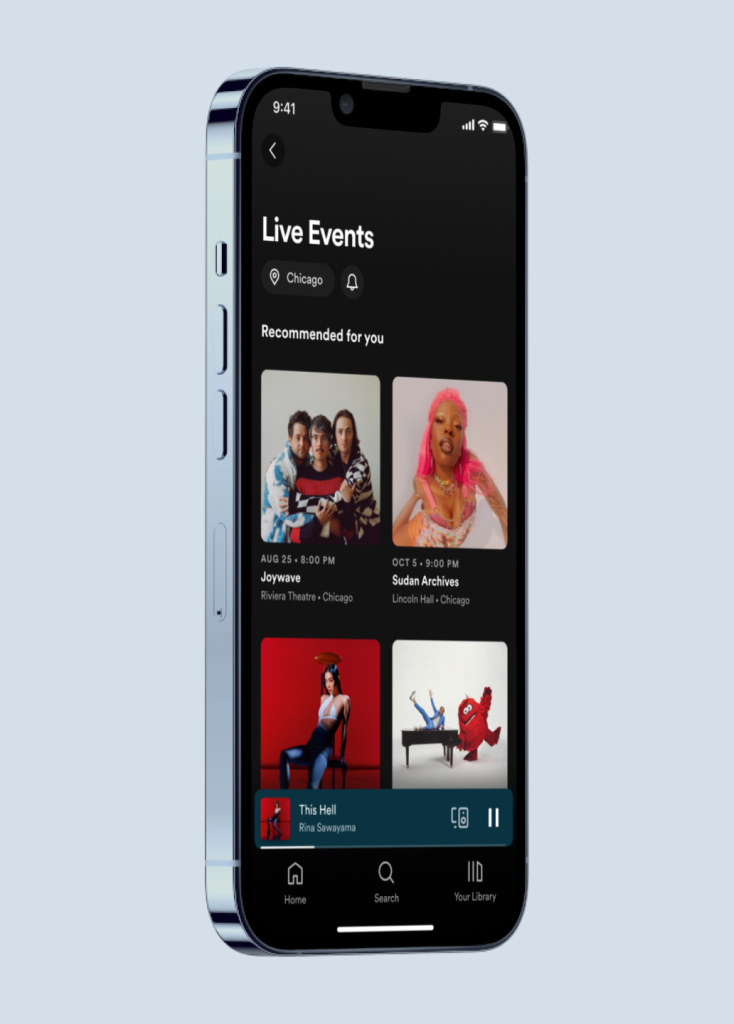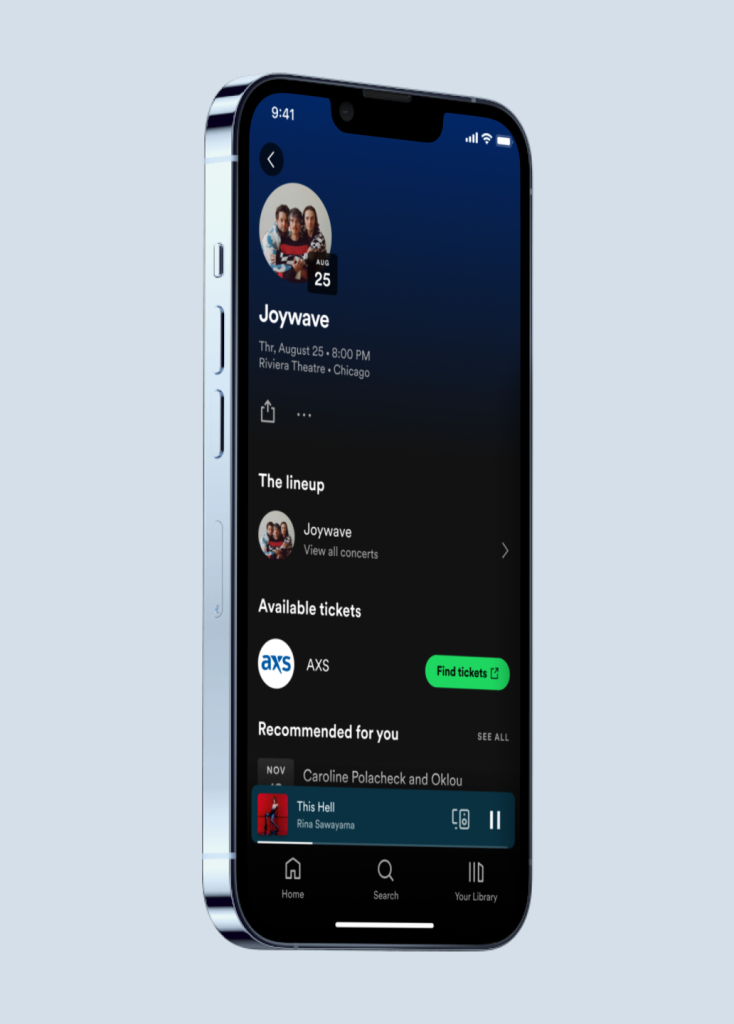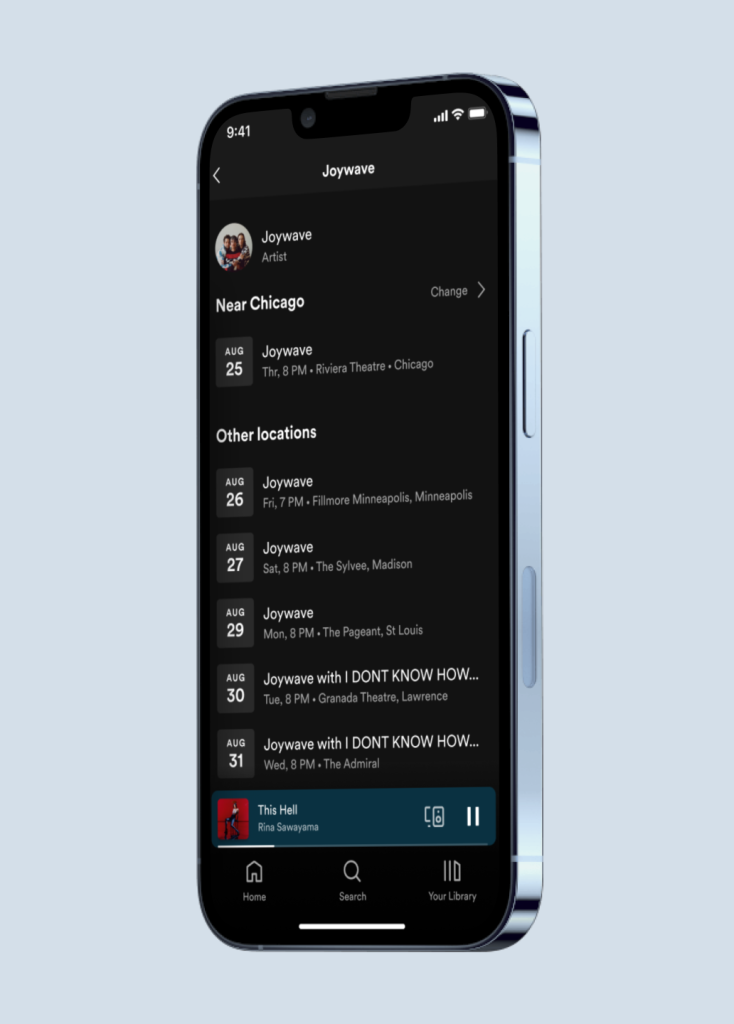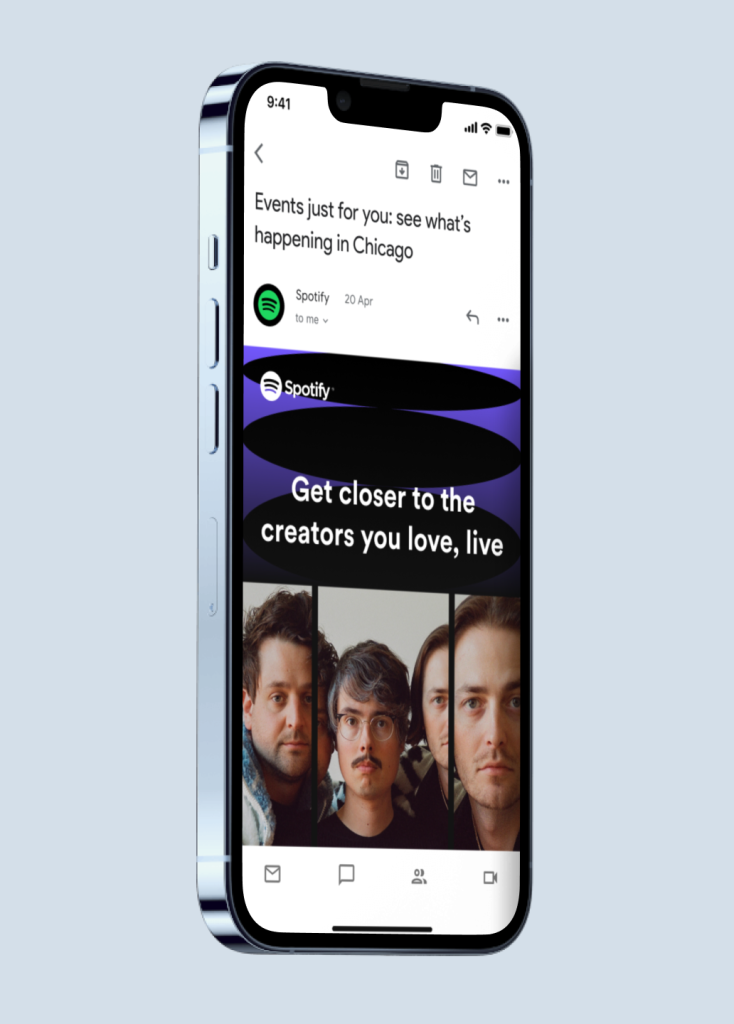 The Live Events Feed is our new in-app destination where you can discover all the live events in your local area, personalized to you. We've sourced these listings from our ticketing partners—Ticketmaster, AXS, DICE, Eventbrite, See Tickets, and more. Plus, alongside this revamped feed, we're launching new places within the app to help you stay in the know about upcoming events in your area from the artists you love.
All in all, the Live Events Feed will help make you even more aware of events you might be interested in, and help you to make more confident decisions when purchasing tickets—all by putting the right event in the hands of the right fan at the right moment.
To further learn about how the feed will work, we sat down with René Volker, Senior Director of Live Events, and Sam Sheridan, Product Manager for Live Events Discovery. 
Why did you decide to update the Concert Hub to the Live Events Feed at this time? 
René: We know how important live events are to creators and to the broader music industry, and how much live has suffered during the pandemic. With shows coming back, and listeners excited to see their favorite artists perform live again, we think this is the perfect time to explore new ways that Spotify can further support the industry. There's a whole slew of folks who have been dedicated to research, designing, and developing these products over the last few quarters, and I'm really excited to finally unveil what we've been working on.
What are some of the elements or insights that led to the feed's updates and changes?
Sam: We spent about two years studying the industry, its products, and its users. One of the key behaviors we see is that fans engage with artists on-platform, but then they leave to search for listings online or to even follow artists on social media for the sole purpose of staying on top of their events. We think the Live Events Feed is an opportunity to help close this loop. This helps ease the burden on fans, reduces the competition artists need to contend with to stand out, and creates new efficiencies around marketing.
Another core learning was how sticky the discovery pathways are that lead with the artist, which you can see manifest in the design that leans into rich artist imagery, helping fans feel more connected and better informed about their favorite artists. We also included a new way to represent and celebrate the full body of the artist's touring offering. 
In addition, we built a new messaging tool to provide fans with personalized recommendations for upcoming live events based on their listening habits. And we're putting fans in control of how they want to be communicated with by giving them tools to set their notification preferences, and offering them more information about our different ticketing partners. This, in turn, is helping these partners to find audiences.

What are some of the benefits of using Spotify to find upcoming live events?
René: Thanks to partnerships with leading ticketers like Ticketmaster, AXS, DICE, Eventbrite, See Tickets, and others, Spotify now has most of the world's concerts listed on-platform in our major markets. Users can now check out those listings on the Live Events Feed. They'll be excited to see personalized recommendations for upcoming shows based upon their unique taste profile.
We're also incorporating show discovery into the fan's listening moment. This means that when our fans are listening to a creator they love and that creator has an upcoming tour date, we'll be able to show that live event to them, in-app, right while they're listening. With this feature, we hope to make concert discovery much easier and more seamless for fans, making them aware of relevant shows right when they are at their most engaged.
What's next for the Live Events Feed and other live offerings from Spotify? 
Sam: We're not stopping here. Building on René's comments, from here we'll work to even further integrate event discovery directly into the app, whether through more advanced search tools, new playlist formats, or new integrations into key surfaces—meaning event discovery is integrated right into the listening experience. 
René: Ultimately, our goal is to ensure that fans are aware of all of the upcoming events by the creators they love and creators they may come to love. We believe if we get that right, then we can get more fans to more shows and help artists and venues have better-filled rooms. We'd love to be a part of helping the live music industry recover and, even more importantly to us, helping to grow it in the years to come. 
Can't wait to get started looking for upcoming live events? Watch your email for an explanation from product marketing on how to find the feed, or simply head directly to Home.