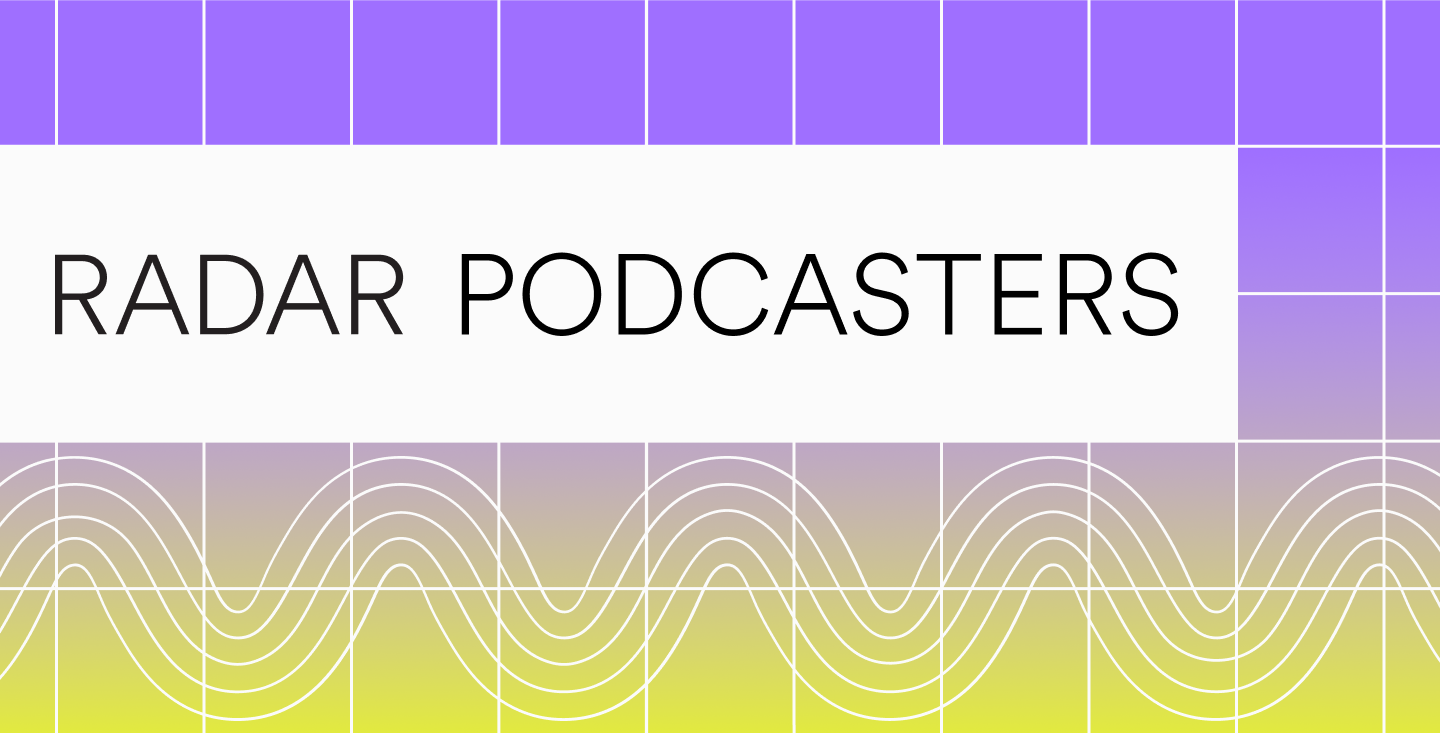 TURN IT UP
Discover Even More Emerging Creators With RADAR Podcasters
More podcast creators than ever are switching their mics on with Anchor. With this comes more chances than ever for listeners to fall in love with new shows. And with more podcasts comes more opportunities to amplify creators, connect them to fans, and help listeners find new shows. Spotify's Podcast Editorial and Anchor teams have debuted Creator Space, an external submission tool, and a Discord server for the growing community of podcast enthusiasts. 
Today, we're expanding on this work by kicking off RADAR Podcasters, a podcast-creator version of the Spotify program designed to spotlight emerging voices worldwide. It takes its name and format from RADAR, which supports up-and-coming artists. 
Through RADAR, we're deepening our commitment to emerging creators and strengthening their connection to audiences. To start, we're highlighting more than 40 creators around the world, in countries where podcasting continues to grow—the U.S, Brazil, Spain, Italy, Colombia, India, France, Argentina, Chile, Japan, Australia, Mexico, the Netherlands, Indonesia, and the Philippines. 
What's unique about the podcasting scene where you work?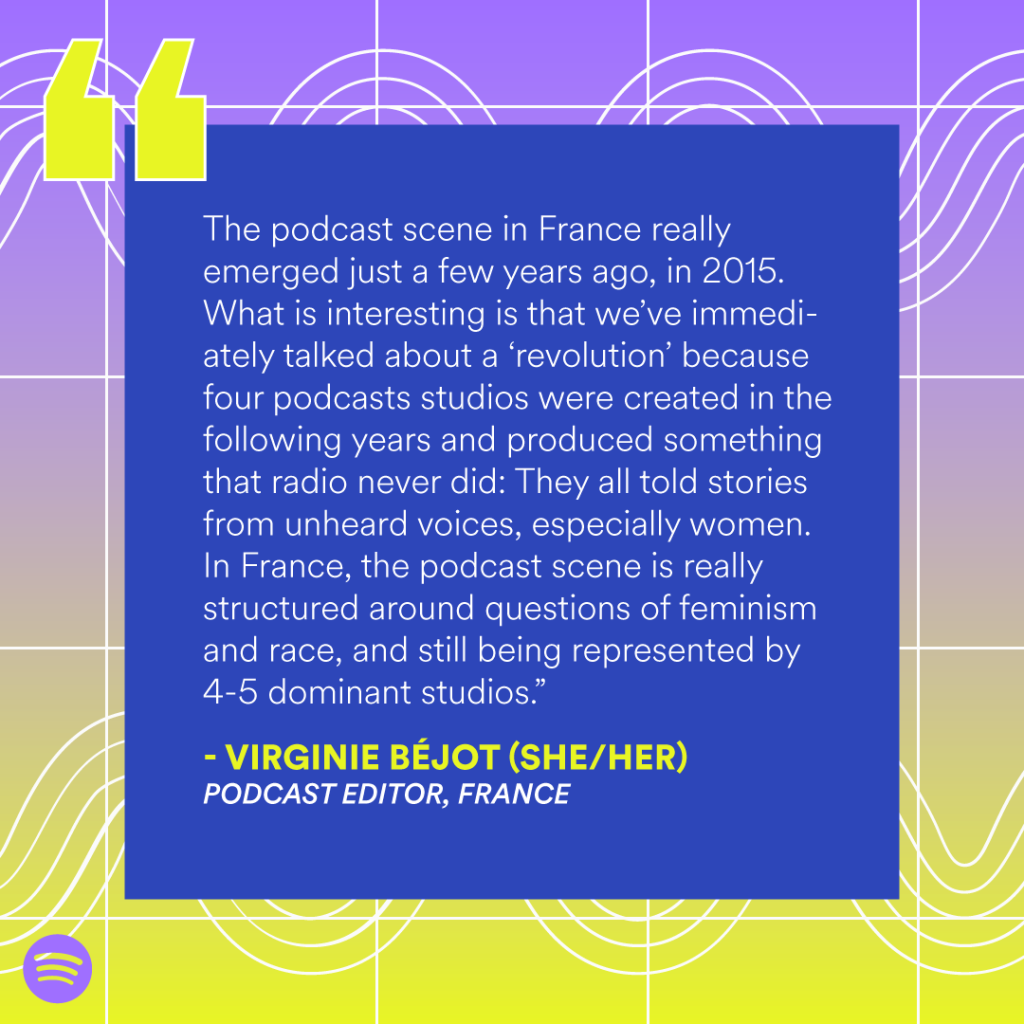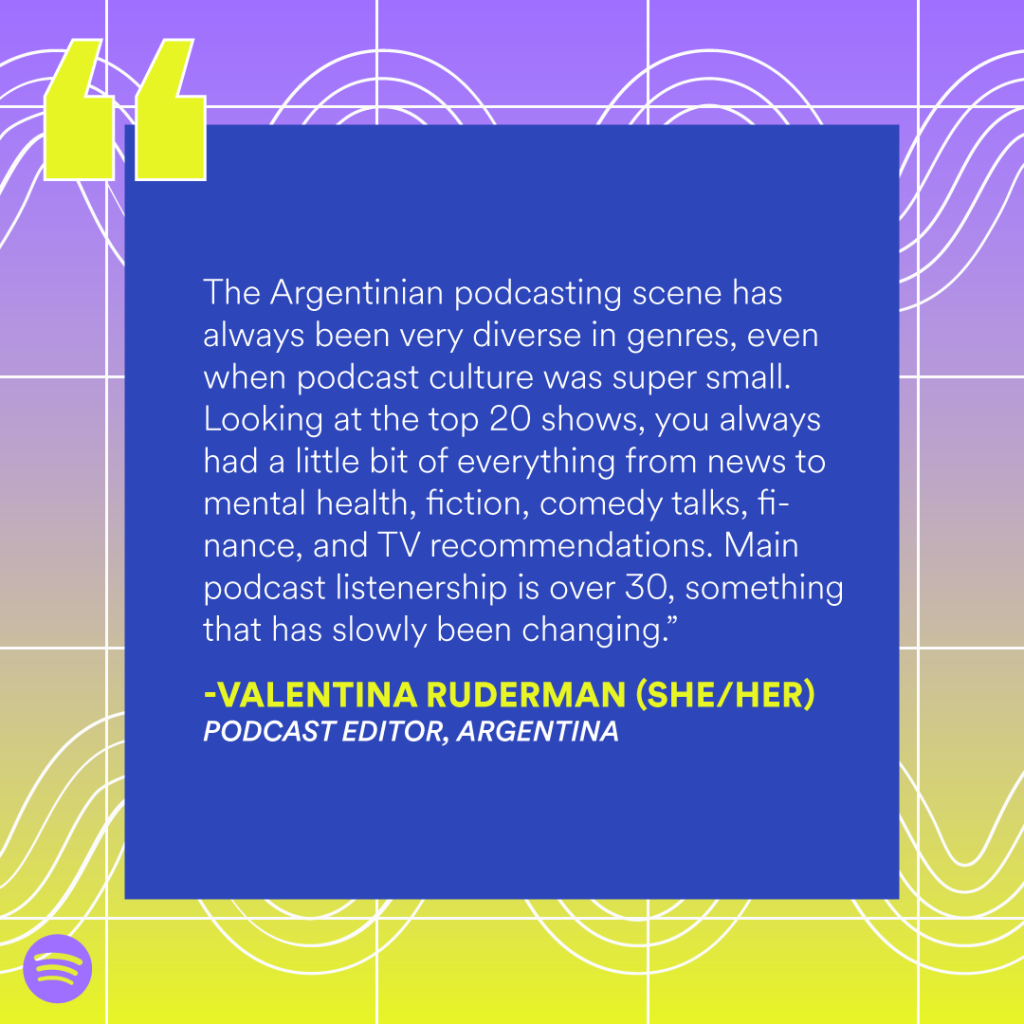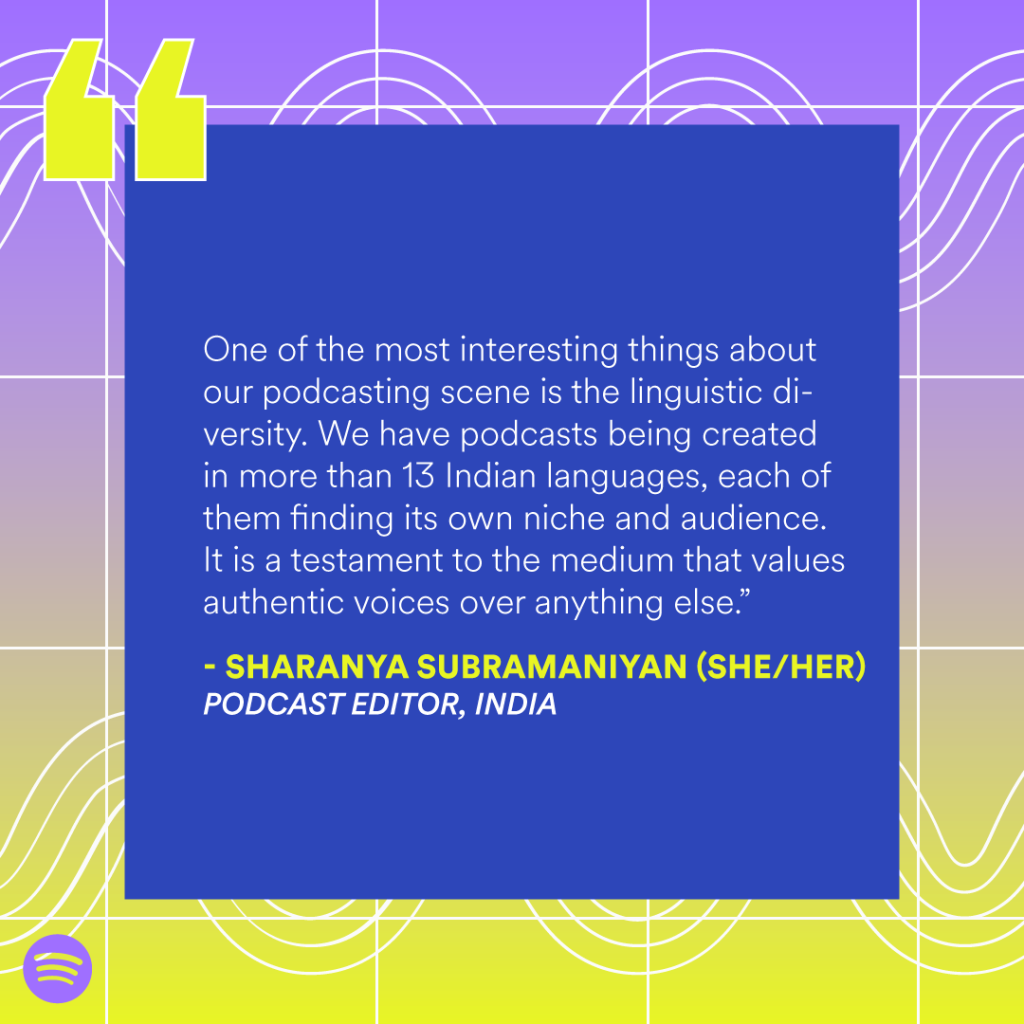 How does it work? Each quarter, Spotify's Podcast Editorial team in participating markets will select three up-and-coming creators to spotlight. We'll focus on creators with shows that exhibit authenticity and inclusivity, give us a reason to keep listening, and educate and entertain.
Once selected, participants can leverage Spotify's editorial and promotional opportunities. Our global RADAR playlists will feature three episodes from each RADAR creator, and they will receive marketing and social media support. You can view all of our RADAR creators here. 
What impact could RADAR Podcasters have in your market?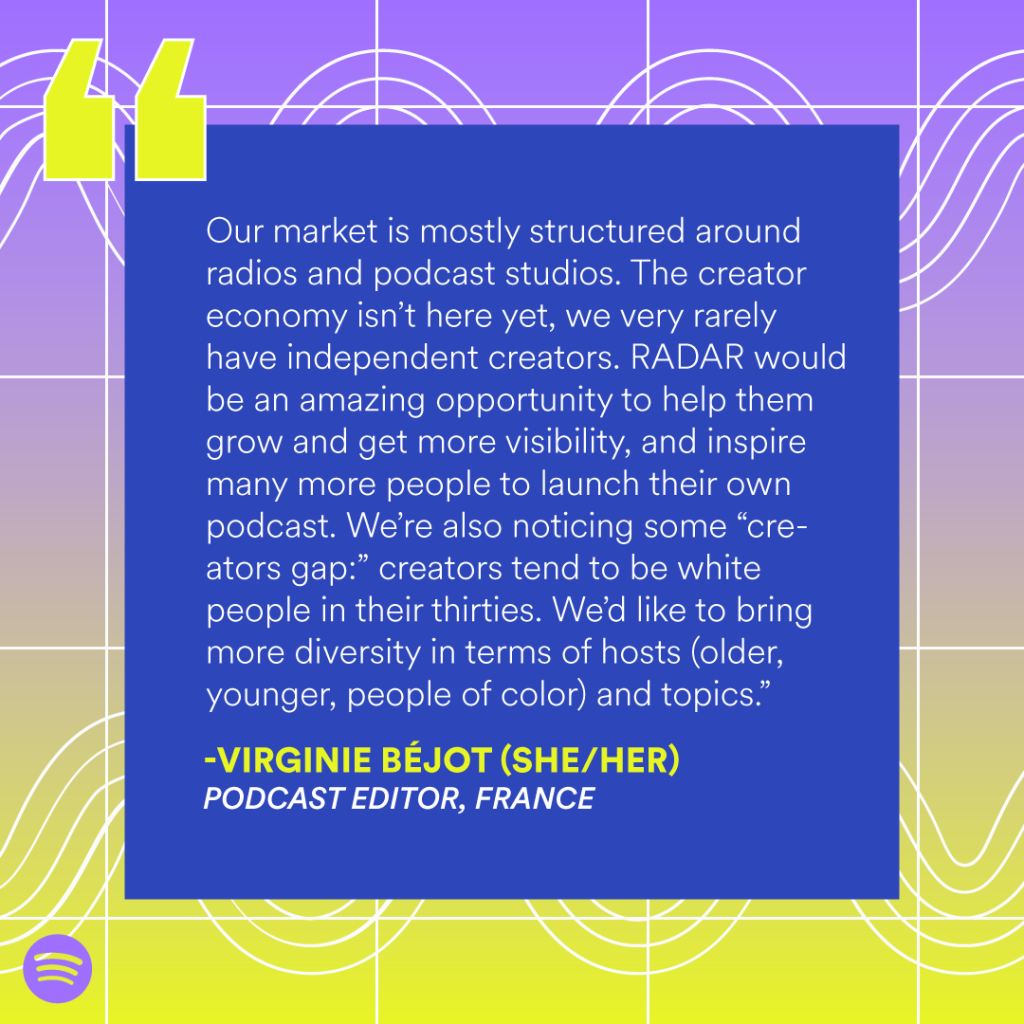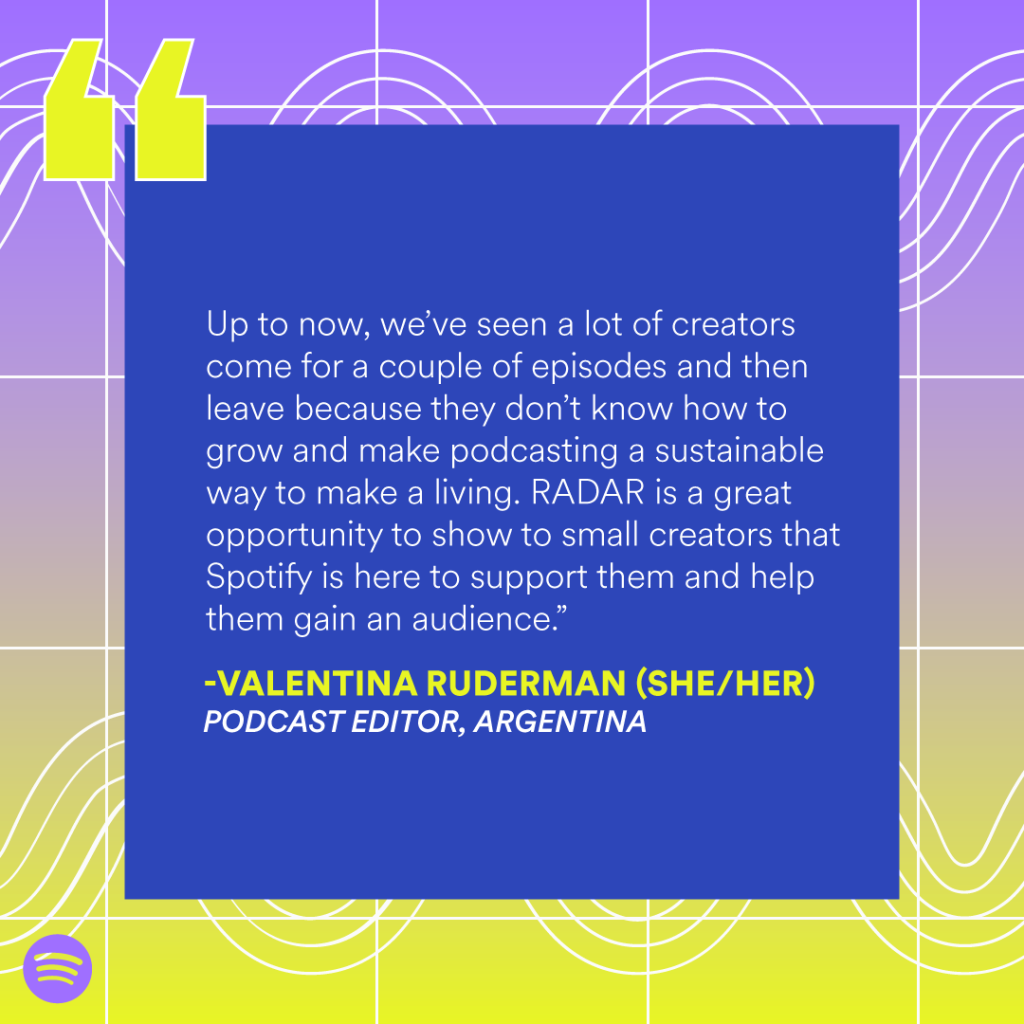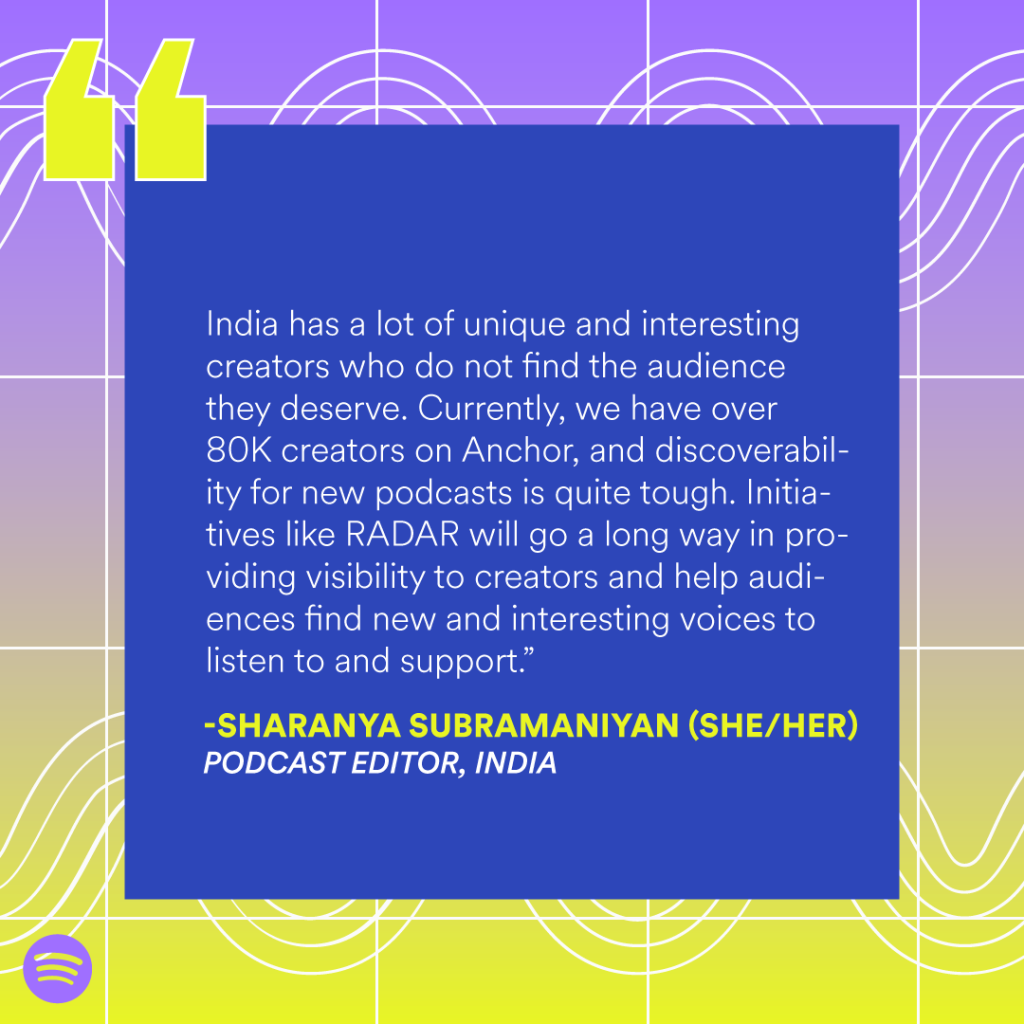 For the Record spoke to Podcast Editorial Lead Brianne O'Brien about the idea behind RADAR Podcasters and her hopes for the initiative. 
Why do you think something like RADAR Podcasters is necessary?
Building an audience, no matter what the form is, is a marathon and never a sprint. And I think that's especially true for podcasts. RADAR Podcasters is unique in the sense that it can not only motivate creators to keep going, but it also unlocks these resources that we as a platform can provide. Spotify has a dedicated space to help creators get discovered, to be inspired, and to learn from fellow creators. And that's exactly what this program speaks to. 
Meanwhile, listeners are hungry to either find their next favorite podcast, connect further with hosts or the content, and to find a sense of community. So the more opportunities that we can provide in that creator space to help them foster that audience engagement, the better.
How does RADAR Podcasters support our larger mission of supporting creators?  
When we decided to brand this project after RADAR, we thought 'Let's take what we know is a successful brand in terms of identifying emerging artists—because RADAR as a name and as a brand is clear, it's simple, yet it's really strong—but to amplify podcasters.' But outside of the familiar name, it's also a familiar mission. Our goal here is to highlight and uplift emerging creators and to do the best that we can to help them grow their audience, especially during the early stages of their career. 
RADAR ladders up, in its core, through amplifying communities around creators, genres, and topics. That's a huge focus for those of us on Podcast Editorial, which you can see by what we're aiming to do to amplify underserved voices. We're in a position to help creators with a one-of-a-kind of achievement, if you will, while also opening up opportunities for them to build affinity with new listeners and different types of audiences that they might not have reached yet.
How will we measure success? What do we hope to hear from creators and listeners? 
My team, and Spotifiers more broadly, are podcast enthusiasts. So first and foremost, we really want to underscore the hard work that's being done by creators to take their podcast to the next level, but also to build those long-lasting relationships with their audience. Being able to help them scale and better connect with listeners is a critical part of measuring success. Another part of this is building a globally recognized and trusted program that's not only aspirational but also inspirational, and a consistent resource for creators to succeed.
Take a listen to our first three RADAR Podcaster creators in the U.S.:
Girlish
Trans YouTubers and iconic duo Gage Adkins and Olivia Noel discuss LGBTQ+ topics/stories from their own experiences. As trans women of color in their early twenties, the two strive to create a podcast that speaks volumes by discussing issues like transphobia, coming out in college, dysphoria, and what it's like being trans in the 21st century.
Affirmations for Black Girls
A podcast dedicated to helping Black millennial women become their best selves. Hosted by Tyra the Creative. 
Stories with Sapphire
Join host Sapphire Sandalo, a pansexual Filipino American on a mission to add more empathy and diversity to the paranormal, supernatural, and horror communities through stories and interviews from the Philippines and around the world. Each episode includes true stories that share a theme, with Sapphire's thoughtful commentary weaving them together.
Plus, head to the RADAR Podcasters hub to view all of our creators or read more on Anchor.