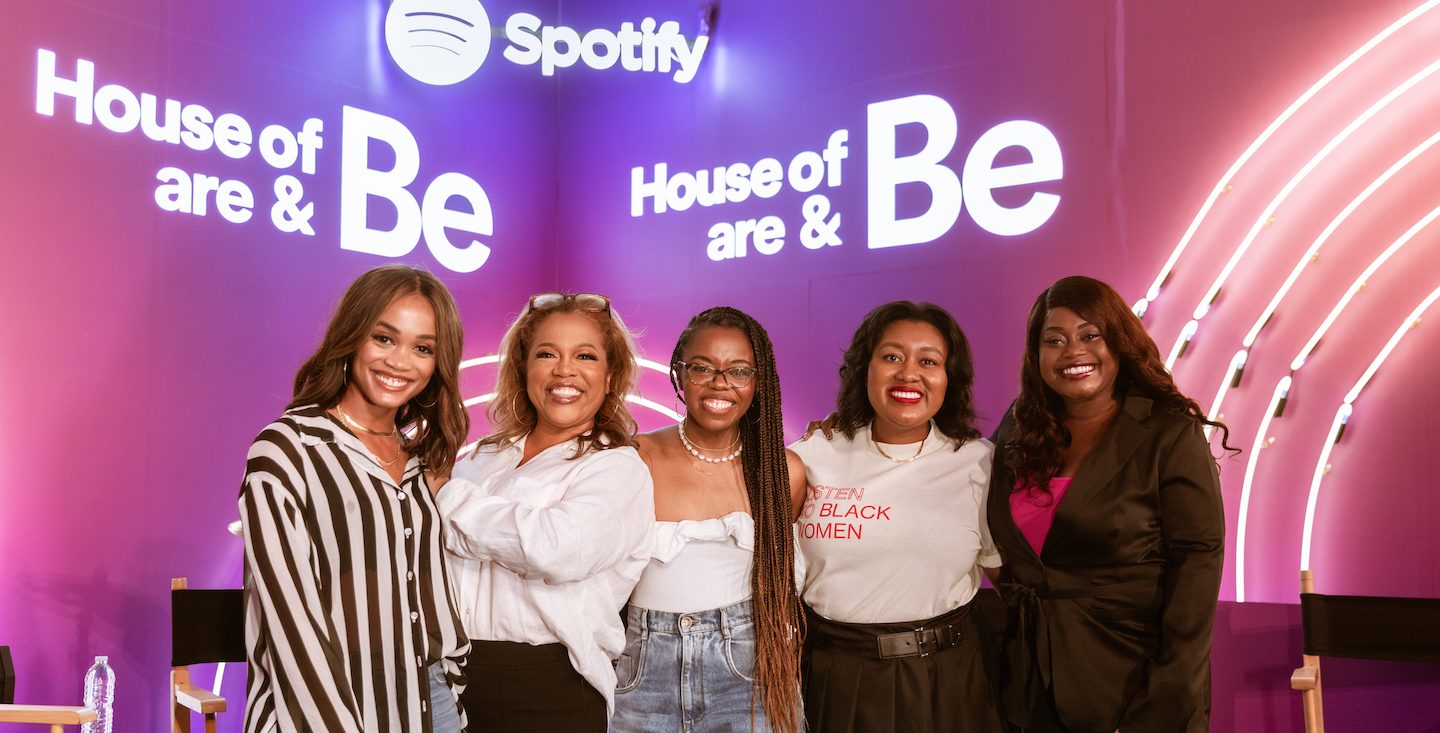 NEW IN NOLA
Spotify's House of Are & Be Puts the Spotlight on Black Voices
Over the weekend, Spotify celebrated Black voices and community with the return of House of Are & Be during the annual ESSENCE Festival Of Culture in New Orleans. 
"In 2019, we created our first-ever House of Are & Be experience, paying homage to women throughout the decades. And this year we're returning to the same incredible location with even more live music and conversations from our podcast creators," explained Sydney Lopes, Spotify's Head of Hip-Hop and R&B, Artists, and Label Partnerships. "With an even bigger lineup of rising and established talent, Spotify's House of Are & Be continues to highlight the breadth of sounds that affect our mind, body, and spirit." 
Returning for the third year, Spotify celebrated the stories of Black creators with our largest lineup to date. Spotify kicked things off with a hosted brunch that included performances by Mereba and SiR.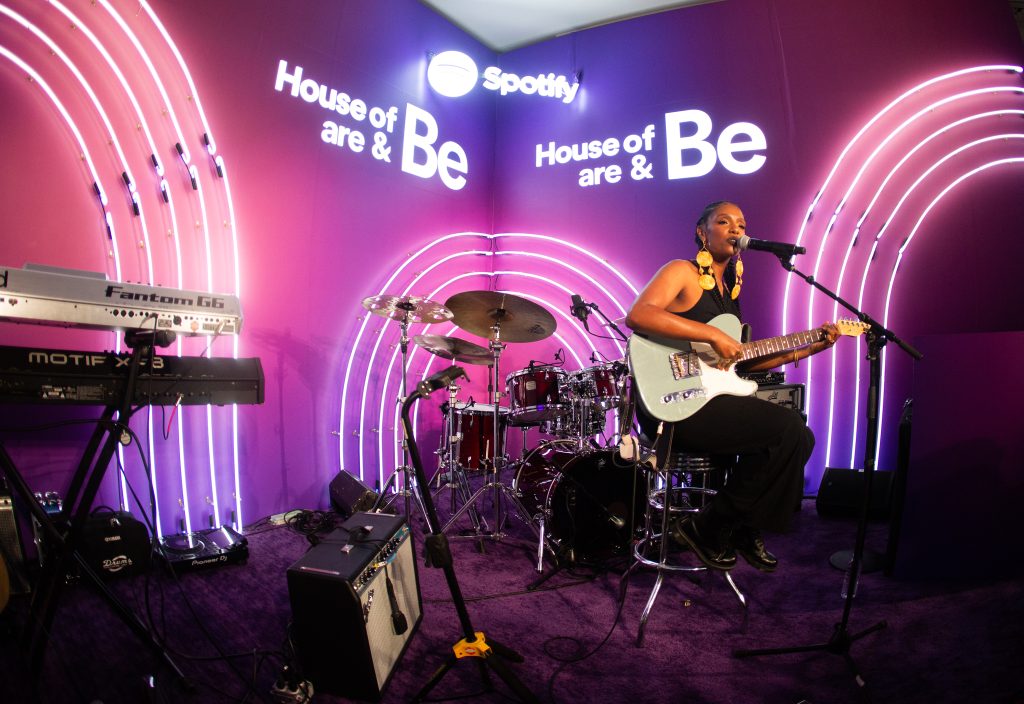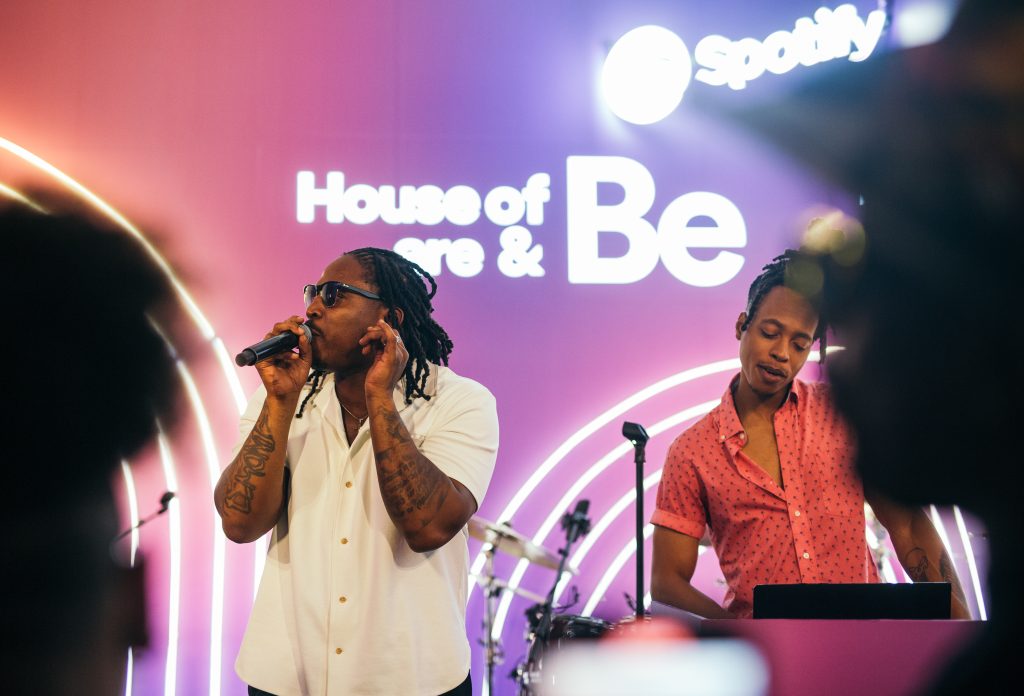 Guests were invited to explore the venue that held experiences for the mind, body, and soul—from aspirational readings to massages, guided meditations, and sound baths. Attendees were also treated to an array of complimentary books provided in partnership with New Orleans's very own Baldwin & Co. 
Attendees heard from Rachel Lindsay, host of the podcast Higher Learning with Van Lathan and Rachel Lindsay, as she moderated a panel on The Power of Audio Storytelling. "I could not be more excited to moderate a discussion on the power of audio storytelling with fellow Black women storytellers," shared Rachel. "This opportunity comes at a time where Black women, in particular, need safe and dedicated spaces for fellowship with one another and to tell their honest truths to other Black women who uniquely relate to our shared experiences." 
The discussion also featured Danyel Smith, host of Black Girl Songbook; Lovelyti, host of Tea Time UNFILTERED with Lovelyti; and Dr. Titi Shodiya and Dr. Zakiya Whatley, cohosts of the Dope Labs podcast. Here are some highlights from the panel:
"I always knew I wanted to do TV; I always knew I wanted to do something where I was talking or communicating with people, but I had no idea what podcasting would do for me. It is the most fulfilling experience that I have ever had, and I'm sure you feel the same way when it comes to being in this entertainment space because it's very freeing. I don't feel beholden to a network. There are no commercials or anything. We get to produce our own content and say what's on our mind, and we can connect with our audience, and it's such a beautiful thing." – Rachel Lindsay
"We want people to know who we are from the jump. . . . Just showing up as ourselves, I think, is celebrating our Blackness. You can be in all of these spaces as yourself, I think. Additionally, when we plan our content, when we ask, 'What are we going to talk about?'—I wanna talk about, yes the science, but I wanna talk about what you and your friends are talking about in your group chat." – Dr. Zakiya Whatley 
"We thought it was really important to talk about the pandemic, but frame it from an angle of the person who is skeptical and not look down on people who were asking questions. Because what we saw in our research was that it was only Black folks who were being made to feel, mostly in the media, that you're not smart if you don't believe these certain things. When really, it is in our history which puts us in a position to be distrustful of the medical community. So we came from that perspective and said, 'With all that we know about what has been done to Black and Brown and marginalized communities, how do we move forward, especially in this pandemic that is dangerous and killing us disproportionately?' And so, the work we were able to do with that we're really proud of." – Dr. Titi Shodiya 
"One thing I can say as a Black content creator is, in general, one of the roadblocks we face a lot of times is just even the topics that we want to hit on. You know, things that really affect the community—anything from gun violence, drugs, certain things in hip hop. It's almost like you're constantly dealing with censorship, where we're not pushed through the algorithm, we're not on certain platforms, or we're told to 'tone it down.' Even conversations about colorism are being dismissed, and those are things that are important and that affect the Black community. So the way I handle that is by creating my own table. I stopped begging other people to see value in me. I created my own table, I do my podcast, I've done live shows . . . " – Lovelyti 
"I don't think it's my show's job to talk about Black women in terms of being 'firsts.' I feel like so often, our history—I hesitate to use the word 'reduced'—but sometimes we just get reduced to the idea that she was the first person to do this, she was the first Black woman to do this. And all that is important, but I just think the work of Black Girl Songbook is to be about the details, and when I think of details, I don't want to talk about Black women's lives or one Black woman's life in summary. I want to talk about it in detail." – Danyel Smith 
The day ended on a high note with our Emerging Artist Showcase, which celebrated the new wave of up-and-coming R&B talent. Special guests Ashanti, Jacquees, Lucky Daye, Issa Rae, and actors Jacob Latimore and Kofi came by to support.  
Giveon kicked off the night when he took to the stage with his breakthrough hit, "Like I Want You," and his newly released single, "Lie Again." He was followed by Phabo, who performed "LNF" alongside other, yet-to-be-released music. Additionally, Ambré sang some tracks off her latest album, 3000°, while Kenyon Dixon debuted new music, including "Love on Replay," and sang a surprise duet with rising artist Jade Novah. Alex Isley closed out the night with a standing ovation after performing hits such as "Good & Plenty" and "Into Orbit." The performances gave fans a taste of the future of R&B.