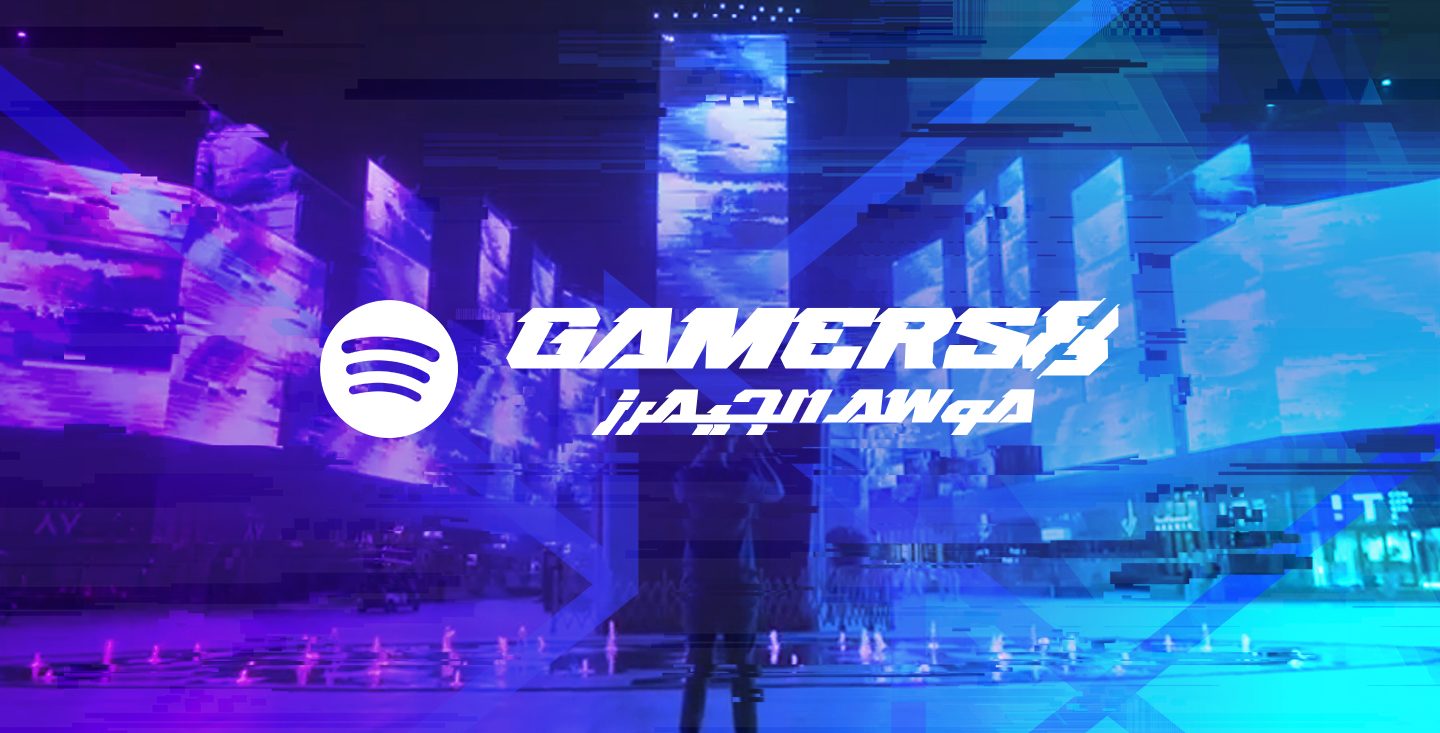 LEVEL UP
Spotify and Gamers8 Combine Forces for an Unforgettable Esport Event
Esports fans, prepare to take your gaming up a notch thanks to a new partnership between Spotify and Gamers8, a global gaming and esports festival that kicked off July 14. During this eight-week event taking place in Riyadh, Saudi Arabia, virtual and physical worlds collide in a series of tournaments, activities, and attractions. And with the prize pool at $15 million, the stakes for Gamers8 participants are sky-high.
Connecting the players through music
Through our partnership, gamers can prepare for matches and take their audio experience to a new level with content created specially for Gamers8. Fans can also access these curated music playlists, which were a collaboration between Spotify's music team and Gamers8 gaming professionals, and enjoy playlist takeovers by some of the biggest names in gaming.
Also a part of the partnership, multiplatinum DJ and producer R3HAB released the highly anticipated Gamers8 anthem, "Challenge تحدي للأخير ." The track, which features Sultan Al Murshed and rapper Big Bo, is a tribute to local creators, Saudi Arabia's gaming community, and the international viewers tuning into the events. The Arabic EDM song debuted at the tournament's opening event. 
For the Record got the chance to ask R3HAB a few questions about his gaming experience and what it was like creating the Gamers8 anthem.
How is the new anthem designed to enhance the gaming experience? 
I love gaming myself and love studying different styles and genres. As a DJ/producer, you tend to listen more carefully to sounds, whether it's a game or a movie. My goal for this record was to find a perfect balance between an uplifting and vibrant mood to inspire action while bringing in moments to reflect on the game plan.
How was it working on a track with regional artists like Sultan and Big Bo? 
It was an extremely inspirational and exciting journey. They both have different backgrounds and signature sounds. However, we realized pretty early in the creation process that our musical visions for this project were aligned. I've learned a lot from Sultan and Big Bo and am really proud of what we've created.
What is it like producing a track for the gaming community, and how does it compare to creating a track purely for the dance scene? 
Dance music is designed to pull people out of their inner world and let loose. Gaming music is designed to help gamers focus on the task at hand. While the goals are different, you can use the same tools to achieve both. 
Do you have any plans to create more music in the gaming space?  
I've had a blast working alongside industry revolutionaries like Gamers8. Though the dance and gaming worlds have a symbiotic relationship and shared audience, it's still a lot of work to make a great record. Being able to find the sweet spot between worlds is so rewarding. It's a challenge I love to take on.
Elevating the game with a new podcast
Spotify and Gamers8, together with Rising Giants Network, will also launch a dedicated podcast called Outplay. The eight-episode series will be the go-to source for news on the festival's top teams and players, with can't-miss highlights and exclusive one-on-one interviews. For the Record talked to Faisal Bin Homran, Head of Esports, Saudi Esports Federation, to learn more about the podcast.
What aspects of the competition will the podcast be covering?
We'll have content centered around teams, players, and creators, as well as influencers who are related to the different games. For example, we are going to have a couple of Rocket League influencers. We are also going to speak about content creation and how esports factors in, especially when it comes to esports players with large fan bases. We really want to deliver entertaining content. In five years, I want to go back to this content and know that we built something for the future. 
Who should tune in? Those competing themselves, those looking to learn more from the sidelines, or both? 
Be it the podcasts or other projects, we are always trying to involve more segmentations. The podcast is for those looking for industry insights, for gamers who want to dive deeper into esports, and for the fanatic. There truly is something for everyone. 
Why do you think music and gaming go hand in hand? What sort of music do you like to listen to while gaming?
Music has always been part of the esports experience. It excites players and viewers and connects them. There is no specific type of music that I particularly like to listen to while gaming, but I'm in love with the publishers that put specific songs for their games or top championships. For example, League of Legends including Imagine Dragons—that's one of my top ones. In the future, I think songs will become an even bigger part of esports and there will be songs for each title when it comes to the World Championships or World Cups. 
What are you most excited about during this year's competition? 
I am excited about the players' experience in Riyadh. We want to showcase and deliver a unique experience for the players—that blends between the physical and virtual. We want to give them a mix of the cultural experience and the esports experience. We are excited to meet all of them and talk about future projects and how we can be part of the international esports ecosystem. 
Before you dive back into the game, one-up your competition by checking out the first episode of the Spotify and Gamers8 podcast, Outplay, below: