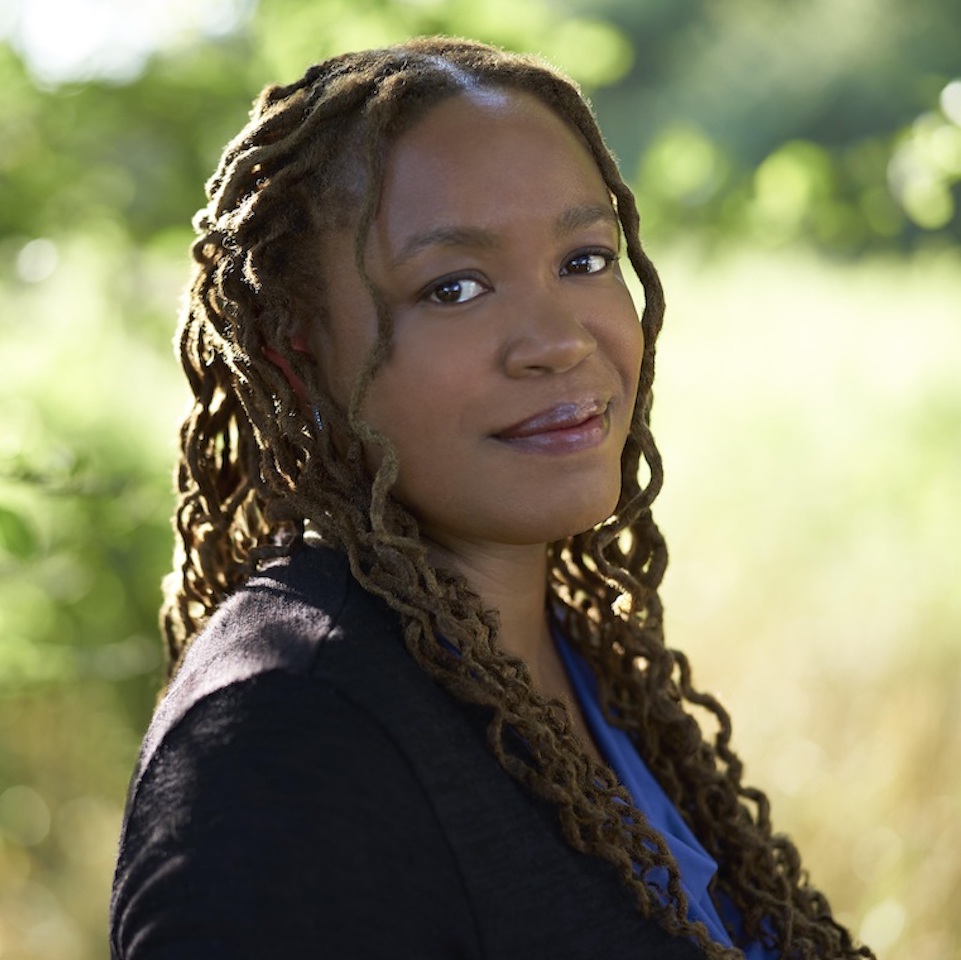 SOME NICE THINGS
Heather McGhee Takes Listeners on a Journey of America's Possibilities on 'The Sum of Us'
Photo credit: Andreas Burgess
Imagine: In 1959, instead of allowing a swimming pool to be racially integrated, the city of Montgomery decided to drain it. In 2022, many would shake their heads at this past reality while relegating it in their minds to exactly that—the past. Yet this choice to restrict access for some, and therefore all, is still happening in America, especially at the policy level. This is something educator, activist, and author Heather McGhee has investigated throughout her career, and especially in her 2021 book The Sum of Us.
"The Sum of Us is the story of my journey across the country that I took in search of answers to why it seems like we can't have nice things in America," Heather explained to For the Record. "And by nice things, I mean universal childcare and paid family leave and clean air and clean water and good schools in every neighborhood. And what I discovered is that—more than any other single factor—racism in our politics and our policymaking that leads to a reluctance for people to come together across lines of race and find common solutions to our common problems is holding us back." 
Heather is bringing this conversation to her podcast of the same name. Debuting today on Spotify, The Sum of Us will take listeners deep into local issues from the perspective of the individuals on the ground. As Heather spotlights communities across the country, she aims to emphasize togetherness, positivity, and hope. In an unjust world where racism has costs for all Americans, The Sum of Us inspires listeners to take a more collective approach to racism through the power of human stories, empathy, and solidarity.
We sat down with Heather to learn more about her new podcast. 
How and why did you decide to create a podcast of The Sum of Us?
At the end of my book, The Sum of Us, I talk about this idea of the "Solidarity Dividend" of gains that can be unlocked by us coming together across lines of race and rediscovering our collective power. It was an idea that I floated at the end of the book, and it resonated with so many readers. And frankly, it stayed in my mind as the country seemed to fall farther and farther apart—the political divisions, the fraying of the solidarity that we had seen at the beginning of the pandemic. 
And so I wanted to hit the road again and really just focus on this idea of people coming together in communities, across their differences, really rebuilding the kind of America that our people deserve. I brought this idea to the Obamas' production company Higher Ground; the Pulitzer Award-winning Futuro studios, an incredible team of mostly producers and engineers and writers and editors of color; and Spotify. And they were all excited about it, too. So I've spent the last nine months on the road finding new stories of people coming together to win in their communities. And it's left me feeling optimistic, and I hope listeners will feel the same.
You mention your theory of the Solidarity Dividend. Can you explain it for our readers?
Over the course of my journey, I chronicled the ways in which racism ultimately has a cost for everyone because it distorts our public policymaking, makes for bad economic decisions, and erodes the trust that we have in one another, which is necessary to support public goods and public solutions. And so the flip side of that is that, if we can come together across lines of race and see our own struggles in each other or have solidarity for each other's struggles, then we can unlock what I call "Solidarity Dividends." And these are the gains that can only come through collective action. And in a multiracial society can really only come through multiracial, collective action. And these are things like cleaner air and water, better-funded schools, higher-paying jobs. Each of the episodes in the Some of Us podcast tackles a different solidarity dividend, something that's precious, that matters to us all, that people are able to accomplish by coming together. 
What was the process of turning the book into a podcast like? What surprised you?
The entire process surprised me. I had no idea what I was getting into. You know, the first part was that I really tossed the book up in the air. The Sum of Us podcast is not an adaptation of the book The Sum of Us. It's sort of a spinoff, a takeoff, another journey that's guided by the same principles: the need to come together across lines of race, the way that racism has a cost for everyone and a real inquiry into what builds empathy and solidarity. Those themes are the same in the book and in the podcast, but the stories are mostly completely new and different. There are two locations that are in the book—Lewiston, Maine, and Kansas City, Missouri—that are also in the podcast. But I take totally different angles on those stories. In fact, in Lewiston, it's an entirely different cast of characters. And the rest of what we cover are new stories that the incredible teams at Futuro and Higher Ground collaborated on and discovered and unearthed together. So it feels very different.
In the first episode, you share the example of Gary, a white man who, in 2016, professes to you on live TV that he wants to confront his racism and prejudices. You gave him some recommendations for where to begin. Do you think you would respond in the same way in 2022, keeping the events of the past two years in mind?  
If someone like Gary had called in today and said, "I'm prejudiced and I want to change, so what can I do to become a better American?" to be honest, I don't think my answer would change. 
I think that the assumption might be that now in 2022, maybe a person like Gary should have already done the work. These issues have been alive. The history has been written, the books have been available. The causes have been there to join for centuries. So I totally understand the perspective that might say "you should have already done that work. You shouldn't have had to call into a radio show or a television show with a Black woman and ask her how to become less prejudiced." But for me, I think that the humility that it took to admit his prejudice and to ask for help is something that should always be rewarded and matched with kindness.
I think we take for granted sometimes how much work it takes to unlearn biases, to counter the dominant narratives that have supported racist systems. And so we often ask people to do it on their own—this sort of shopping cart approach to racial reconciliation in this country. And I don't think it's sufficient. So ideally, there would be a process that our country would go through at the national, state, local, community level. That would take us to a better place and that would teach the truth and that would create avenues for people to come together. Absent that collective effort. I do think it's important for each one to teach one. 
So many Americans are siloed politically. How do you hope to address that through the podcast?
It's funny. I was just thinking about what the political kind of color is on the map of the places we visited, I think the vast majority of them are red or purple. I mean, Manhattan Beach, California, is probably the most typically liberal place that we went. And yet, as listeners will learn when they listen to the podcast, the story of Manhattan Beach is a lot more complicated than it seems. 
I think we were intentional in choosing places that had good stories of people coming together against the odds. And to do that, you had to go to some places where there's deep divisions and where the governments may not have been on the side of justice and progress. So it wasn't an intentional effort to go to red places or purple places, but that's where the most interesting stories of people coming together across lines of race ended up being.  
You use humor and the meme-like question of "Why can't we have nice things?" to address hard topics. How did you decide to orient the podcast in this way?
I think that's just my personality. I'm a really serious person whose job is focused on the worst problems in American society. But I love to have fun. I love to throw parties. I love to laugh. I have a huge network of friends. I think that ultimately what we're looking for is a world in which there's lots of joy and laughter and connection. And so I try to bring that to the journey to get there.
Listen to The Sum of Us hosted by Heather McGhee starting today only on Spotify. 
Hear more directly from Heather on Spotify: Mic Check.