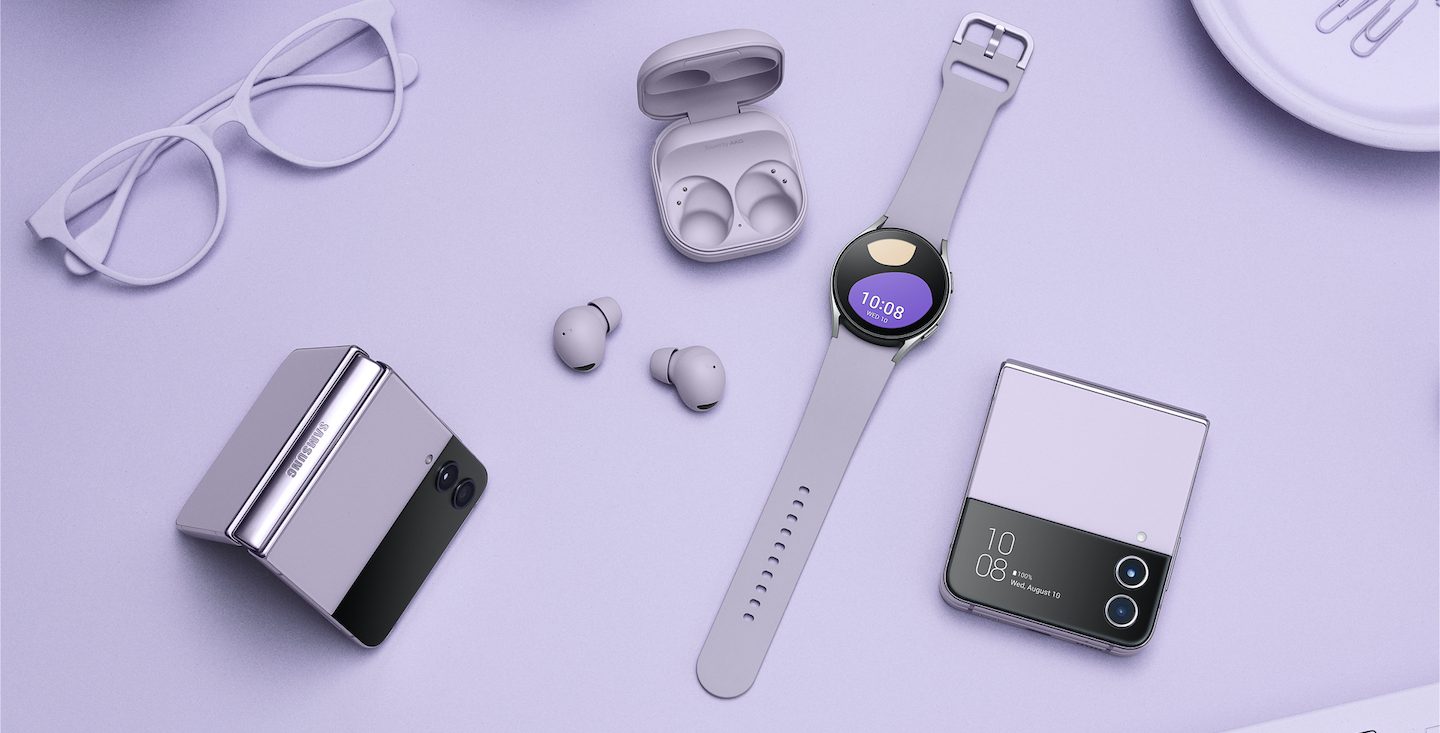 GREAT PAIRING
Spotify and Samsung's Partnership Gives Users More Ways To Listen
Since 2018, Spotify and Samsung have been a match made in heaven. The partnership between the two has allowed Samsung users to seamlessly connect their devices so that the music never has to stop. Fast-forward to 2022, and we've got more exciting news to share for Samsung users who are looking to play their favorite hits and top podcasts on their devices.
Bring music to your virtual hang with Spotify Group Session via Samsung and Google Meet
Music has the power to both focus our mood and bring some extra vibes to a virtual hang. With the introduction of Spotify Group Session on Google Meet, Spotify Premium users on Android phones can start their listening sessions during a video call with a few simple steps. By tapping the three dots in the lower right-hand corner of a Google Meet on their phone, the host will see the option to kick off a listening session and invite up to eight friends to join from their individual Spotify Premium accounts so they can listen while they hang.
Seamless listening on Galaxy Watch 
Running errands, out for a run, or just loving that hands-free lifestyle? Galaxy Watch5 and Galaxy Watch5 Pro users can make the most of Spotify with Google Assistant on WearOS. That means that with a few simple commands through "Hey Google," your Samsung Galaxy Watch can play music, pause podcasts, or raise the volume.
New Galaxy Buds bring listeners the best of audio 
Whether you're on the train, in the car, or just sitting at home jamming to your latest album obsession on Spotify, the new Galaxy Buds2 Pro let you crank up the audio. These earbuds, which are enabled with Spotify Tap™, allow you to start playing your personal soundtrack instantly with a quick Tap & Hold.
More devices to love in 2022 
When you get a new device, the last thing you want to do is fiddle with an app store in order to dive into your music or podcasts. If you buy a 2022 Samsung Smart TV or Samsung Galaxy smartphone, Spotify will be preloaded globally, making your shift to listening even easier.
More Premium in more markets
As Spotify's availability continues to expand, we're offering three free months of Spotify Premium to eligible* Samsung users in 85 markets** around the world. This offer, for those who haven't tried Spotify Premium before, lets new listeners enjoy all the Premium benefits fans have come to love. 
With these new and existing features available to Samsung users, they'll have no excuse not to crank up the Spotify volume on their devices.
*Update August 10, 2022: Now you may be eligible to get three months of Spotify Premium for free on select Samsung Galaxy mobile devices and Samsung Smart TVs. The offer is available to users who have not already tried Premium. May vary by region and carrier. For eligibility requirements and additional details, see Terms and Conditions.
**Spotify Premium three-month offer is available to eligible Samsung users in the following markets: Albania, Argentina, Australia, Austria*, Bahrain, Bangladesh, Belgium, Bolivia, Bosnia, Brazil, Bulgaria, Chile, Colombia, Costa Rica, Croatia, Czech Republic*, Denmark, Dominican Republic, Ecuador, Egypt, El Salvador, Estonia, Finland, France, Germany, Ghana*, Greece*, Guatemala, Honduras, Hong Kong, Hungary, India, Indonesia, Ireland*, Israel*, Italy, Japan*, Jordan*, Kazakhstan, Kenya, Kosovo*, Kuwait, Latvia, Lithuania, Luxembourg*, Macedonia, Malaysia, Mexico, Moldova, Morocco, Netherlands, New Zealand*, Nicaragua, Nigeria, Norway, Oman, Pakistan, Panama, Paraguay, Peru, Philippines, Poland, Portugal, Qatar, Romania, Saudi Arabia, Serbia, Singapore, Slovakia*, Slovenia, South Africa, South Korea*, Spain, Sri Lanka, Sweden, Switzerland, Tanzania, Thailand, Turkey, UAE, U.K., Ukraine (excluding the Republic of Crimea, the Self-Proclaimed Donetsk People's Republic, and the Self-Proclaimed Luhansk People's Republic)*, Uruguay, USA, and Vietnam*. 
*New markets added