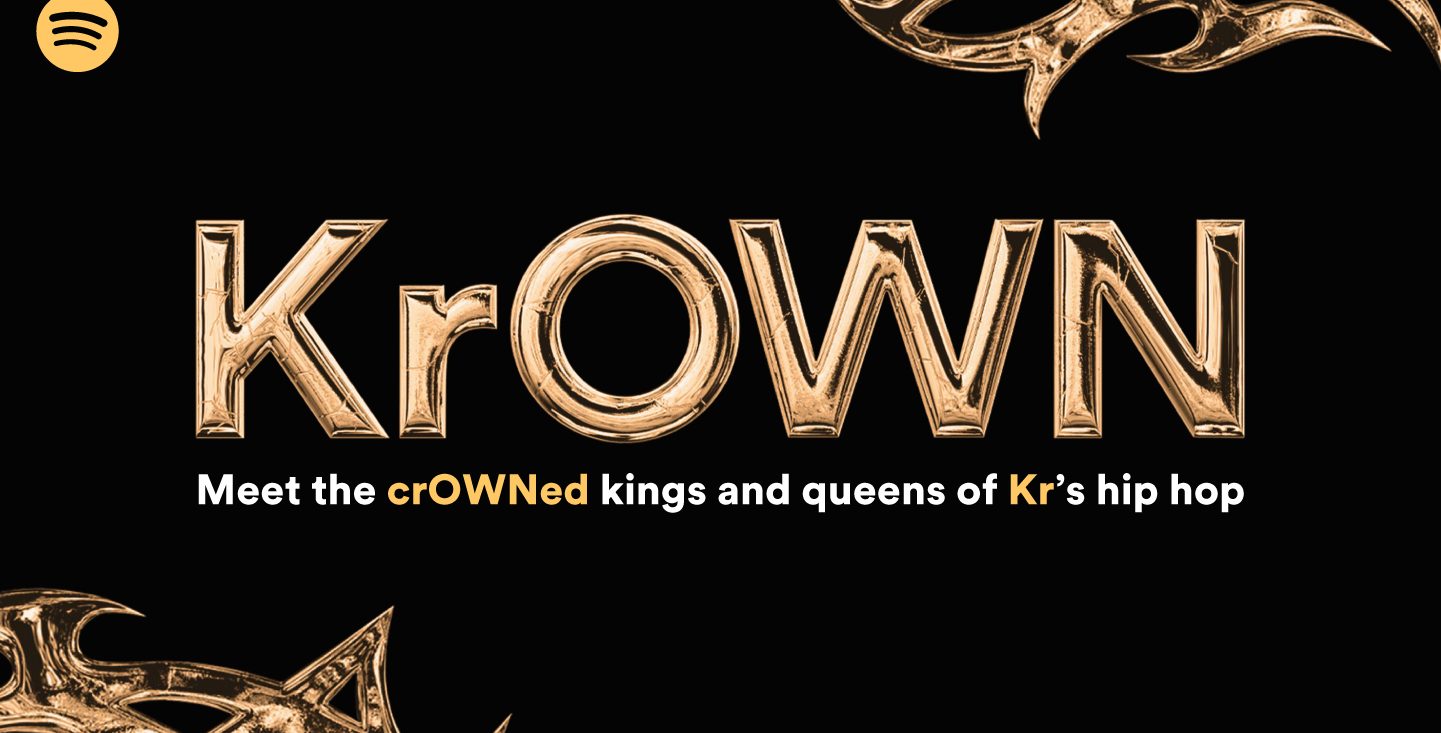 CROWNED KINGS AND QUEENS
The Newly Rebranded KrOWN Playlist Gives International Fans a Taste of Korean Hip-Hop
K-Pop ON! (온) is the Spotify destination for K-Pop fans—but what if you're looking for the best in Korean hip-hop? Well then, we'd like to introduce you to KrOWN. This editorial playlist is the ultimate place for K-hip-hop listeners around the world and serves as a brand that symbolizes the hottest of South Korea's hip-hop scene. 
This new playlist gives local and international fans of the genre a one-stop destination to listen to the latest music from their favorite and soon-to-be favorite artists. The name is a combination of "KR," the country code for South Korea, and "Crown/Own," which refers to the crowned kings and queens who own K-hip-hop worldwide. 
KrOWN originally existed as the K-Hip-Hop+82 playlist. Prior to the rebranding, Spotify listeners streamed the playlist more than 20 million times just last year and racked up more than 430,000 followers. 
The playlist's top streaming countries include the United States, Taiwan, Canada, Indonesia, Thailand, Singapore, Australia, Malaysia, the Philippines, and Japan—proving that Korean hip-hop truly is a global sensation. In fact, listeners streamed K-hip-hop tracks more than 13.1 billion times on Spotify, with Gen Zs (18- to 24-year-olds) accounting for nearly half of the listenership.

Other Spotify playlists like TrenChill K-Hip Hop, K'illin', From Bottom to Top, and Jazzy Hip-Hop give fans a taste of the many sounds within Korean hip-hop, and the newly rebranded KrOWN will be the perfect home for the overarching genre.
Check out the newly relaunched KrOWN playlist below.