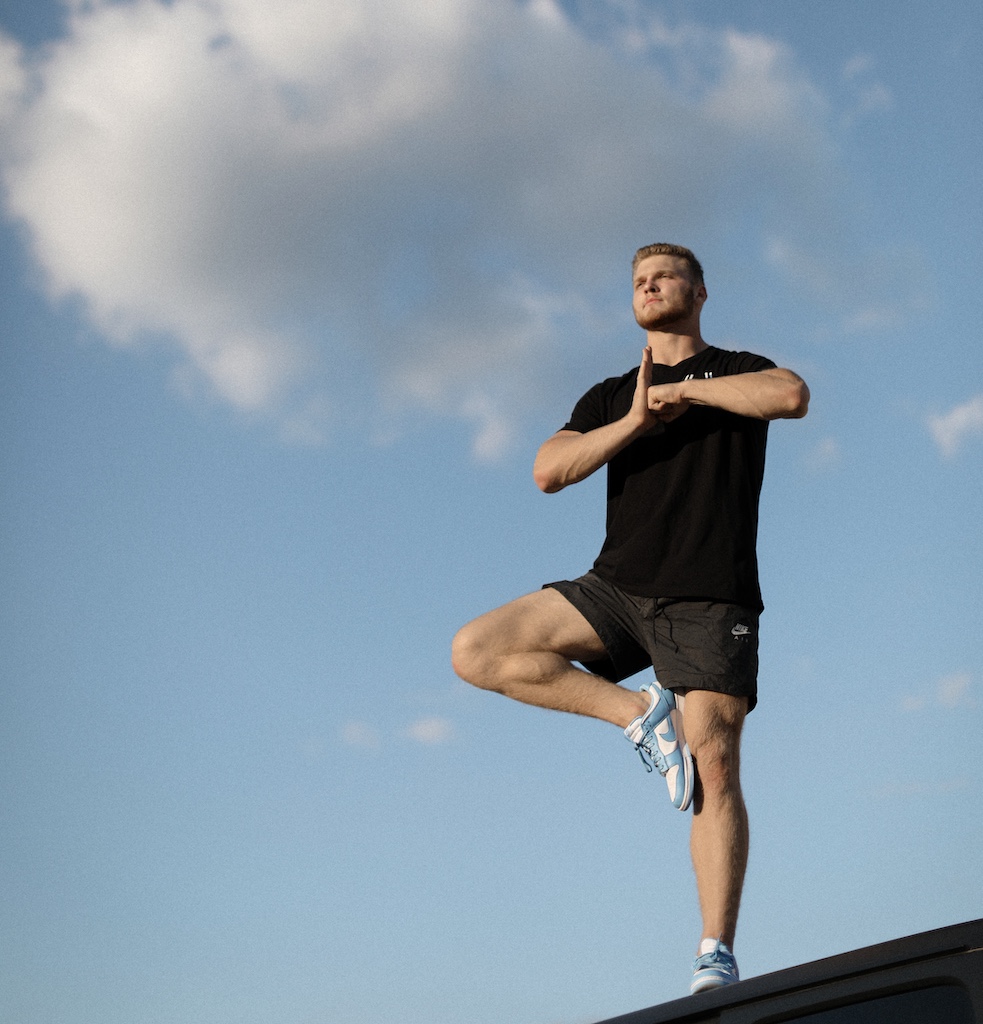 READY. SET. HIKE.
Viral Football Sensation Aidan Hutchinson Reveals the Songs That Inspire Him
Before he ever played a second of pro football, rookie Aidan Hutchinson found himself in the headlines. As part of a training camp tradition earlier this summer, Aidan was called on to serenade his teammates with an acapella performance, and he chose to go with Michael Jackson's 1983 hit "Billie Jean." Little did he know at the time, but he was about to go viral as his teammates joined in on the fun and turned a silly moment at practice into a cultural sensation.
Now with training camp out of the way and his first game under his belt, Aidan is officially a pro. To celebrate the start of the football season, and the start of Aidan's career, we spoke with the defensive lineman as he created a Spotify playlist full of his favorite songs that he listens to at home and in the locker room. 
An eclectic, laid-back mix of hits from past and present, Aidan's playlist features the country vibes of RADAR artist Zach Bryan, thoughtful rhymes of J. Cole, iconic glam rock of David Bowie, and even orchestral compositions of Hans Zimmer. "Billie Jean" also made the cut, of course. 
But to learn more about his big viral moment, the start of his rookie season, and the inspiration behind his playlist, For the Record took a few minutes to catch up with Aidan.
What was the inspiration behind the songs you picked for this playlist?
I have very diverse taste in music and I was looking to include every kind of different genre that I listen to. I got just about a little bit of everything on there, and it reminds me of all the different moods that you could be in. I look at that playlist and you can listen to it when you're happy, sad, chilling, in the car jamming out . . . you know, whatever you really want going. So yeah, I just have a lot of variety in there. That's what I like. 
Is there a song on your playlist that might surprise your friends or teammates?
So I got a couple instrumental and orchestral songs in there. I don't think many of my teammates know that's the kind of stuff I listen to in my pregame playlist. And so for this playlist, I added the Hans Zimmer track "S.T.A.Y." from Interstellar (Original Motion Picture Soundtrack).  
As much as I love music, I don't need someone talking in my ear in those big moments. I kind of like to talk to myself through some kind of instrumental music. I got some inspirational ones in my pregame playlist, and I think that would be something that would surprise some people who don't know about my own little routine.
How did you end up singing "Billie Jean" in front of your entire team during training camp? 
That's a team tradition. I was told in April that I should have a song in mind and I couldn't think of a song for months. I was like, "I don't wanna go up there and get booed by singing some stupid song. I want to go up there and make a show."
So it kind of hit me a couple days before I was asked to go up there and sing the song. I woke up at like 7 a.m., had a little epiphany, and I found "Billie Jean." 
I just started studying it cuz the lyrics are a little hard to learn. I realized I never really knew what he was saying besides "Billie Jean is not my lover." It actually took some concentration trying to study that song. I'm just glad I had that realization because if you had asked me a couple days before that, I don't know what I would've sang.  
What was it like to go viral before the season even started? Were you expecting that response from your teammates?
Yeah, it was crazy to have all this buzz in the preseason. I knew it was a good song, but I wasn't sure how they'd react. I was praying that my teammates would buy into the song while I was singing it. In my head I kind of had this visualization of what actually happened, before it all happened, and the best-case scenario was that they'd all jump in—we'd all be singing. But it went even better than I could ever imagine. So that's props to them for buying into my song. 
I just tried to go in there and give it my all because that's the only thing anybody cares about. If you go up there and half-ass it, guys are gonna boo you.
Do you have any favorite Spotify playlists that you follow?
I like Discover Weekly and the other personalized playlists. I usually listen to those when I see them in the app, and I think it's kind of cool how they create them based on your tastes. I was also listening to a Spotify playlist today called Country Heartache. So yeah, I dive into those a little bit. 
What are you most excited about as you get ready for your first professional season?
Hmm, let me think about this. I would say I'm just most excited about just getting to play against that NFL competition and getting to play very talented linemen. I've always been a very competitive person and just being able to go out there, go against the best in the world, gets me excited because I want to prove that I'm one of the best.
For the latest updates on pro football's top players, hit play and start streaming the latest  episode of The Fantasy Footballers podcast below: