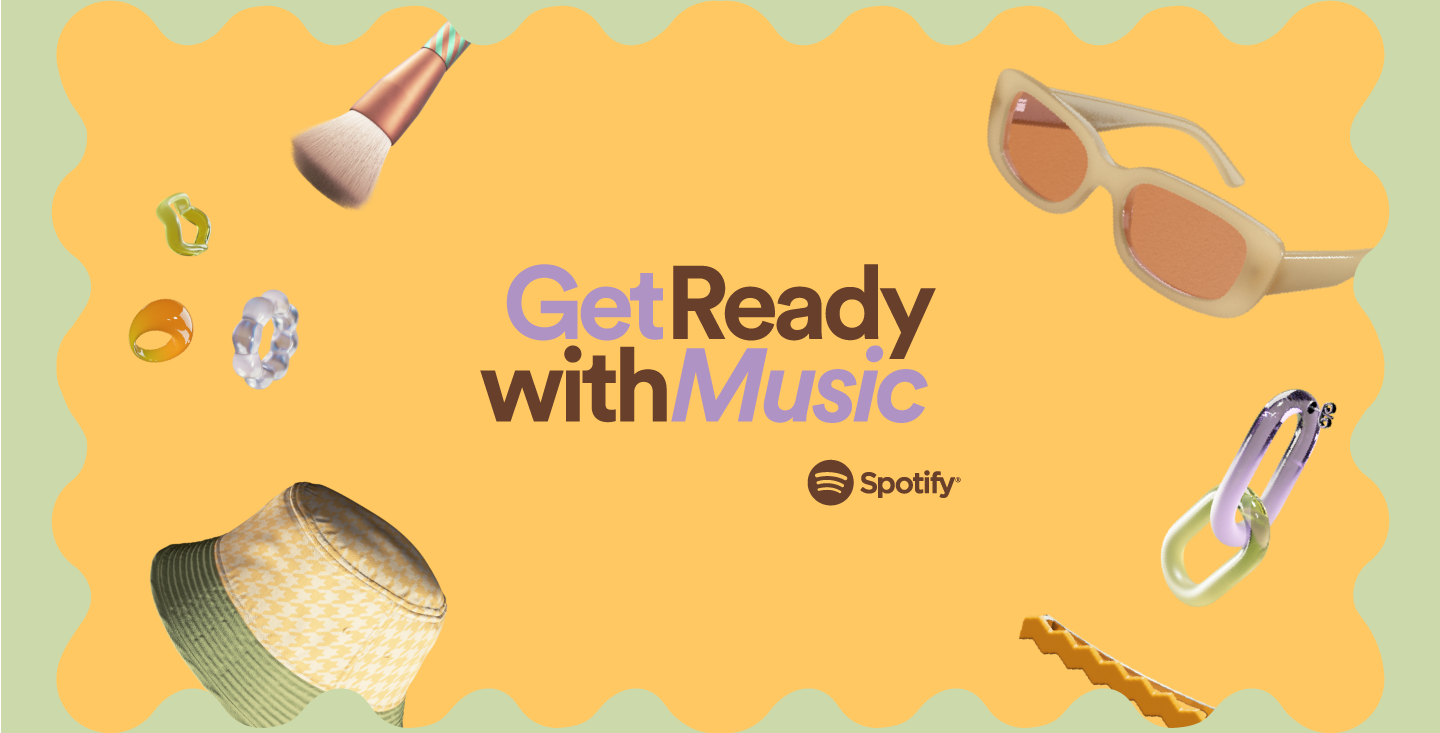 DRESSED TO IMPRESS
Match Your Style to Your Tunes With Spotify's 'GetReadyWithMusic' Experience
If sharing your favorite looks on social media (or following along as your faves do) has become a staple of your daily routine, you'll want to try on Spotify's latest interactive in-app experience: GetReadyWithMusic. 
Creating the perfect vibe is a must while getting ready, and this new experience helps users create a curated, outfit-complimenting playlist to stream before you head out. Who said your songs couldn't match your style?
So whether you're taking it easy, prepping for a workout, or heading out for dinner with friends, GetReadyWithMusic has you covered. Simply answer prompts about your look, including the occasion, the colors, and the vibe. Then you'll be able to upload a picture of your final outfit and receive a playlist tailored to that mood. 
Spotify is also partnering with digital creators and stars of The D'Amelio Show, Dixie and Charli D'Amelio, to launch GetReadyWithMusic and inspire fans to celebrate their own getting-ready playlists.
Want to get started on your own GetReadyWithMusic playlist? Just follow the steps below.

How to GetReadyWithMusic
Ensure your Spotify mobile app is up-to-date with the latest version available in the App or Play stores, and that you're in a market where GetReadyWithMusic is available.*

Visit

https://spotify.com/getreadywithmusic

on your mobile device (either iOS or Android).

Next, it's time to get ready! Answer the prompts about the vibes of your outfit—this is where you'll share what you're getting ready for and describe the fit. 

If you'd like, you can upload a photo of yourself in the outfit to serve as the playlist's cover art. 

Then, voila! You'll receive an outfit-complementing playlist to stream while getting ready. 

Once you've gone through the experience a few times, don't forget to check out your Music Closet, where you'll find all the outfit playlists you've created so far.
You'll also receive a social sharecard that you can show the world by using the hashtag #GetReadyWithMusic. Be sure to try the experience with your new outfit each day to create a full closet of custom playlists to match your style. 
Get tactile with textiles
But the passion for fashion doesn't end there—the GetReadyWithMusic experience is coming to life in more ways than one with an in-person event in NYC. 
Mark your calendars for an IRL pop-up shopping experience at Other People's Clothes thrift shop in Brooklyn, NY's Bushwick neighborhood from Thursday, September 29, through Sunday, October 2, where textiles will become tactile. For those local to NY, stay tuned for more details on the upcoming pop-up.
Looking for even more interactive experiences on Spotify? Check out our recent experiences, My Top 5: Kendrick Lamar Projects and Supergrouper.
*GetReadyWithMusic is available in 37 markets: BR, FR, DE, ID, JP, MX, UK, US, CA, AU, IN, NZ, PH, SK, TH, PK, DZ, AT, BH, EG, IQ, IE, JO, KW, LB, MA, OM, PS, QA, SA, CH, TN, UAE, AR, CO, CL, and PE, and 13 languages: Arabic, Bahasa Indonesian, English-GB, English-US, French-CA, French-FR, German, Japanese, Korean, Portuguese-BR, Spanish-AR, Spanish-LATAM, and Thai.