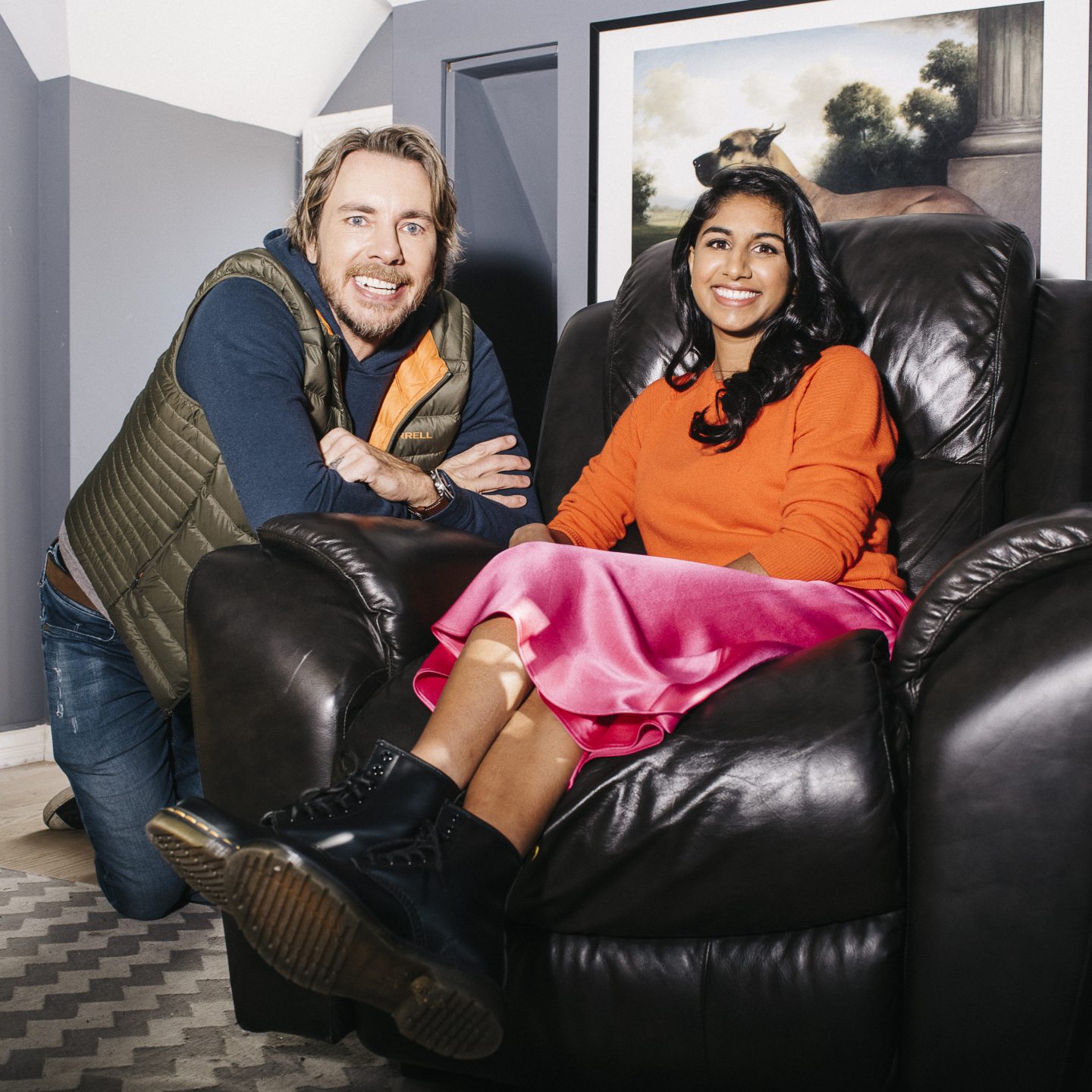 THE BIG ONE
'Armchair Expert' Hosts Dax Shepard and Monica Padman Celebrate 500 Episodes With a Playlist of Their Top 10 Guest Appearances
Photo Credit: Michael Friberg
Not so long ago, comedian Dax Shepard and producer Monica Padman set out to explore the "messiness of being human." In doing so, they've spent nearly five years promoting personal growth and betterment through their podcast, Armchair Expert. And now, the two friends are about to hit a huge milestone: 500 episodes. 
Lauded for its hilarious spin on the challenges and shortcomings people encounter in their lives, Armchair Expert has become one of the most celebrated podcasts around, landing a spot on numerous "best of" lists and attracting a fan base of devoted "Armcherries." 
To celebrate their big achievement, Dax and Monica have rounded up the 10 most-memorable episodes they've recorded since the start of the podcast in 2018. And with a guest lineup that includes everyone from Matt Damon to Stacy Abrams to Dax's Mom, it's a playlist that doesn't disappoint.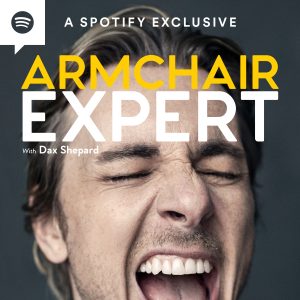 Dax and Monica's 10 Favorite Episodes
For the Record also sat down with Dax and Monica to discuss the evolution of the show, their most memorable guests, and what lies ahead for Armchair Expert. 
How has the show changed between Episode 1 and Episode 500?
In a nutshell, Monica talks more, Dax talks less (although there's still room for major improvement on this front). We have also acquired a confidence that has allowed us to throw the game plan out the window more and more. Many things have changed, but still no bathroom door. 
When you think about your favorite episodes that you've picked, is there a quality they all share that makes them special?
Yes. Each of these episodes has a profound level of vulnerability from the guest—the kind of trust and openness that is truly humbling. It's episodes like these that keep us pinching ourselves with gratitude. 
Of the episodes on this list, which one caught you most off guard, or defied your expectations of how the interview was going to unfold?
Dax: It would be Colson Baker (aka Machine Gun Kelly). I did not see any of that coming when I first saw him on the schedule. But almost immediately upon meeting him, as I watched him scan his environment/the attic for exits and threats, I knew I was meeting a beautifully tender person that I was going to have a lot in common with.
Monica: For me, it's Roy Choi. I knew he was an incredible chef, but I was shocked by the complexity of his story and his beautifully soft nature. I thought the whole episode would be about food, but we barely touched on food at all because his life journey was so compelling. 
What's it like to reach Episode 500 of this podcast? Were you expecting the show to have this level of traction and longevity when you launched it?
Of the many things we didn't dare dream of, 500 episodes was one of them. I don't think we've ever let our imaginations run away with us, so each milestone has come as a surprise, which has made it infinitely more fun. 
What would you say is the biggest thing you've learned about podcasting and interviewing since you started working on the podcast?
Everyone has a story. And if you listen with an open mind to (almost) anyone's story, you will find yourself moving away from judgment and toward understanding. We've also learned that there is always an alternative angle on how to approach an issue. We've had many of the smartest people in the world on the show and they often have conflicting opinions. There is absolutely nothing with 100% consensus, which is both liberating and humbling. 
Now that you've reached this big milestone, what do you have planned for the show going forward? Are there any new directions you'd like to take it in?
We are already in the middle of taking them, adding more shows under our umbrella and continuing to expand the world. We launched Armchair Anonymous recently—a show that lets us hear insane stories from the very same Armcherries that got us to this milestone. 
Whether you're new to Armchair Expert or a self-proclaimed Armcherry, catch up with all 500 episodes of the podcast, below.