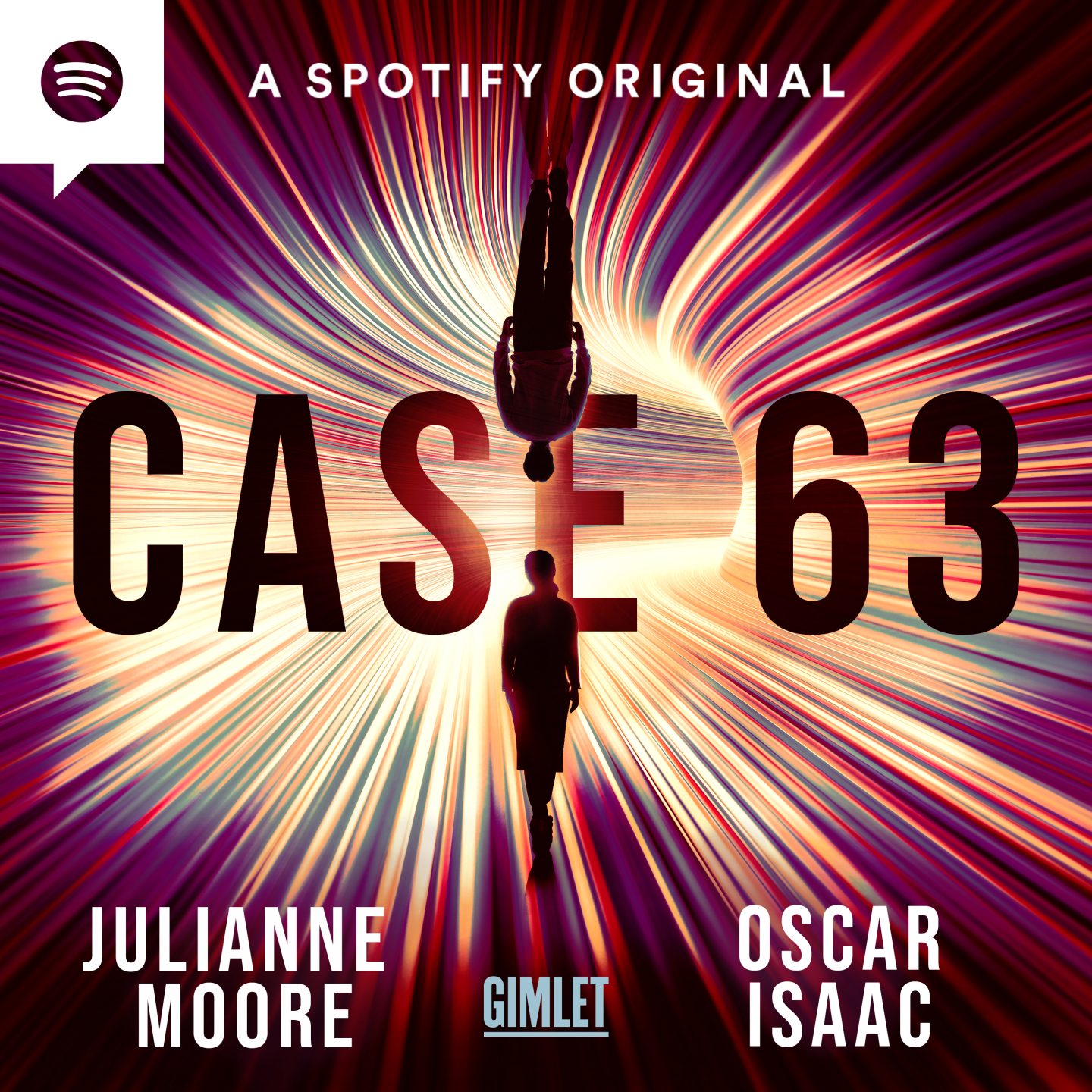 TALES TO THRILL
Mind-Bending Chilean Podcast Gets English Adaptation With 'Case 63,' starring Julianne Moore and Oscar Isaac
Time-altering and reality-shifting thrills await as Case 63, the highly anticipated English adaptation of the chart-topping Chilean scripted audio series, makes its debut October 25. Produced by Gimlet Studios, Case 63 features Academy Award–winning actress Julianne Moore alongside Golden Globe winner and Moon Knight star Oscar Isaac. Both stars are also executive producers of the series.
The series follows psychiatrist Eliza Knight (Julianne) as she records her sessions with an enigmatic patient known only as "Case 63" (Oscar), who claims to be a time traveler coming back from the future to prevent the next global pandemic. As each episode progresses, the boundaries between past, present, and future blur and the two characters discover they may have the future of humanity in their hands.
"Case 63 was my very first audio experience and I was able to see firsthand how immersive and impactful podcasting is as a mode of storytelling," Julianne told For the Record. "It is a thrilling and timely story—incredibly mysterious and romantic, suspenseful, and strange. And the opportunity to work with my friends Oscar Isaac and Mimi O'Donnell made the recording a joy." 
The two actors bring their incredible talents to a series that has captivated Latin America since it first aired in 2020.
"I'm a big fan of the original series, Caso 63, and it was great to be able to partner with Spotify and Julianne on this adaptation," said Oscar.  
"We are so excited to bring this beloved story from Latin America to the English-speaking audience," said director and executive producer Mimi O'Donnell. "There are so many twists and turns set against an immersive backdrop that the team on this show created, led by an incredibly talented group of creatives here in the U.S. Every adaptation of this series is anchored by captivating production. With Case 63, listeners feel like they are alongside Oscar and Julianne every step of the way through this mind-bending journey."
Following its launch, Caso 63 became Spotify's most listened to scripted original podcast in Latin America, thanks to the talents of costars Antonia Zegers and Néstor Cantillana. The show was such a hit that Spotify tapped Brazilian actors Seu Jorge and Mel Lisboa to be featured in a Portuguese-language adaptation—Paciente 63—less than a year later. And earlier this year, Spotify India brought on Bollywood husband-and-wife actors Richa Chadha and Ali Fazal to create a Hindi-language adaptation, titled Virus 2062.
The outstanding success of the show marks the first time a non-English Spotify Original podcast has been adapted into multiple languages, highlighting Spotify's audio reach and commitment to bringing high-quality storytelling with impactful voices to fans around the world.
"I am so excited to bring this story from Latin America to the English-speaking audience and get to know their thoughts, hear their theories, and simply share good storytelling with more audiences," said Javier Piñol, the show's executive producer and Global Head of Markets, Talk Content at Spotify. "I am proud of the work done by the whole team in Latin America to produce three well-crafted seasons, cementing Spotify's mission to not only inspire others to create, but to share in the understanding that great storytelling comes from all over the world."
"I hope everyone will enjoy listening to it as much as we did making it," said Julianne. "Case 63 is exactly the kind of story that I love."
Get ready to start your session with Dr. Knight by listening to Case 63 on October 25th: