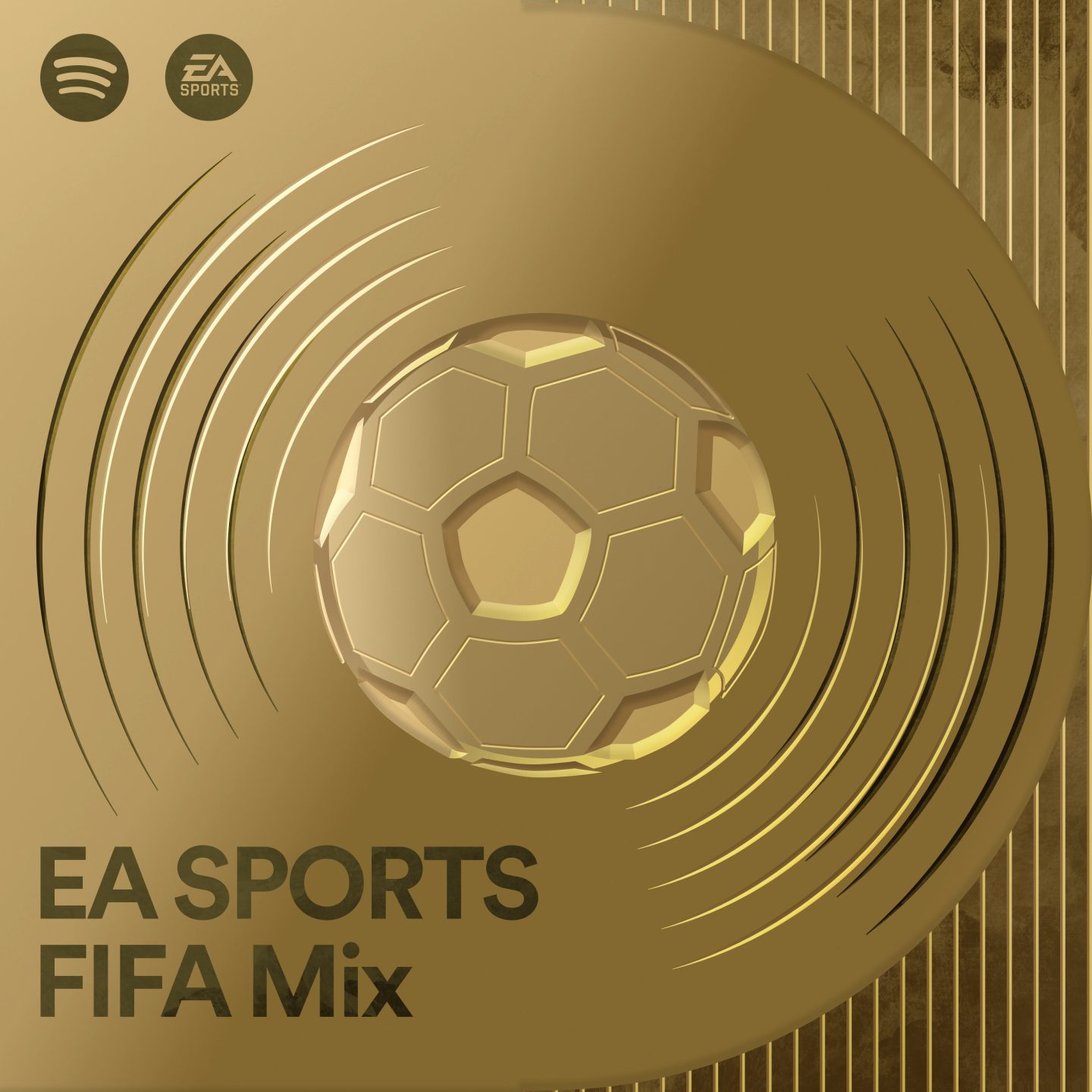 MAKING THE ULTIMATE MIX
The Music Masterminds Behind EA SPORTS 'FIFA' Soundtracks Break Down the Method Behind Their Magic
The arrival of a new EA SPORTS FIFA game is always an event eagerly awaited by millions of gamers around the world. The release of EA SPORTS FIFA 23 in September was no exception. But in addition to getting their hands on the latest and greatest gameplay, a major highlight for fans of the series was the launch of the FIFA 23 Official Soundtrack. 
Now, Spotify is introducing an exclusive and personalized EA SPORTS FIFA Mix that takes some of your favorite songs and mixes them with a handful of FIFA soundtrack classics to create the ultimate audio experience as you celebrate your wins. 
It's also time to settle the age-old debate for the greatest tracks in EA SPORTS FIFA's 25-year history. Along with the personalized EA SPORTS FIFA Mix, EA SPORTS and Spotify have also partnered to make the 1,000+ songs that have been featured on FIFA soundtracks playable in one place. From there, fans can back their favorite song and even share it on social media using the hashtag #UltimateFIFASoundtrack to fight for its rightful place on the Ultimate FIFA Soundtrack, slated to launch in-game November 9.

Ever wondered what makes the EA SPORTS FIFA playlists pop? For the Record sat down with long-time EA music supervisors Cybele Pettus and Raphi Lima to get the ins and outs of what goes into one of the most influential gaming soundtracks out there.
Creating a soundtrack for a franchise as big and storied as FIFA seems like a massive undertaking. Where did your process begin for FIFA 23?
Cybele Pettus: The process begins immediately after the previous year's game soundtrack is finished. The actual sourcing starts with the hundreds of global contacts we've nurtured over the past 20 years, including labels, publishers, managers, and artists. And while that gives us a unique overview of emerging trends and new performers, it is still a massive undertaking. I think the process is ongoing in that our FIFA ears are open all the time.  
Raphi Lima: For me, the process is absolutely ongoing. Every time I hear a new song that triggers a huge emotion in me, I immediately ask, "How can we get behind this and put it in FIFA?" I feel like I've been happily in this process for the past 20 years. 
Steve Schnur, EA Games President of Music, has previously spoken about how the FIFA soundtracks have become culture. In your eyes, what makes the FIFA soundtracks so unique?
CP: Think about what MTV and terrestrial radio meant to young people 30 years ago. But even then, those formats were localized. Because soccer/football is the world's most popular sport, tens of millions of gamers have come to know our FIFA soundtracks as their number one destination for discovering new music. Even more important, we've brought together so many different genres in a cohesive body of work. Again, it's about commonality; people's love for the sport and the game has united the world in a collective love for its music. That's the power of FIFA.  
RL: Music is my favorite language and mixtapes were a way to communicate and connect back in high school. The music we shared became a part of each other's lives and our identities.  
I'll always see that as the foundation for what we do with FIFA. Every year, it's as if we get to create the most incredible global mixtape ever. Cybele and I still have that same "You've GOT to hear this!" enthusiasm for music we both had in high school, only now it's on a worldwide level.  
Over the past 20 years, we've had the ability to turn people onto the next song or artist they're going to fall in love with. Even if you don't speak a song's language, you can connect with its vibe. The bridges we've built with music around the world have changed people's lives. And we are incredibly proud of that. 
Are there specific qualities in a song you were looking for as you narrowed down the list for the soundtrack? 
CP: We start by listening to literally thousands of songs. Next, we pare it down to hundreds. Then we listen and discuss song by song by song. It can be a painful whittling process because while we agree on plenty, there will always be those songs that we individually feel passionate about. Those are my favorite arguments. Keep in mind that we're often looking at new artists that haven't released any music yet, so there are no quantifiable metrics to apply. So much of what we do is based on good ears and gut instincts. It may sound cryptic, but you know when you know.
Is there a particular mindset or mood that you want the soundtrack to evoke as people play FIFA 23?
CP: The main soundtrack will always have a global focus on new music from up-and-coming artists and new material from established stars. But the game's Volta mode, which is street-play based, allows us a much grittier programming palette. This year, we've curated 52 tracks that bring together hip-hop, grime, electronic and more from U.S./U.K. performers like Jack Harlow, Central Cee, Nas, and Kojey Radical ft. Knucks, alongside new underground artists from places like South Africa, India, Germany, and Nigeria. The two soundtracks may wear slightly different hats, but they work really well together in that unique FIFA way. 
Are there any new sounds, ideas, or approaches that you worked into the FIFA 23 soundtrack?
CP: The year features 110 total tracks representing 34 countries, including artists from Malaysia, Lithuania, Sierra Leone, and Malta for the first time. That's as global as it gets. I also think many of this year's more unique new artists—Daniela Lalita, Haich Ber Na, SOFY, MILKBLOOD, Cryalot, and Bianca Costa, for example—will make a huge impression in the year to come. Add in that great gritty Volta vibe, and it's truly a standout soundtrack.
RL: I think this year's specific mix of genres, new acts, and marquee names works incredibly well. There can sometimes be a quick commercial trajectory on songs by established artists, so it's important that their songs be both new and major. This year's tracks from Phoenix, Gorillaz, M.I.A., Yeah Yeah Yeahs, ROSALÍA, and especially Bad Bunny are all that and more. 
One of the hallmarks of FIFA soundtracks is that they often feature rising talents. Are there any artists who broke through on Spotify after being featured on a FIFA soundtrack?
CP: The second the FIFA 22 Spotify playlist dropped, everyone knew Glass Animals' "Heat Waves" was an instant classic. The ultimate metric will always be the fans' reaction.
RL: Every year we get feedback from our artists and partners when the FIFA soundtrack is announced. The impact is felt across big and small acts, with streams jumping over 500% for some of them during the weeks that follow. Smaller artists have leveraged major record or publishing deals after a FIFA placement, as well as booked international tours once a song made the list.
If you had to pick your FIFA anthem, what would it be?
CP: Certainly Blur's "Song 2" is FIFA's most iconic track. Kasabian's "Club Foot" is another huge one. And I think John Newman's "Love Me Again" is timeless.
RL: That's a tough one. But Major Lazer's "Que Calor" from FIFA 20 was a song we brought to life for the game, and it became an instant hit. Best of all, you still hear it at major sports events—not just FIFA—to this day. My heart explodes every time it comes on!   
Ready to revisit 25 years of FIFA soundtracks? Click here to create your own unique FIFA Mix. And to hear all the hottest sounds from this year's entry to the series, check out the FIFA 23 Official Soundtrack below: