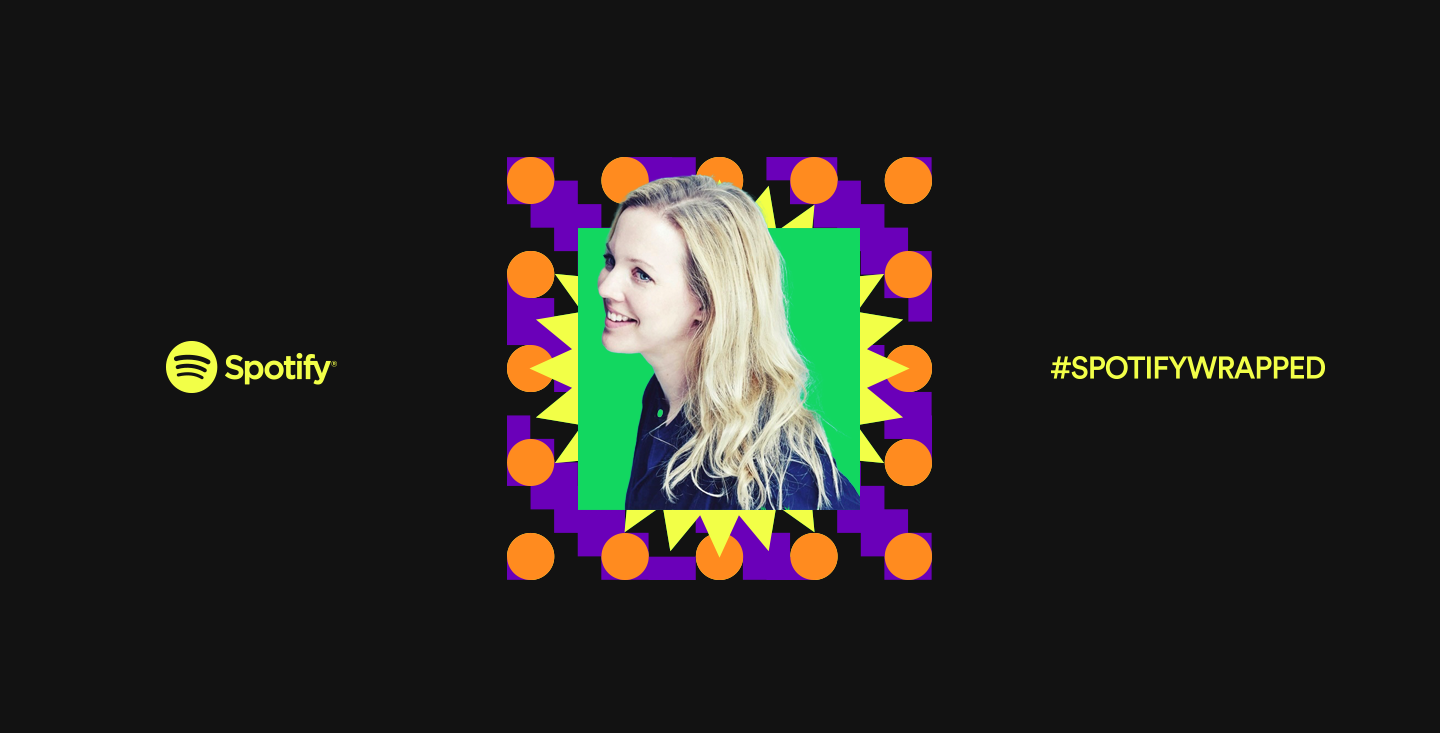 LAYER BY LAYER
Marie Rönn, Global Group Creative Director, Works Across Spotify To Bring Wrapped 2022 to Life
When you open your 2022 Spotify Wrapped, you'll notice multicolored and multilayered graphics that are as multidimensional as your listening habits. The team behind Wrapped is just as expansive, with data scientists and engineers, copywriters, designers, music and podcast editors, and more. Uniting it all is Marie Rönn, Global Group Creative Director at Spotify. Throughout the year, she and her team ideate on concepts and collaborates with other teams to bring the project to life. 
Ahead of 2022 Wrapped, For the Record chatted with Marie to learn all about her work on the creative campaign. 
Wrapped has become a bit of a cultural phenomenon, with people anticipating its launch all year. When do you start thinking about the campaign? 
We've all started thinking about next year's Wrapped already—before this year's Wrapped is even over. Officially, I would say I get involved in conversations in March or April. That's when we start thinking about the brief and working with the creative strategists. This past year we managed to brief writers, art directors, and designers to have them start thinking about both the design and the platform and all of that fun stuff by the end of May. 
What were some of the considerations for Wrapped this year?
We wanted to open the door to more of a joyous every day. To make sure we captured this new energy that has come out of people emerging from their bubbles and being able to meet up again. And so that's something we were excited to dig into—to be a little bit more playful and irreverent. To have a bit of fun and encourage people to have fun as well. For the campaign, we wanted to invite people not just to get Wrapped, but to play it.
For the data stories, we asked ourselves, "What are people craving?" They want to know about their audio listening for the year, and tap into what is interesting about it—on a more emotional level. And that's what we explored as we were starting to ideate. We had a lot of ideas—not all of them were feasible—but we worked super closely with the product team and others before landing on a couple of new data stories for this year that really tap into the more emotional side of listening. 
How did that thinking translate into the new data stories for this year, your Listening Personalities and your Audio Day? 
For the Listening Personalities, we were toying with the idea of how we would be able to talk about what your year-in-listening says about your music tastes. And so our team had all sorts of fun ideas of what we could tell about musical taste in terms of how you listen. The beautiful thing was that when we brought our ideas to the product team, they had already been thinking about a very similar concept, and had done tons of research into it. Great minds and teams came together to collaborate closely. Making sure that the Listening Personalities weren't just for fun, but that they were insightful for listeners. 
For the Audio Day, again, we had great synergy with the product team. We wanted to get more into moods and aesthetics and move away from genres. Genres don't give you the nuance of what type of mood you're in, so what we wanted to do there was to try to tell you a little bit about your musical mood throughout the year. What was your musical mood when you listened in the morning versus in the evening, or at night? The inspiration was to just give people a little bit more of a meaningful experience. Genres go deep, but they're not the only factor in the way we listen. 
Something that's also new this year is that we added the day that you streamed your most-listened-to song the most. Peppering in a bit of fun and just a little more specific data for you to look back and think, "What was I doing that day?" Hopefully, people enjoy reminiscing. 
What's one thing you hope fans walk away with after seeing their 2022 Wrapped? 
Hopefully they discover something about their listening that perhaps was a surprise. And that it also inspires them to keep discovering new music. Like, sure, we give you your year in review, but we also want to inspire you to keep the discovery going. 
We did something new this year to this effect: On your Wrapped playlist are your 100 songs you listened to the most. But this year, we also included one song you didn't listen to. A playful surprise to encourage you to keep exploring.
Head to our Wrapped story hub to learn more about the new data stories for 2022.